Why do I need Elfsight Horoscope?
More options. More satisfied users
Sell themed products more successfully
With our widget you can easily sell all sorts of products related to this topic, providing users with info and goods they've searched for
Uplevel user engagement
Your visitors will definitely spend more time on your website reading the horoscope for their sign
Increase your website traffic
Turn your website into a resource containing all the information users need right now and attract more visitors
Join 1,078,753 customers already using Elfsight Apps
You can start with creating your first Elfsight Horoscope widget for free.
What will make Elfsight Bing Maps special?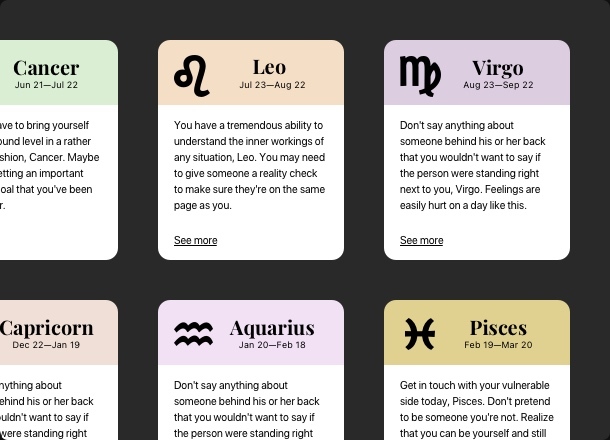 DATA
Current and up-to-date astrological info on your website
The Daily Horoscope widget by Elfsight will be a great addition to your lifestyle, yoga, esoteric, new age, astrological blog and any other thematic website. With the help of our widget, you can display a daily horoscope for all twelve signs of the zodiac, as well as a horoscope for the next month and even a year. All astrological data is regularly updated so you can be sure you have posted all the current updates and tips. Display information for a particular zodiac sign, for all at once, or let the widget automatically switch between them. Also, using the Horoscope widget, you can show users the Chinese or Vedic horoscope - the choice is yours.
LAYOUT
Display the horoscope where you need it most
Our widget can be both a key element of your website and a bonus addition, discreetly embedded into the design. All you need to do is choose the most suitable placement - at the top of the site, in the form of a sidebar, in the footer or a custom position. The List layout will present horoscopes for all signs of the zodiac at once, using the Slider, users can switch between the predictions, and the Grid will bring all the horoscopes together in an attractive way.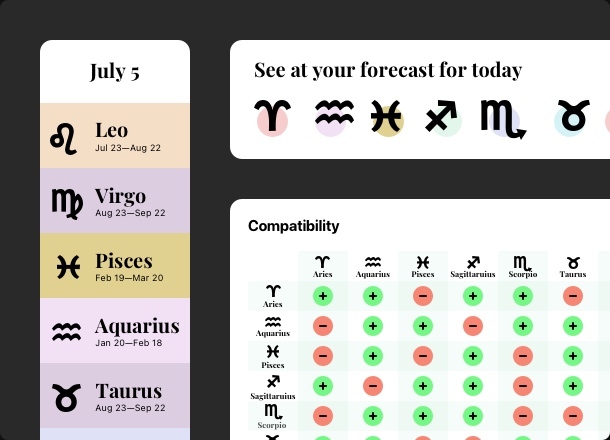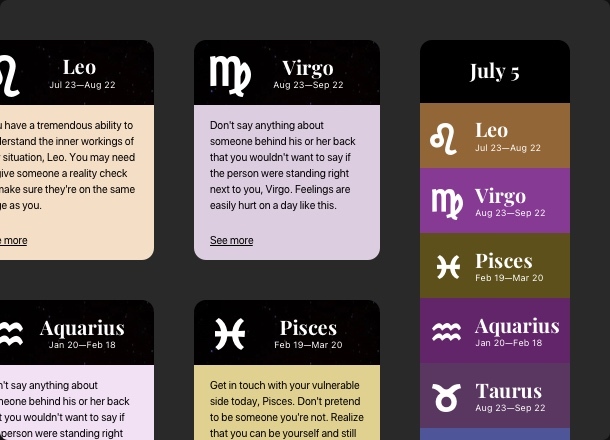 STYLE
Choose a ready-made color palette or generate your own conception
We offer an extraordinary instrument for non-specialists - bloggers, astrologers, etc. - a Color Theme Generator that'll produce a scheme for your plugin automatically. Just select brand color, a Light or Dark mode, and let the auto color designer do all the magic for you. However, if you need a peculiar design, you can further customize all the widget's constituents individually: popup, header, background, and so forth. See all changes instantly in a free configurator with no need to code.
Stay tuned!
Tons of functional and styling options are coming soon
Our exceptional teams of programmers and designers are currently working on the plugin structure and functional capability. There would be a large range of features, you'll have an opportunity to customize your content the way it becomes an essential section of your website. It'll be possible to test all the functions and build the application in the near future, stay tuned!
What our customers say ❤️
I am impressed by the work of the support team, offered options and multiple design personalization options allowing me to adapt it to fit the site design.
Fascinating apps with outstanding options and clear layout. Plus, the support staff has been fabulously friendly and helpful.
Been using their tools for several months already. The team does an impressive job at supporting and updating. It's absolutely simple and easy to employ but powerful and highly personalizable.
Join 1,078,753 customers already using Elfsight Apps
Get the taste of 80+ powerful apps by Elfsight. No credit card. Joining is free!