Contact Form Features
Explore all the features of Elfsight Contact Form and how they can help you create the most effective widget.
Arrange the fields your way
You are free to design your own website contact form – hide fields that you don't need. Also, use the option to order the fields your own way and create the most handy contact form. You can make fields required to fill for sending a message. Choose which ones you need and they will be marked with * symbol. Validation will be done at client side.
Tip: To make it easier for your visitors to send their message, make minimum of the fields required – choose those with necessary information and let the rest be optional.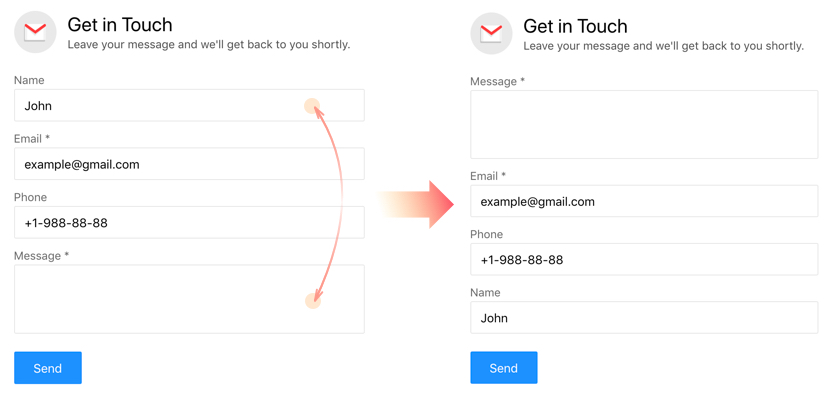 Customize labels and placeholders
You are free to change field labels and give them your own custom names, to make your contact form speak the language of your audience. You can also insert placeholders into the fields, they will give a hint to your users on how to fill in the form correctly, so that you receive the information the way you need it.
Tip: In the placeholders, you can type an example of the information you expect from the users, so that it will be easy for them to fill the form correctly.

Save the filling progress
No one likes to lose what has just been typed. With Elfsight Contact Form widet, you can be sure that the data your clients have already entered into form fields will not be lost. Our Contact form is equipped with progress saving tool that keeps the entered data till the submission of the message.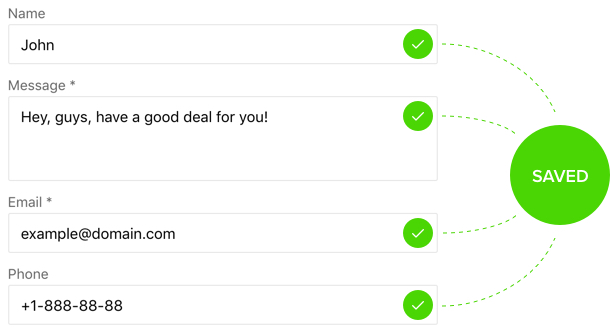 Fields
Usage examples
See a selection of real examples to explore the full potential of Contact Form for your website.
See in action
Live demo
Try all the features of Contact Form in live demo now. No fees. No registration. No coding.
Try now
Create encouraging title and caption of the form
If you adjust the title of your smartly, it may serve to attract customers and invite them to fill in the fields. So think of a welcoming and persuasive phrase for your title. Create the caption that will reflect some important info, for example, technical details, for example, response time or other info that your clients should know.

Complete the look with a picture
Website Contact Form widget allows you to add any picture to the header of your form. You can choose an email icon, stick to your own photo or a photo of your support person or think of something creative to set a mood of your form and make it enticing to send you a message.

Form header
Inline layout with smart field distribution
Inline is a traditional way to display a contact form on a page. However Elfsight team has added something new to it: our smart plugin will automatically adjust the fields layout to the width of the form. Whatever width you set, your form will look balanced and provide smooth user experience for your visitors.
Tip: Inline layout is a good choice if you want to place your contact form on Contact Us or other page, where it will take a decent amount of space.

Floating layout to follow the scroll
For those who want the contact form to follow visitors while they are navigating and always stay visible, we offer an expandable layout. Just click on the message icon in the right corner and the contact form will be displayed full-size ready for filling. It's a good way to stimulate your visitors to leave a message.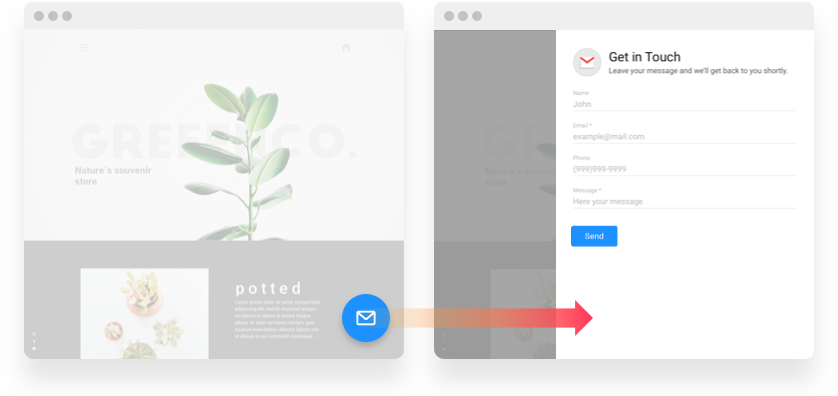 Responsive Contact Form widget
Our Contact Form for websites is highly responsive, you can easily customize its width to suit your needs – the fields layout will be automatically adjusted for the best look. Even if your space requirements are very tight, you may be sure that your contact form will look decent without extra effort.
Tip: Try increasing the width of the form and you will see how the fields will rearrange automatically. Thus, your form will look still good and save space on the page.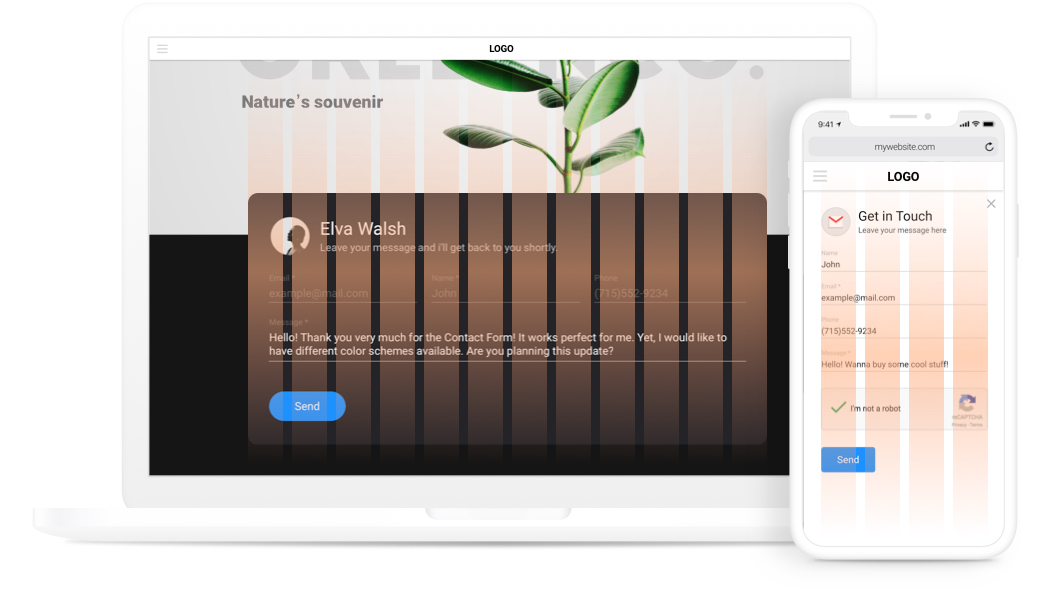 5 ready-to use style templates
With Elfsight Contact Form, it's very easy to create a form that will make a perfect combination with your website in terms of style. We offer five predefined styles, available in one click. You can choose the one that will suite the concept of your website best and enjoy the balance of elements on the page.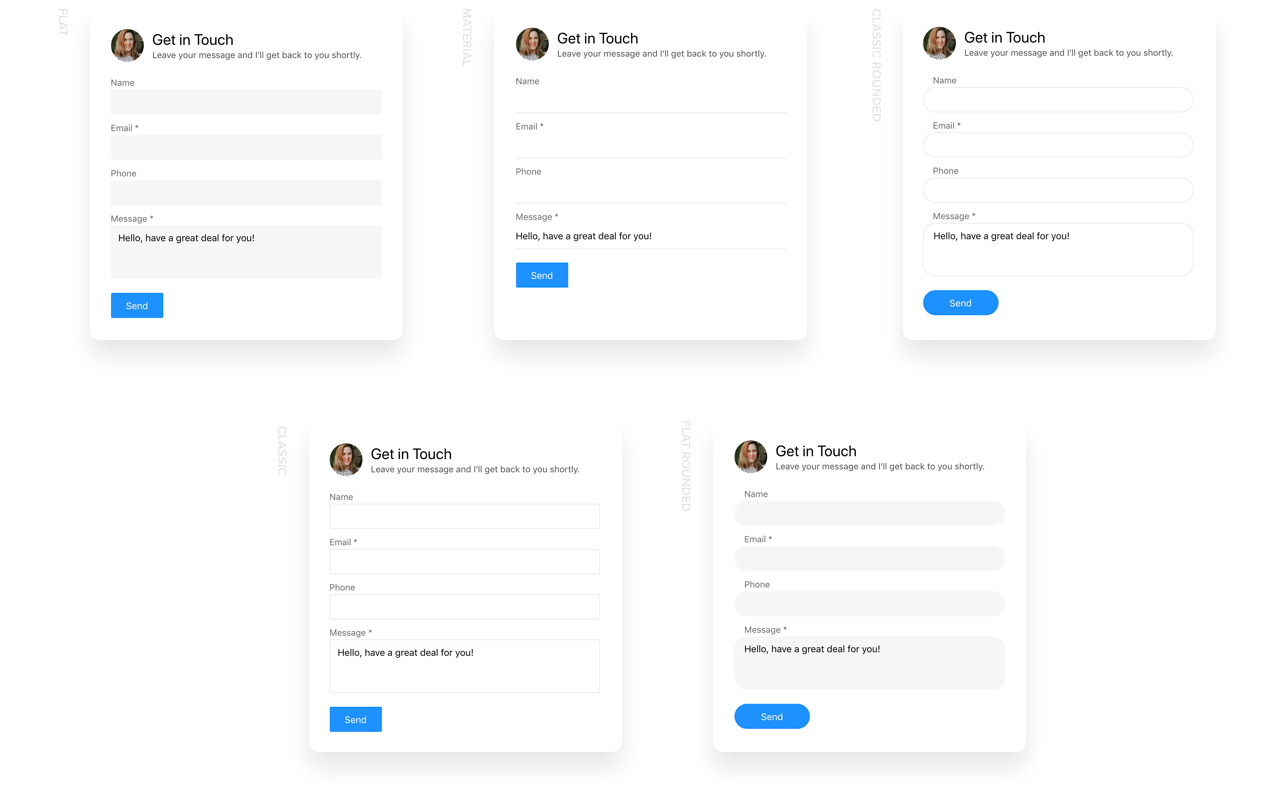 Style
Usage examples
See a selection of real examples to explore the full potential of Contact Form for your website.
See in action
Live demo
Try all the features of Contact Form in live demo now. No fees. No registration. No coding.
Try now
Google reCAPTCHA protection
We take security and your comfort seriously. This is why Elfsight Contact form is equipped with Google reCAPTCHA tool to safeguard your email from spam and bots. It is simple for your users and effective for you, allowing for keeping your communications organic.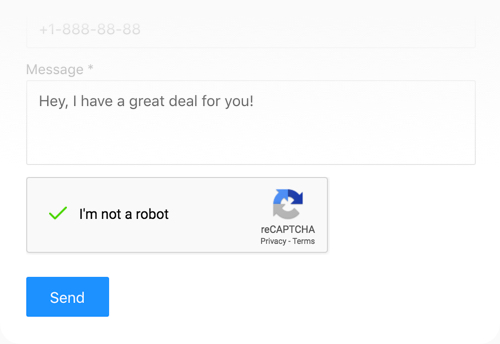 "Thank you" message to impress
Show your clients you value their feedback and don't leave it unnoticed. Create an impressive "Thank you" message that may be displayed with a nice animation following the submission of customer message. You can insert any text and not only express your gratitude, but also provide details about answer time or other instructions.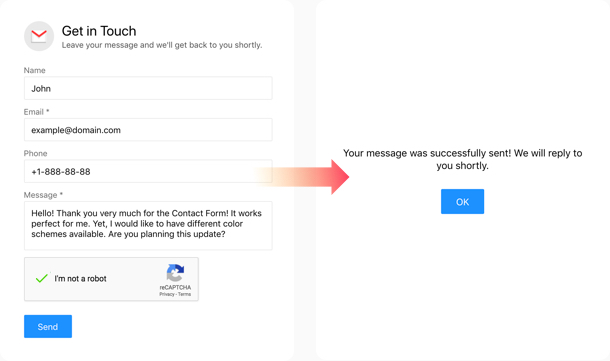 Form AJAX submission to make it smooth
Give you customers a seamless submission of their messages for more positive experience on your website. Our Contact Form sends messages via AJAX, which allows avoiding page refreshing and ensures smooth work on your website.
Emailing
Join 147,932 customers already using Elfsight Apps
Get the taste of 20 more powerful apps by Elfsight. No credit card. Joining is risk-free!