We continue the series of detailed guides for our plugins so that you can easily use them at full capacity. Today's article will describe you the second tab of
Elfsight Instagram plugin InstaShow
. Today we will tell you how to use "Sizes" section.
Select Sizes for Your Photo Gallery
Choosing a proper content of your feed to
embed Instagram
is just half the work. Another half is
finding the appropriate way to present InstaShow
on your site. Our Instagram feed has various ways of adjustment. You might use it as a full-screen gallery, a sidebar grid or something else. Diverse locations on a website require diverse height and width of the plugin. Your needs can be covered thanks to the
built-in options presented in "Sizes" tab
of
Instagram Feed Widget.
It allows flexibly customizing plugin's dimensions for the best user experience.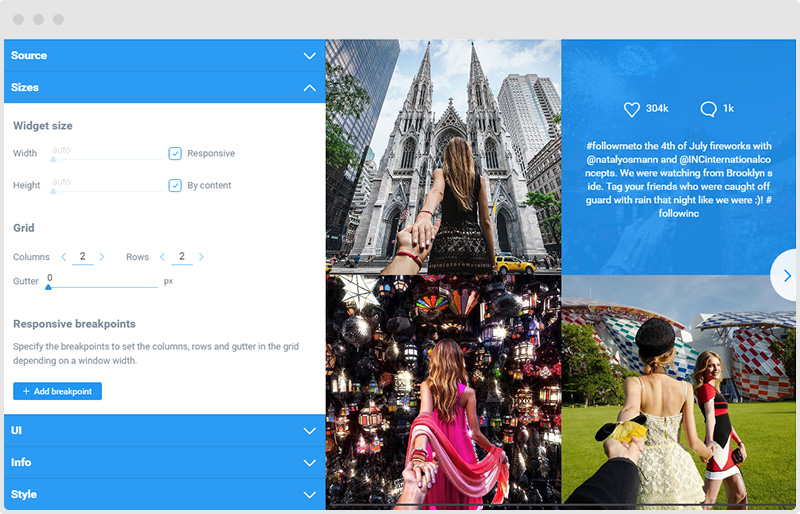 After clicking on the tab you will see the following settings:
Widget size
Grid
Responsive breakpoints
We've also added several extra automatic options:
Responsive mode
Gallery content mode
Use "Sizes" tab and select gallery size, which fits your website most.
Now let's find out how all features work and how you can use them. The next section will explain all options in order to understand InstaShow sizes functionality.
Widget Size Option
Our Instagram feed for website provides you with the ability to
change gallery's sizes
. Make your gallery modest in size or full-screen masterpiece. Images will automatically fit the required space. You are able to point any width and height values for your Instagram feed.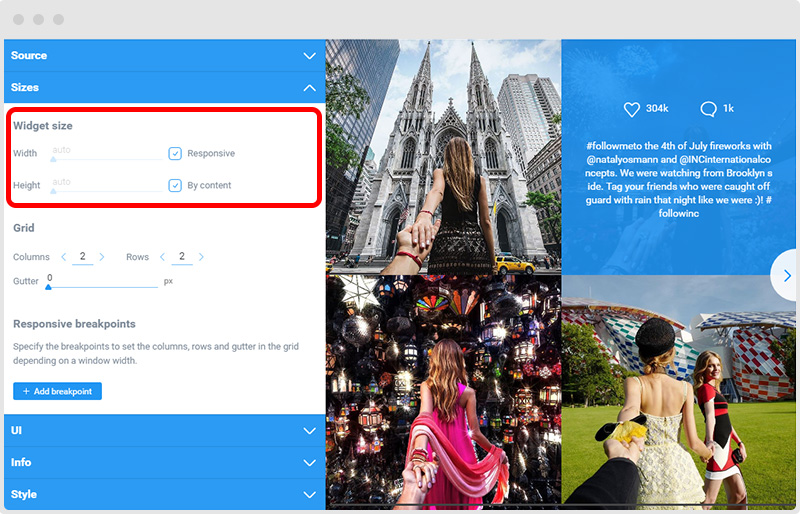 No matter what is the size of the screen – our Instagram feed will show everything in the best way.
Turn on
"Responsive"
(for width value) and
"By content"
(for height value) options to make your gallery fit any screen size. These options will save functionality of InstaShow despite of external factors like browsing device.
Grid Features
You can decide yourself how many photos InstaShow will show on each slide. Just inform the plugin of the needed number of columns and rows. Moreover, you can select gutter between photos. Keep in mind that
more photos on each slide means slower loading speed of the whole feed
.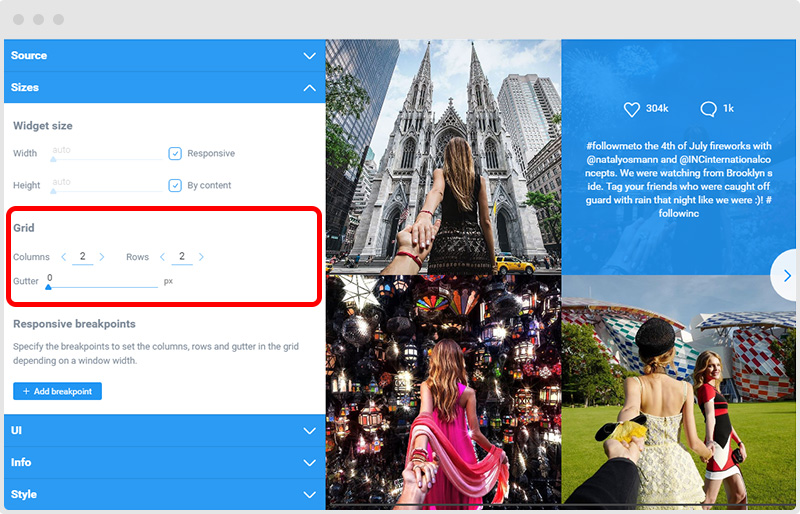 Sizes of Instagram photos will depend on the chosen grid parameters and the size of your plugin. That's why you can pick up the most attractive look of your content. By the way, if you set responsive size then images will change their dimensions according to a browser window.
Responsive Breakpoints
Here's the situation. Your Instagram feed has six columns and three rows. Your grid and all photos look great on a wide screen. Yet, what about smaller monitors? It seems that your content might be unnoticeable. You never know whether your visitors use PC, laptops or even smartphones. Guests on your web pages might have absolutely different gadgets. Thus,
your site along with all its elements should be responsive
. To stay always on top we give you a special adaptive feature for InstaShow plugin.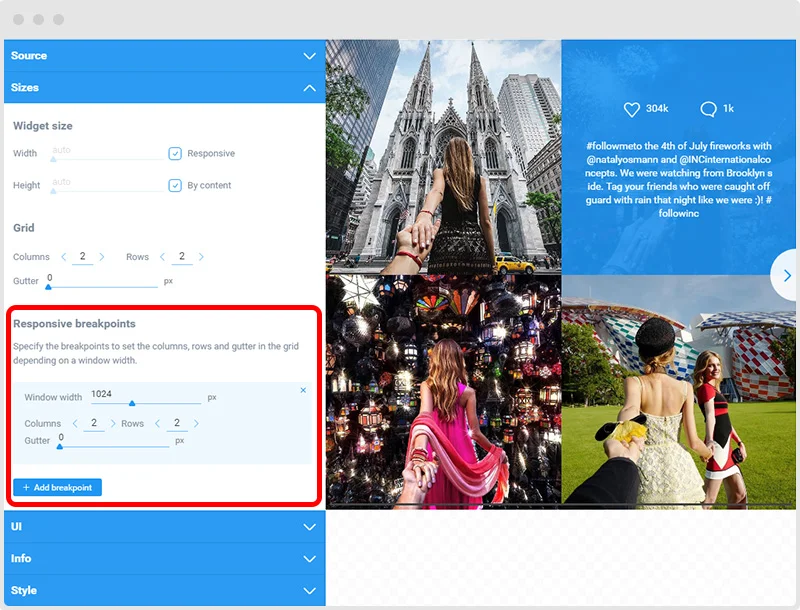 Specify breakpoints
in few seconds and get the stunning result. Do nothing more that set the number of columns, rows and gutter depending on a window width. Yes, you are able to
add as many breakpoints as you want
. Please, note that you
determine only the upper limit
(in pixels) for this option. Let's say, you set two breakpoints for the following screen widths: 480 and 1024 pixels. In this case, the first breakpoint will be active between 0px and 480px. The second – between 481px and 1024px.
Manage breakpoints to get a stunning Instagram feed on any screen.
Get Our Support
Stay tuned to our blog, as we are going to publish more guides for our plugins.
That's all what we wanted to show you today. Hope our guide would come in handy and there will be new ways to improve your Instagram feed InstaShow. Do you have any kind of questions about our InstaShow plugin or "Sizes" tab in particular? Don't hesitate to reach us via
Elfsight Support Center
. We will make everything clear!
Learn More about InstaShow in Our Guides
InstaShow "Sizes" Tab Guide
InstaShow "Info & Style" Tabs Guide (coming soon)