Looking for a dependable and user-friendly plugin to feature your upcoming events on your WordPress website? Search no more, as the Elfsight Event Calendar has got you covered! This robust calendar tool allows you to effortlessly exhibit a comprehensive list of your events. Let's explore how you can implement it on your WordPress website.
Incorporate the Event Booking Calendar into WordPress via Plugin
Leverage the Elfsight Event Calendar plugin, a user-friendly tool designed for effortless presentation of your events, schedule, and engagements on your WordPress website. Customize your event booking calendar effortlessly to harmonize with your website's aesthetics. With fields for event title, description, date, time, location, and image, you can provide your visitors with a comprehensive insight into your upcoming plans. Furthermore, enjoy the freedom to personalize the color scheme, typography, and layout to align perfectly with your website's appearance.
To seamlessly integrate the Elfsight Event Calendar plugin into your WordPress website, simply follow these uncomplicated steps:
Experiment with our interactive preview and configure your WordPress calendar plugin.
Save your customized calendar and retrieve the code from the prompt box.
Embed the code into the HTML editor of your WordPress site.
Create your Event Calendar today and display your events in a highly structured manner! 
Don't forget to explore our tutorials and free resources to enhance your event management and code customization skills with our amazing event calendar.
Learn How to Enhance Your WordPress Website with the Event Calendar Plugin
For businesses requiring efficient event booking management, the presence of a user-friendly calendar on your WordPress website is paramount for ensuring customer satisfaction. Elfsight Event Calendar stands out as the ultimate plugin for fulfilling these event-related needs. With its intuitive interface and extensive customization options, you can craft a calendar that seamlessly accommodates all your event booking requirements.
In the realm of WordPress, a versatile platform with diverse applications, integrating an event calendar is a seamless process. Elfsight offers an event calendar plugin designed to seamlessly integrate with your WordPress website.
To embed the event calendar plugin into your website, follow the straightforward steps demonstrated in our video tutorial below. Witness how effortless it is to add the calendar plugin to your WordPress website's HTML code. If you're working with a different platform, don't worry; our other comprehensive guides provide step-by-step instructions for incorporating the calendar plugin into other platforms as well. Explore our tutorials and free resources to further enhance your code customization skills and make the most of this versatile tool on your WordPress page.
To embed the Elfsight Event Calendar on your WordPress website to simplify life of your website visitors, follow the steps below:
Log in to your Elfsight account at Apps Elfsight, or create a new account if you haven't done so already.
On your account's Applications dashboard, locate and select the Event Calendar plugin that you want to add to your website.
Customize your event booking calendar to align with your website's style. You have the flexibility to include events with titles, descriptions, dates, times, locations, and images in your calendar plugin. Moreover, you can tailor the color scheme, font style, and layout to match your website's aesthetics.
Once you've completed the customization, click the "Get the Code" button to copy the code for your appointment and scheduling calendar.
Access the HTML editor of your WordPress website and paste the code where you wish the calendar to appear.
Save your changes and refresh your website to witness your event booking calendar in action.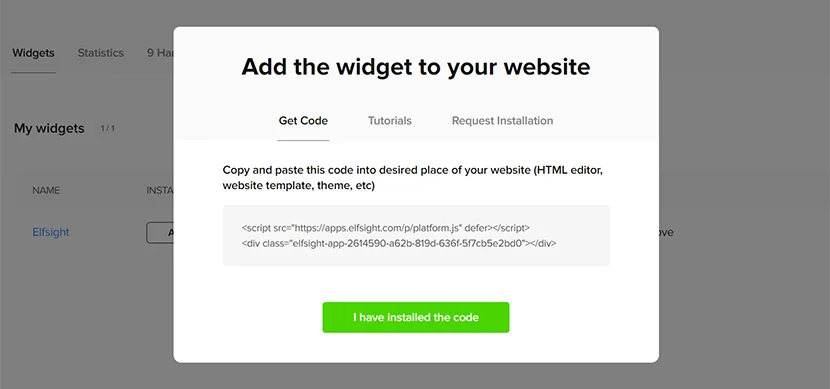 Once you've successfully incorporated the Elfsight event calendar plugin into your WordPress website, you may wish to ensure its presence on every page of your site. This becomes especially vital when you want your visitors to have constant access to upcoming events through your calendar. Additionally, given the diverse complexities of certain WordPress themes, you might encounter various methods for adding this straightforward event booking calendar plugin to all your website's pages, potentially resulting in slightly distinct appearances. Let's explore popular approaches to achieving this objective.
Add Event Calendar to Your Website Via WordPress Theme Editor
A straightforward technique for adding the event booking calendar plugin to your WordPress website involves using the WordPress Theme Editor. Follow these steps:
Log in to your WordPress site and access the Appearance tab in the left menu. Then, select Theme Editor.
Within the Theme Editor page, locate the footer.php file in the Theme Files section on the right. Insert the code just before the closing tag and click the Update file button.
That's all there is to it! You've successfully embedded the event booking calendar plugin on every page of your WordPress website, providing a more prominent platform for users to send messages.
There are additional methods available for embedding the event booking calendar, so let's explore some of these alternatives.
Add Event Calendar to Your WordPress Via the Widgets Option

To add the event booking calendar plugin to your WordPress website using the Widgets feature, follow these steps:
Access the backend of your WordPress website by logging in.
Navigate to the "Appearance" tab in the left menu and select the "Widgets" option.
In the "Available Widgets" list, find the Custom HTML widget.
Choose one of the footers from the drop-down menu and click the "Add Widget" button.
Paste the installation code for your WhatsApp addon into the content field and click the Save button.
Congratulations! You've successfully integrated the event booking calendar plugin into your WordPress website using the Widgets feature.
However, there's yet another method to embed the event booking calendar plugin on your WordPress website. Let's explore how you can do that.
Add Event Calendar to Your WordPress Website Via the Customize Option

To seamlessly embed the event booking calendar plugin using the WordPress Customize feature, simply follow these steps:
Log in to your WordPress site's admin panel. Head over to the "Appearance" tab in the left menu and select "Customize."
On the left menu within the Customizer, locate the "Widgets" option and click on it.
At the bottom of the menu, select the "Add Widget" option, and from the menu that appears, choose "Custom HTML."
Enter your plugin's installation code into the content field. Then, click the "Publish" button to apply all the changes.
You're all set! You now have the knowledge to enhance your WordPress website's performance by incorporating the best event booking calendar plugin, embedding it on every page of your site.
Add Event Calendar Plugin to WordPress Through WooCommerce

Many users across different Content Management Systems (CMS) prefer utilizing a visual editor over the default one, as it eliminates the need to handle HTML coding. WooCommerce, a prominent website plugin, empowers business owners to easily customize their websites. If you're looking to integrate a calendar plugin into your WordPress site through WooCommerce, follow these steps:
Create an Elfsight calendar plugin within a single administrative panel, save it, and copy the installation code.
In the WordPress site management interface, select the site of your choice.
Opt for "Edit with WooCommerce," whether from the site index or the site management page.
Drag the "HTML" component to your desired location on the page and insert the installation code for the live chat.
To save your changes in WooCommerce, click on "Update."
You can utilize this guide to attach customized HTML code to any website created with WooCommerce. Simply repeat the process as needed for different pages, and the rating widget will promptly appear on your WooCommerce website.
Add Event Calendar Plugin to WordPress Gutenberg

In this guide, we will learn how to add an Elfsight Event Calendar to your WordPress Gutenberg editor.
To begin, go to your Gutenberg editor and click the "Add" button in the top right corner.
Type "Elfsight" in the search bar and select the Elfsight Event Calendar plugin from the suggested options.
In the Event Calendar block, right-click and select Paste to insert the Elfsight installation code.
Click Post in the upper-right corner and then click Post again.
Choose View Page to see what the Event Calendar plugin looks like on your WordPress website page.
Congratulations! You have successfully integrated the Elfsight Event Calendar into your WordPress website. Your website visitors can now view upcoming events and plan accordingly.
Add Event Calendar Plugin to Your WordPress Website Through Elementor

Elementor significantly extends the capabilities of your typical WordPress platform, making the process of implementing specific webpage modifications much simpler. In the video below, you'll witness the complete procedure for adding an event booking calendar to your WordPress site using Elementor.
Here's how to do it:
Access the necessary page within your WordPress dashboard.
Opt for the "Edit with Elementor" function, which can be found either in the pages list or within the WordPress page editor.
Utilize the drag-and-drop feature to position the HTML component where you want it on the page.
Insert the installation code for your calendar into the HTML code section located in the left-hand menu.
Click the "Update" button to save your changes in both Elementor and WordPress.
By following these instructions, you can seamlessly integrate the event booking calendar plugin into the HTML code of any WordPress website that has been designed using the Elementor tool.
Exploring the Impressive Capabilities of the WordPress Event Calendar
Beyond its seamless integration with WordPress and other website platforms, Elfsight's Events Widget offers remarkable versatility without the necessity for additional plugins. Our intuitive widget allows you to easily add a feature-rich event calendar directly to your web pages. Let's delve into the standout features:
Complete Design Flexibility

Select from pre-made templates or create your own event calendar from scratch with ease;
User-friendly options for customization;
Multiple layout and design choices.

All Event Types Supported

Create recurring or one-time events;
Build schedules, agendas, or lists of upcoming events;
Showcase both local and online events.

Detailed Information Display

Show single-day or multi-day events;
Include venue details and location markers;
Highlight event hosts;
Compose comprehensive event descriptions.

Enhanced User Interface with Popup Mode

Reveal all event details in a user-friendly popup;
Enable users to easily share events with friends;
Embed the "Get Directions" button for Google Maps route building.

Efficient Organization and Sorting

Implement numerous event categories;
Mark events with different colors based on their types;
Set tags for easy search and navigation;
Utilize filters by date, type, location, or host.

Versatile Elements

Customize the appearance to your preferences;
Incorporate interactive buttons;
Upload images or videos for event cover and background;
Add tags, time, location, and event type;
Show or hide specific elements as needed.

Effective Communication

Edit headings and all captions;
Adjust the language for local audience engagement;
Create custom messages for events that have no upcoming schedule;
Incorporate call-to-action to engage and motivate visitors.

Instant Action Buttons

Configure custom action buttons for each event;
Direct visitors to specific pages or web addresses;
Enhance visitor conversion rates.

Sync with Personal Calendars

Allow users to export events to their personal calendars;
Provide event notifications;
Improve conversion rates and attract more participants.

Design Customization

Adjust all elements to match your website's design;
Utilize background images or select suitable colors;
Choose from List, Grid, Masonry, or Featured Events Slider layout options.
Event Calendar Templates
In this section, we'll explore different design options for your event booking calendar when utilizing an Elfsight WordPress plugin. The templates provided below represent just a glimpse of the extensive customization choices available for your event booking calendar. These examples suit a range of purposes, from personal websites to large enterprises and online stores.
Template 1: Team Games Schedule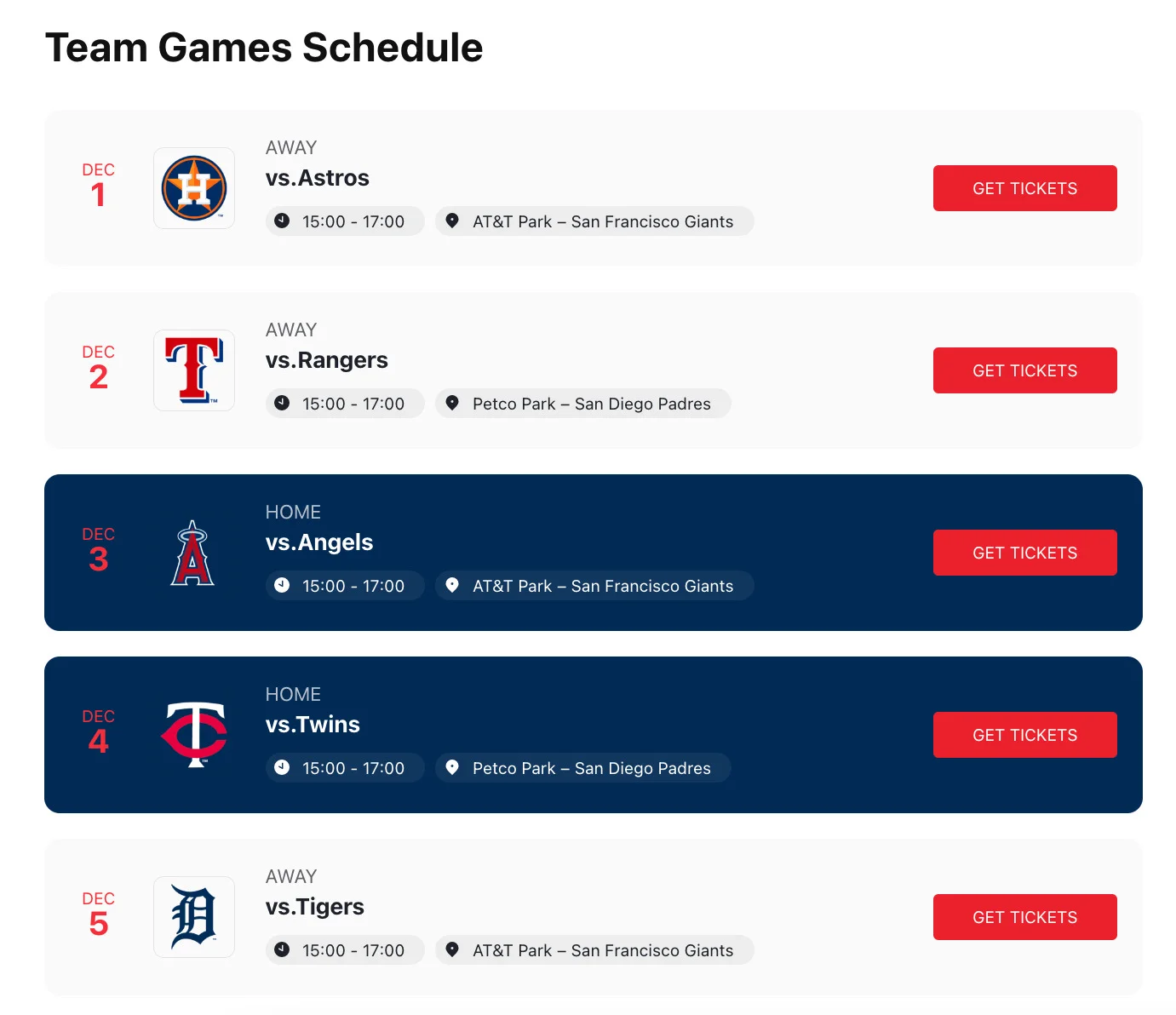 Display your upcoming events in a distinctive yet straightforward manner. The calendar plugin for WordPress showcases essential event details without appearing overly traditional. Different calendar background colors distinguish home and away games, making it easy for users to find their preferred events. Additionally, a WordPress calendar plugin for appointments streamlines ticket purchasing with a convenient CTA button, eliminating the need for users to leave the site.
Template 2: Upcoming Events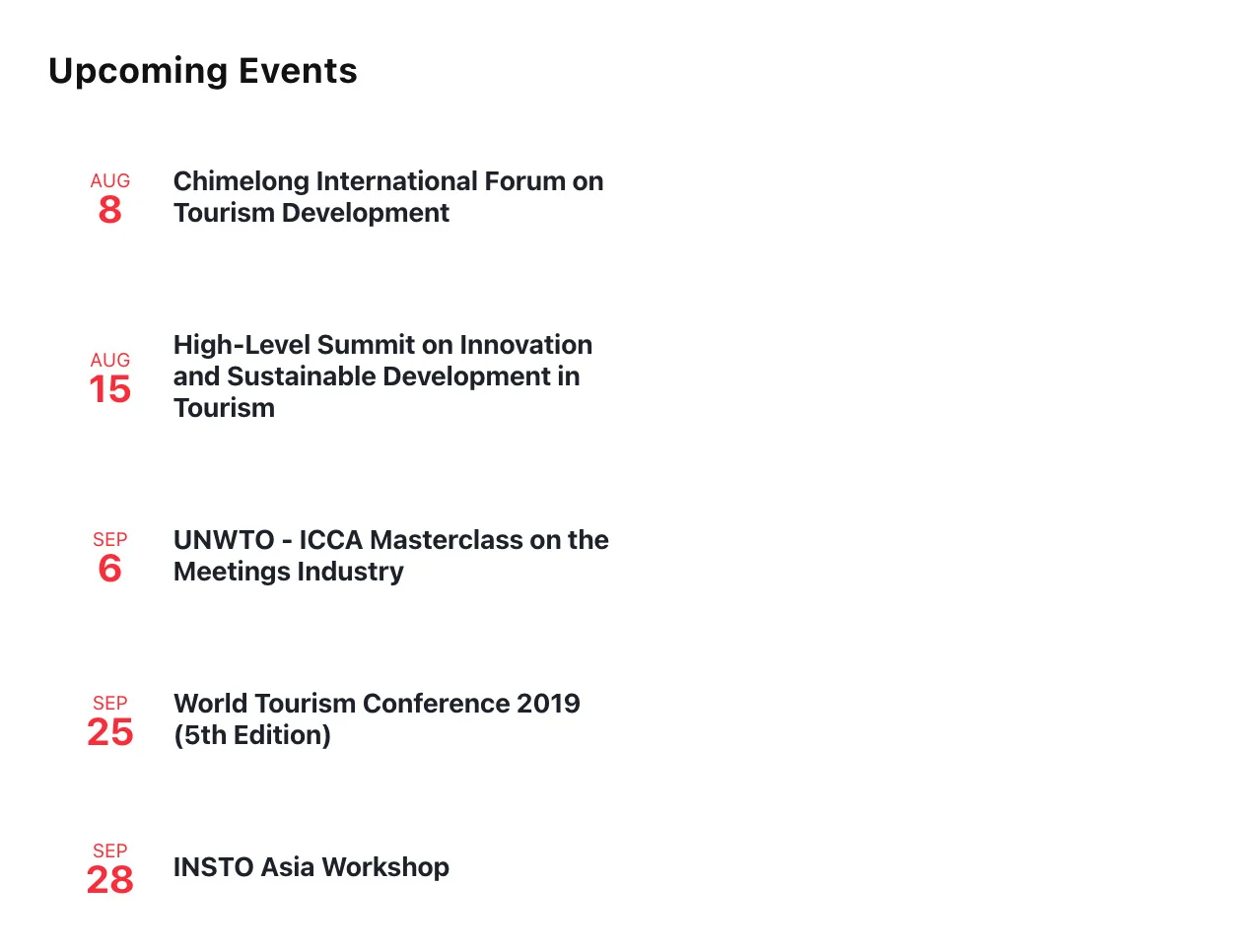 This calendar boasts a simple design, displaying only dates and event titles. Additional information is accessible through a popup, activated by clicking on an event in the calendar. This is an excellent choice for those with limited page space. Additionally, a WordPress calendar plugin for scheduling and appointments can be utilized to manage and streamline event-related processes.
Template 3: Upcoming Webinars
Events are presented in a sleek grid format, seamlessly fitting into content areas. Each event includes an interactive registration button, date, speaker's name, and event duration. Event calendar cards provide all necessary details for users to quickly decide which event to attend. Moreover, a WordPress calendar plugin for appointments can enhance the registration process, improving the overall user experience.
Template 4: City Events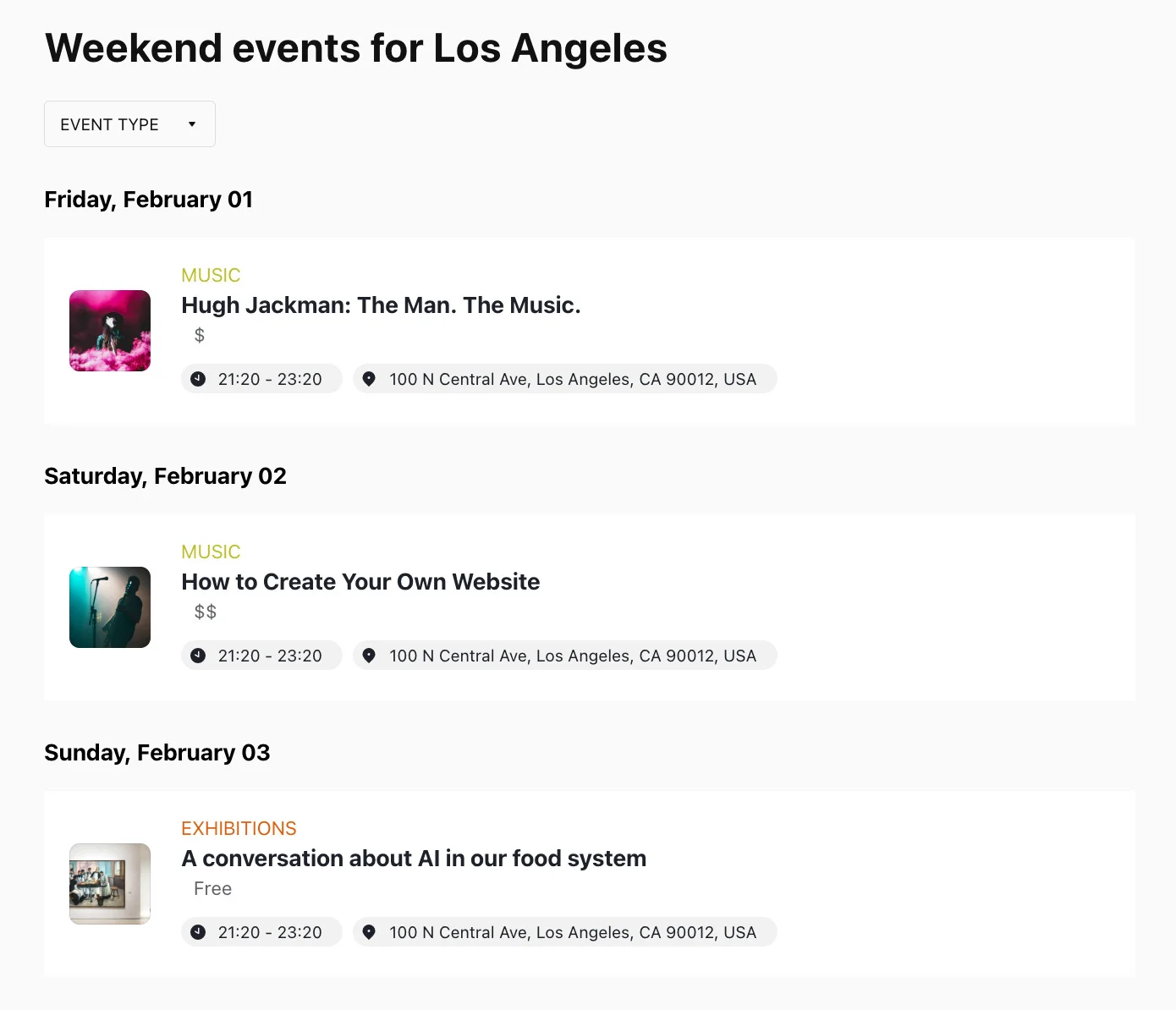 Want to achieve a simple yet captivating calendar design? This option is perfect for you. Each event is labeled by category and accompanied by a thumbnail image to catch the audience's attention. Events are organized into distinct groups and assigned unique colors, making it easy for users to identify the events they'd like to attend. Additionally, a WordPress calendar plugin for events and appointments can manage these events, further optimizing the user experience.
Why It Is Important to Have an Event Calendar Plugin on Your WordPress Website

Keeping your website visitors engaged and informed about your upcoming events is essential. This is where an Event Calendar Plugin for your WordPress website becomes an invaluable tool. With WordPress being the platform of choice for millions of website owners and creators, incorporating an Event Calendar Plugin offers a host of benefits. Let's delve into why having such a plugin on your WordPress site is not just a good idea but a strategic necessity:
Enhanced User Experience:
An Event Calendar Plugin enriches the overall user experience on your website. Visitors can easily access information about upcoming events, enhancing their engagement and interaction with your site.

Organized Event Scheduling:
It provides a well-organized platform for scheduling and managing events, ensuring that no important details or dates are missed.

Improved Website Functionality:
Adding an Event Calendar Plugin is a simple way to enhance the functionality of your WordPress website, making it more versatile and user-friendly.

Streamlined Event Management:
Managing events, from adding new ones to editing existing ones, becomes a hassle-free process with the right Event Calendar Plugin. You can easily embed and customize your calendar to meet your specific needs.

Easy Integration:
Most Event Calendar Plugins are designed to seamlessly integrate into your WordPress website, making it a user-friendly experience for administrators and site visitors alike.

Increased Website Traffic: Regularly updated event information can attract more visitors to your site, particularly if you offer valuable content or exciting activities. An active event calendar can be a powerful tool for driving traffic.

SEO Benefits: Event listings often contain rich content, and regularly updated events can improve your site's search engine ranking. This can result in better visibility and increased organic traffic.

Multiple Display Options: Many Event Calendar Plugins offer diverse display options, such as lists, grids, or interactive widgets, allowing you to choose the format that best suits your website.

User Engagement and Interactivity: Event calendars can be designed to encourage user engagement, with features like event registration, RSVP options, or social sharing capabilities.

Time and Cost Efficiency: Creating and managing an event calendar from scratch can be time-consuming and costly. An Event Calendar Plugin saves both time and resources, as it provides ready-made solutions and requires minimal technical expertise.

Customization Possibilities: These plugins typically offer customization options, allowing you to match your calendar's design and functionality with your website's overall style.

Reliable Event Reminders: Visitors can set up event reminders or subscribe to event notifications, ensuring they never miss an important date or happening.

User-Friendly Integration Tutorials: Many Event Calendar Plugins come with helpful tutorials and documentation to guide you through the integration process. This ensures that even beginners can add this essential feature to their websites.

Code-Free Solutions: Most plugins offer code-free solutions, so you don't need extensive coding knowledge to add this valuable feature to your website.

Cost-Effective Options: While there are premium Event Calendar Plugins available, there are also free and affordable options to suit your budget.
In conclusion, having an Event Calendar Plugin on your WordPress website is a strategic choice that not only keeps your audience well-informed but also significantly contributes to the overall success and user experience of your website. From organizing events to engaging your audience, improving SEO, and increasing traffic, the benefits are clear. So, whether you're a small business, an educational institution, or a community organization, consider adding this indispensable plugin to your WordPress site and take your online presence to the next level.
Conclusion
Integrating a WordPress plugin for appointment into your online business website can yield a multitude of benefits. This strategic move automates the booking process, saving time, reducing errors, and amplifying customer satisfaction through a clear event calendar seamlessly embedded on your website. The added convenience of an event calendar plugin significantly enhances customer retention and entices new clientele, ultimately leading to increased revenue. Furthermore, the integration of a calendar plugin on your WordPress website elevates your online presence, simplifying the process for potential clients to discover and book appointments. By selecting a dependable WordPress calendar plugin for scheduling and customizing it to align with your specific requirements, businesses can streamline their operations and bolster profitability. So, whether you manage an e-commerce store or any other variety of business website, the time has come to explore the possibilities of integrating an event calendar plugin into the HTML code of your WordPress website.
For further assistance with your calendar, you have several options: