Embed Google Reviews with Photos On Your Website: Feature From the Vault
Embed Google Reviews with Photos On Your Website: Feature From the Vault
Ratings and reviews are the lifeblood of any business in the digital age. They provide valuable insights, build trust, and influence potential customers in their decision-making process. Now, imagine taking it a step further with Google Reviews that include photos!

Elfsight is excited to introduce its latest feature from the vault—the Photos for Google Reviews widget. ✨
What Are Google Reviews with Photos? Let Us Finally Introduce It to You
Google reviews with photos take a turn in displaying traditional customer testimonials and support the attached images from customers as a way to verify the social proof and give visual representation directly on your website.
The presence of photos in reviews shapes customer behavior like never before. Researchers have found that over 59% of consumers classify visuals as more valuable than text information. And in another study, 60% of people conducted jointly that the most authentic imagery content comes from other clients who have had experience trying out the service/product.
So, there is no better time to start implementing photos as a source for improving ratings, taking a competitive edge, and promoting business as of right now.
And with years and years of collecting responses from the dearest users on the Wishlist, we're ready to present you with a new free feature we are proud of—Photos for the Google Reviews widget.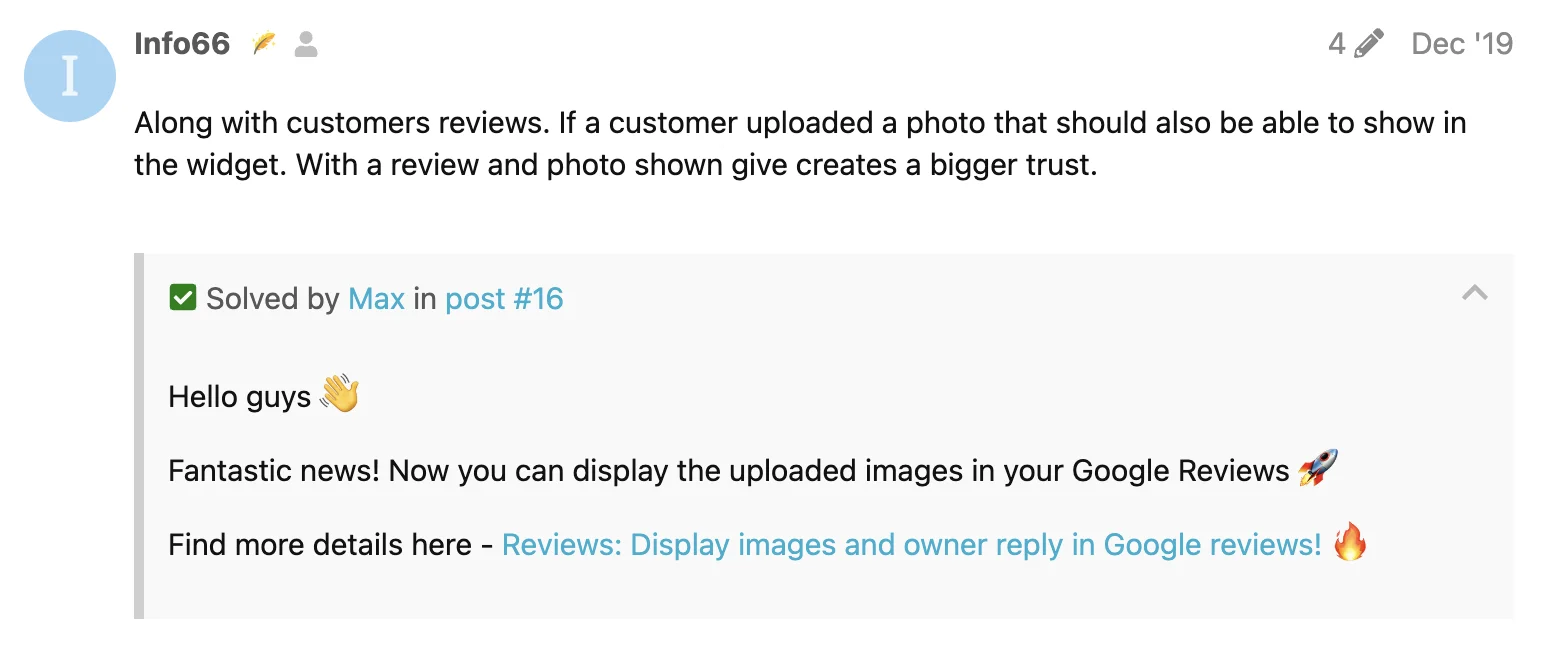 But customers' photos are not the only feature you gain: there are still a few things left to unpack and unravel the additional perks we've prepared for you. So, let's begin with discussing the functionality and how it will affect the Google Reviews plugin's appearance, embed process, and overall performance.
Key Functions of Photos Feature
With the free Photo feature added to the widget's configurator, you get some extras in Google Reviews functionality. The whole idea lies not only in images but also in accessibility and mobility while navigating the feed. Naturally, it makes a smooth experience for yourself, as a business owner, and for customers eager to learn more.
Here's what is worth paying attention to:
Code-free photo integration by synchronizing with Google Place ID.
Photo uploading won't take a toll on you as the Google Reviews widget syncs to your account by the name and location you have on Google Maps. So it automatically processes all the publicly posted reviews and the following content—photos and replies from a business owner—with no need to do any manual work or learn how to code. Catch the attention of potential customers and give them a glimpse of what you have to offer.



The "Read More" link with popup mode opening.
The Photos for Google Reviews widget offers a "Read More" link that seamlessly connects users directly to the full review, creating a comprehensive and transparent experience while opening it in popup. Allow visitors to get all the details without leaving the website page. It encourages in-depth exploration, driving engagement and boosting conversion rates.



Display or hide business owner replies.
The next thing that can be your go-to choice is the replies from business owners. This flexible addition lets you turn responses on and off by toggling a switch. Make your customer interactions visible to everyone, strengthening your brand reputation. Or keep some things private. It's up to your choice, but you can always make quick changes in the online configurator.



Mobile Responsive.
The Photos feature is fully mobile-friendly, providing a seamless browsing experience across all devices. Whether your customers are accessing your website on their smartphones, tablets, or desktops, rest assured that the widget will adapt to their screen size, delivering a consistent and visually appealing design.
Scroll images through the popup.
The devil is in the details, and we pay attention to every aspect of user experience. Thanks to the built-in navigation buttons, smooth scrolling through reviews only with images has become more convenient and rational. Just tap arrow signs and differentiate the visual content your leads want to see.
Who Needs Google Reviews with Photos Feature?
Let's continue outlining the inclusivity theme throughout the Photo feature exploration for the Google Reviews widget. By taking a closer look, this unique addition empowers businesses to showcase visual reviews directly on their websites, enhancing credibility, building trust, and captivating visitors, which can reflect almost any industry in the market.
But what makes the Google Reviews with Photos feature so special?
It's time to dive into its remarkable qualities and discover why it's a must-have for a wide range of businesses:
1. Restaurants and cafes
A delectable dish expertly captured in a photo is a feast for the eyes. For restaurants and cafes, showcasing Google Reviews with mouth-watering food photos is a game-changer. Customers can see firsthand the delicious creations that others have experienced, enticing them to visit and savor the culinary delights.
2. Hotels and resorts
In the best-case scenario, a picture-perfect hotel room with stunning views is the stuff dreams are made of. Travelers often rely heavily on online reviews when choosing accommodations. Embed the Google Reviews with photos on your website to take potential guests to a world of luxury and relaxation. These captivating images bring your establishment to life and let visitors envision their perfect vacation, feeling confident about the reservation decision.
3. Retail and e-commerce
In the world of retail and e-commerce, customer trust is paramount. Shoppers want to know that they make the right choice before purchasing a product. Add the Google Reviews with Photos to offer social proof that goes above and beyond traditional text-based testimonials, showcasing your offerings in the best possible light. Customers can see real people with real products, enhancing authenticity and reducing purchase hesitations.
4. Tour and travel agencies
For tour and travel agencies, captivating imagery plays a crucial role in inspiring wanderlust and encouraging clients to embark on adventures. By showcasing Google Reviews with Photos, you bring the exhilarating experiences of previous travelers to the forefront. Vibrant landscapes, thrilling activities, and unforgettable memories captured in photos will ignite the desire to explore and create their own incredible travel stories.
5. Home service providers
From contractors to plumbers, home service providers can greatly benefit from the visual impact of the Photos feature for the Google Reviews plugin. By sharing before-and-after images of completed projects or showcasing happy customers using your services, you can prove your expertise and build trust in potential clients. Visual testimonials go a long way in demonstrating the quality of your work and reassuring customers of your reliability and professionalism.
Honestly, whether you're in the restaurant field, hospitality sector, home services, retail, or any other industry, the Photos for Google Reviews widget offers immense value. It allows you to tap into the power of visual testimonials with stunning photo imagery.
How to Embed Google Reviews with Photos on Website (Elfsight's Version)
Our mission here is to make the embed process of the Google Reviews widget on a website as clear as possible so it wouldn't take too much time and scale down the number of issues that could appear along the way. And we are always ready to discuss each step at a time. Especially with a new Photo feature and its setup! Here's a detailed guide to follow:
Step 1. Unlock the potential of visual testimonials by starting with Google Reviews widget builder. Open up a configurator by logging in to your Elfsight dashboard panel, or use the live demo below.
Step 2. Why start from scratch when you can select from our range of ready-to-use templates? Find the perfect design that complements your website's aesthetic and captures the essence of your brand with a quick scroll through the available options.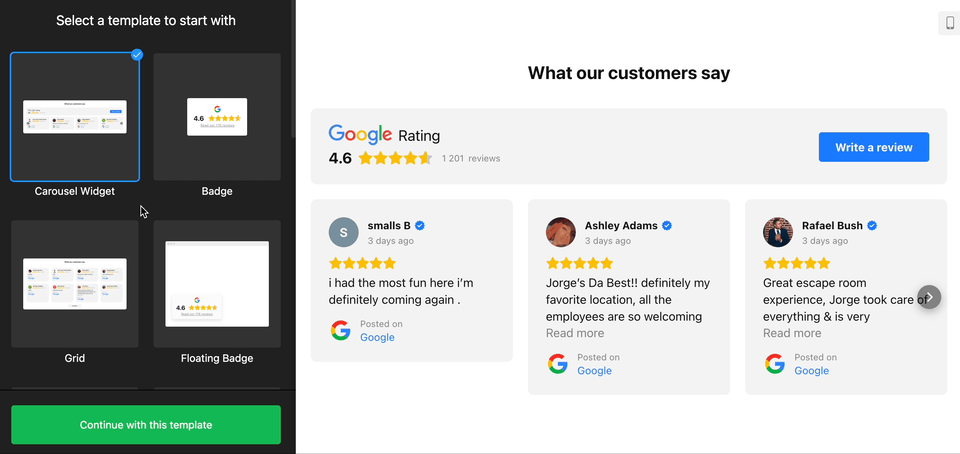 Step 3. Let your reputation shine by linking your Google Place ID to the widget as the leading source for the reviews. It will ensure that your authentic reviews are showcased prominently on your website. Just paste the name and location address in the field.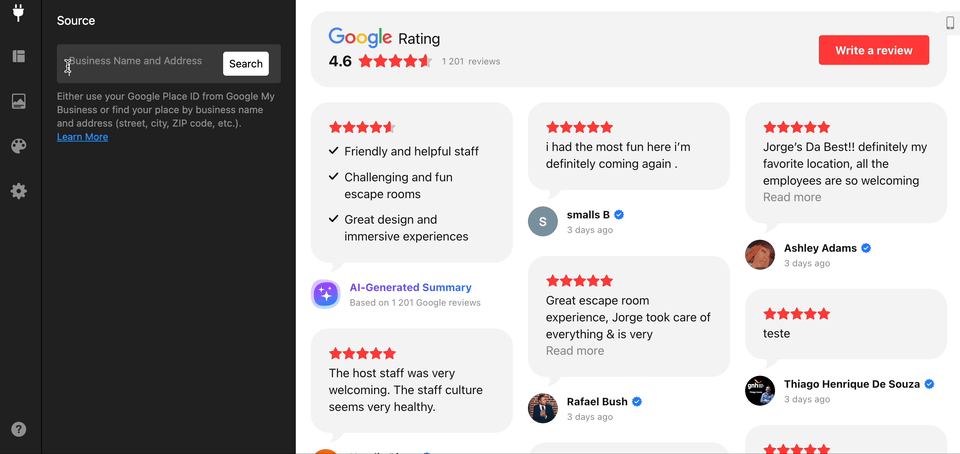 Step 4. Go beyond simple text-based testimonials and activate the Photos feature. This groundbreaking addition allows your customers' experiences to come to life through captivating visual content.
Here's what you should do:
Access the "Review" menu tab.
Hit the "Customize" button.
Turn on the "Show Images" and "Show Business Owner Reply" options by toggling the switch.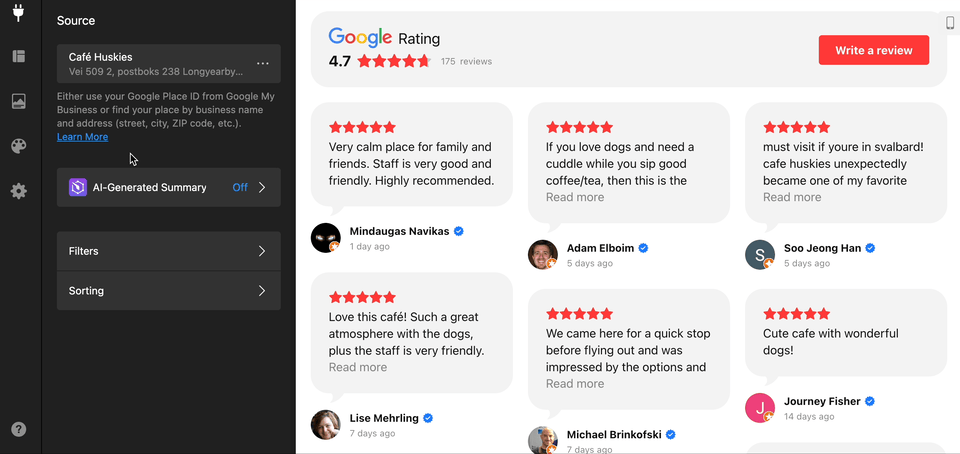 Step 5. Tailor the appearance of your Reviews widget to seamlessly blend it into your website's design. Choose from various layouts and header elements to create a visually appealing and cohesive user experience.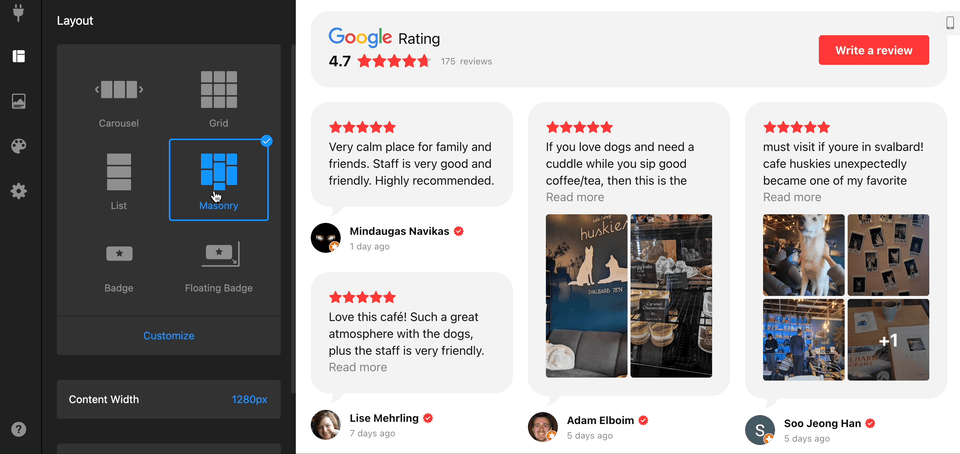 Step 6. Stand out from the crowd and make your widget truly unique. With Elfsight's customization options, you have the freedom to match your widget's appearance to your brand's identity and captivate your visitors.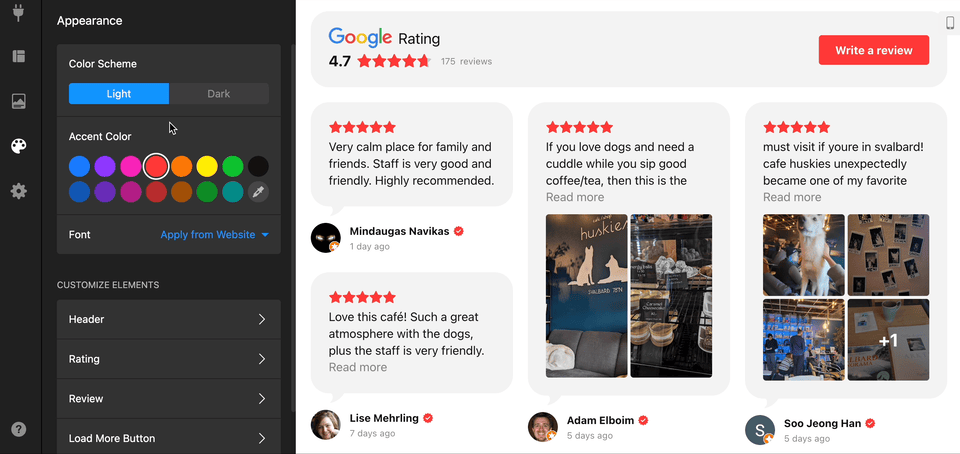 Step 7. It's time to seal the deal. Once you've customized your widget to perfection, save the changes by clicking the "Publish" button. Elfsight will generate a unique installation code tailored to your specifications, ready to be embedded on your website.
Step 8. The final step is the most rewarding. Add the fully customized Google Reviews widget with Photos to your website by pasting the embed code, and watch as your visitors become captivated by the visual storytelling that showcases your customers' experiences.
FAQ
Is the Photos feature for the Google Reviews widget free?
Yes! The Photos feature for the Google Reviews and All-in-One Reviews widgets is included in the Free plan, allowing you to enhance your website's credibility at no additional cost. Unlock the potential of visual testimonials without worrying about breaking the bank.
Do I need to know how to code to add Photos to my Google Reviews?
No, you don't need to. Elfsight specializes in creating user-friendly solutions that cater to tech-savvy individuals and beginners alike. Our widgets require zero coding knowledge. With a simple and intuitive setup process, you can seamlessly embed the photos for the Google Reviews widget on your website in seconds.
Can I turn on only business owner replies without photos or the other way around?
Yes, of course! We understand that every business has unique requirements when it comes to showcasing customer reviews. Whether you prefer to enable only business owner replies without displaying photos or vice versa, the choice is yours. With the advanced customization settings available for everyone, Elfsight puts you in control.
Should I manually upload photos to my Google Reviews feed?
No. Fortunately, there's no need for manual photo uploads. Elfsight's widget automatically integrates with your Google Business profile, pulling in the latest reviews and their accompanying photos. As customers leave reviews with attached visuals, the widget seamlessly updates, ensuring your website always reflects the most recent testimonials. This dynamic and effortless process saves you time and keeps your content up to date.
Wrapping Up
Elfsight's Photos for Google Reviews widget breaks new ground in customer testimonials, harnessing the power of captivating visuals to elevate your website's credibility.
From now on, nothing can stop you from building a genuine bond with your audience and a positive perception with the transparency these review photos give to your branding. Whether it's a mouth-watering dish at a restaurant, a beautifully decorated hotel room, or a stunning landscape captured during a tour, they help paint a vivid picture in the minds of potential leads and convert them into active customers.
In case you need any help or have a helpful suggestion, you're more than welcome to check out these resources:
Wishlist. We want to stay in line with our users' needs while continuously developing and designing new products, features, and templates. Feel free to share your ideas or business requirements so we can help you in the future.
Help Center. If you face any difficulties with the embed process or set up challenges with the Google Reviews widget, here's a comprehensive library of guides to resolve any issue.
All-in-One Reviews widget. The Photos feature is implemented in the All-in-One Reviews widget for the Google source, too. Try it out yourself!
Embed Elfsight's widget today and take a step towards elevating your online presence.