Enhance your Shopify shop with the Elfsight Live Chat Box app, seamlessly integrating custom chat widgets that enrich your online presence and engage your valued customers. With these live chat boxes expertly embedded, your Shopify website will exude a fresh and captivating appeal, fostering meaningful connections with your audience.
Elevate Your Shopify Website with Live Chat Box: Use a Chat Widget
Amidst the myriad of plugins available for various platforms, Elfsight has developed an exceptional Live Chat Box app tailored for your Shopify website, infusing a vibrant chat presence into its functionalities. This app is designed to amplify your audience's interaction with real-time chat on your site. Seamlessly integrated into your code, this chat widget creates a lively atmosphere while providing an engaging live chat experience. The dynamic chat boxes beckon visitors to explore, engage, and seize the opportunities presented.
The Elfsight Live Chat Box for Shopify is not only a free tool but also a user-friendly one. You don't need to possess advanced IT skills to implement it and effortlessly integrate the finished chat box into your Shopify pages. All you need to do to add it to your website is to follow these simple steps:
Incorporate: Begin by acquiring the Elfsight Live Chat Box app directly from our website.
Customize: Navigate to your Shopify dashboard and identify the ideal spot on your webpage to showcase the chat widget. Craft an engaging layout with Shopify's intuitive customization options.
Embed: It's a breeze! Copy the provided code snippet from Elfsight.
Experience: Preview your masterpiece, and when satisfied, hit the publish button to let your Shopify website come alive with the dynamic live chat boxes.
Elevate your Shopify site with live chat boxes and watch chat engagement grow!
Discover the Shopify Chat App Amazing Features
With Shopify Chat, you can now add a personal touch to your e-commerce website by facilitating real-time interactions between your team and potential buyers. This app doesn't just stop at live chat; it's an extension of your online store's personality. It transforms your static product pages into dynamic conversations, making your customers feel heard and valued.
Shopify Chat not only enhances your website's live chat capabilities, but it also provides invaluable tutorials and code for easy integration. It's a free tool designed to make your e-commerce journey smoother and more interactive. By embracing Shopify Chat, you're taking a significant step towards building lasting connections with your customers, enhancing their shopping experience, and boosting your sales.
Enhanced Messaging with Elfsight Live Chat Box for Shopify

Elevate your Shopify store's messaging with seamless integration of one of the world's most popular messengers
Effortlessly add the Elfsight Live Chat Box by connecting it to your phone number in the plugin settings

Flexible Placement for Your Shopify Store

Choose from three versatile chat placement options – floating bubble, embedded bubble, or an integrated chat window to match your Shopify website's design
Customize the chat audience to display it to the right visitors
Show your floating chat button on any page across your Shopify store
Set up triggers that initiate the chat for a more engaging user experience

Intuitive Interface with Elfsight Live Chat for Shopify

Select your preferred bubble icon and add personalized text to enhance your chat's appearance
Effortlessly organize header elements for a streamlined user experience
Personalize the welcome message and chat start button to make a lasting impression
Utilize eye-catching notifications to grab your visitors' attention

Customized Style for Your Shopify Chat

Tailor your chat to your brand with the ability to recolor four key elements
Explore a vast library of icons to give your Shopify chat a unique and engaging visual identity
How to Incorporate Elfsight Live Chat Box on Your Shopify Website
Adding the Elfsight Live Chat Box app to your Shopify website is a straightforward process that can be completed by any web user with basic skills. Utilizing an online editor with a user-friendly interface, you can seamlessly create a chat widget that perfectly aligns with your Shopify requirements and enhances your website's live chat capabilities. To get started, simply follow the step-by-step instructions below:
Register for the Elfsight service to access the Live Chat Box app.
Enter the editor and start customizing your personalized chat box.
Personalize the chat box to match your preferences. Save your configurations.
Click on "Add to Website" and copy the provided installation code.
Head to your Shopify admin dashboard and embed the code into the designated section.
Enhance your Shopify website with the Elfsight Live Chat Box and enjoy seamless chat integration that fosters meaningful connections with your customers. It's a user-friendly extension that elevates your website's live chat experience, making it more engaging and interactive, and it's all available for free.
With this user-friendly approach, you can elevate engagement and take your Shopify website to new heights. Now, let's proceed to the next steps you need to take to enhance your website with the Elfsight Live Chat Box for a dynamic chat experience.
Embed Live Chat Box to Specific Page of Your Shopify Website

You are always welcome to enhance customer engagement and boost the appeal of your Shopify website with the Elfsight Live Chat Box. You have the flexibility to embed chat boxes on specific Shopify pages, such as the homepage, product pages, or designated sections of your online store, creating chat boxes for each section individually. Below are simple steps to guide you through the process:
Access your website's visual editor and navigate to the online store section, then click on "Customize."
Integrate the "Custom Content" section into your landing page. (The visual editor usually defaults to the homepage, but you can easily select the desired page from the drop-down menu.)
Within the left-hand menu, access "Sections" and click on "Add new section."
Provide a name for the section, and an editor will appear for further customization.
Embed the Elfsight Live Chat Box installation code into the editor, and save the changes in your Shopify admin dashboard.
By following these steps, you can seamlessly add Elfsight Live Chat Boxes to specific pages on your Shopify website, creating an interactive and engaging experience for your visitors.
Add Elfsight Live Chat Box into Your Shopify Store Template

Following these straightforward steps to seamlessly add the Elfsight Live Chat Box app to your chosen template:
Log in to your Shopify account and select the store where you want to incorporate the live chat box app.
Navigate to Actions → Edit Code to access the code editor.
Find the theme.liquid file within the Layout section and open it for editing.
Insert the Elfsight Live Chat Box app installation code just before the closing tag.
Save your changes, and experience the integrated live chat box app on your Shopify website in action.
By following these steps, you can seamlessly integrate the Elfsight Live Chat Box app and provide real-time chat functionality, fostering meaningful interactions with your customers on your Shopify e-commerce platform.
Add Elfsight Live Chat Box on all Shopify Product Pages

To enhance the interactive experience of every product page on your Shopify website, follow these straightforward steps to seamlessly add the Elfsight Live Chat Box app:
Log in to the Shopify admin and access the backend of your Shopify website.
Navigate to the online store section and select Actions → Edit Code.
Open the design template associated with your product pages.
Within the template, go to Sections → Product Template File. (For Shopify Store 2.0 users, choose the main-product.liquid file instead.)
Identify the preferred location on the template to display the Elfsight Live Chat Box app.
Then, embed the app installation code into that location and save the changes.
Congratulations! You've successfully incorporated an engaging live chat experience into every product page of your Shopify website with the Elfsight Live Chat Box app.
Add Elfsight Elfsight Live Chat Box on Specific Shopify Product Pages

In addition to the main sections of your Shopify website, you now have the opportunity to incorporate live chat boxes on each individual product page, fostering real-time interactions and encouraging more engagement.
To achieve this, follow these easy steps:
Access the backend of your Shopify website by logging in and navigating to the online store section. From there, select "Actions" and then click on "Edit Code."
Locate the product.liquid file for older versions of Shopify, or for Shopify 2.0 users, find the main-product.liquid file within the Sections folder.
Create a block container for the live chat box app by inserting the provided code in your desired area. Don't forget to save the changes.
Once the changes are saved, go to the online store and select "Customize."
From the top dropdown menu, choose the Shopify product pages where you wish to add the Elfsight Live Chat Box app script.
Depending on your Shopify store's theme, you may view the product information or navigate to the Products Pages folder.
Within the folder, click "Add block" located at the bottom and add an Elfsight application block.
Open the Elfsight application block, select the desired Shopify product, and insert the Live Chat Box installation script into the designated section.
Apply the changes by clicking "Save" in the top right corner of your shop.
If you encounter any challenges during this process, rest assured that our support experts are available to assist you in seamlessly integrating the Live Chat Box app into your Shopify website at absolutely no cost.
Shopify Live Chat Box Plugin Examples
Let's delve into the realm of customization and style possibilities offered by the Elfsight Live Chat Plugin for Shopify. These remarkable options represent just a glimpse of the extensive customization features that our Chat Widget has in store for you. With this dynamic plugin, you can transform your Shopify store into a real-time, live chat hub that caters to your audience's every need.
Example 1: Versatile Chat Customization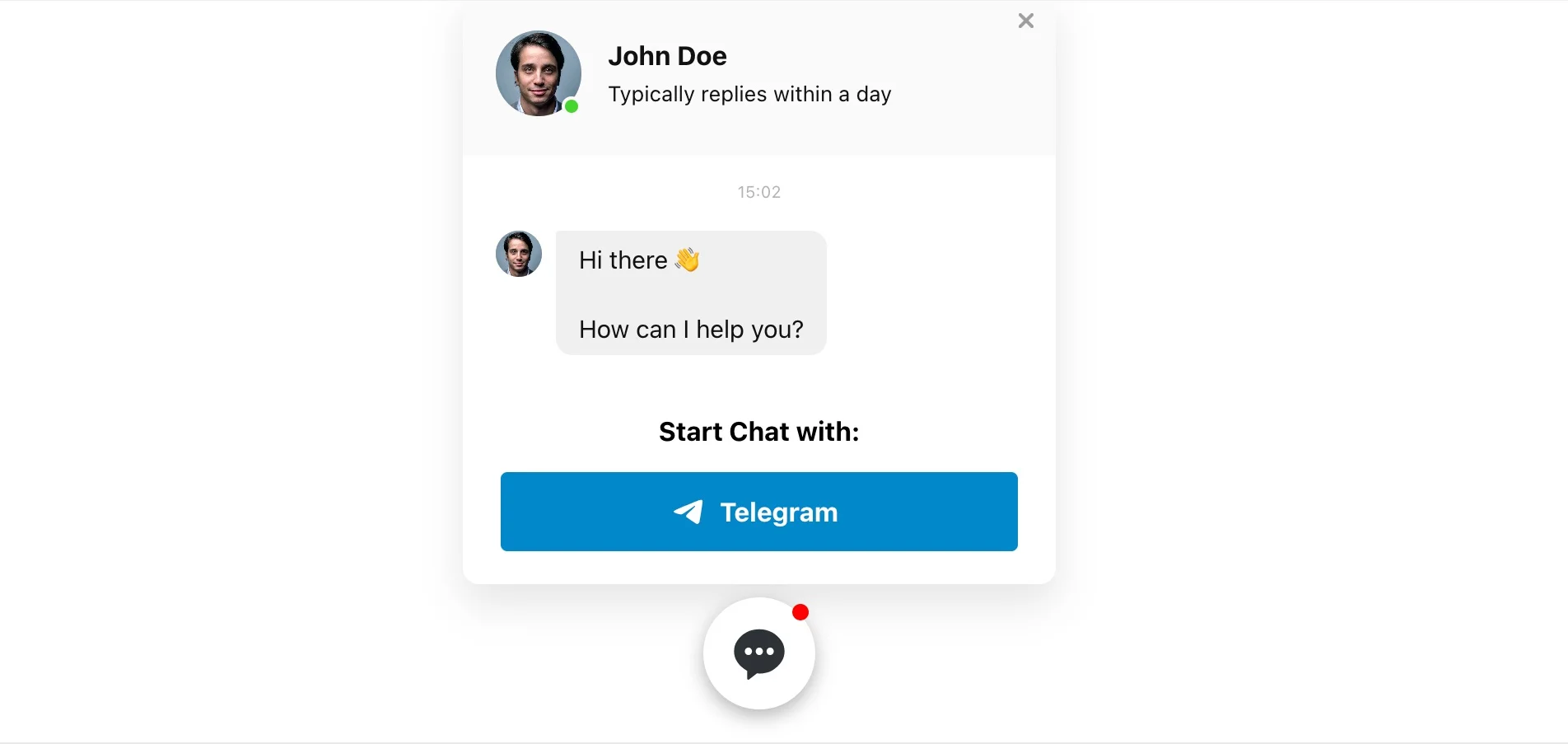 Unsure about the right chat solution for your Shopify store? Look no further! The Elfsight Live Chat Plugin offers the perfect chat box that seamlessly complements any web design, making your support instantly visible and engaging. You have the freedom to personalize colors, themes, chat bubbles, and other elements, transforming it into a truly unique and visually stunning feature.
Example 2: Enhanced Customer Support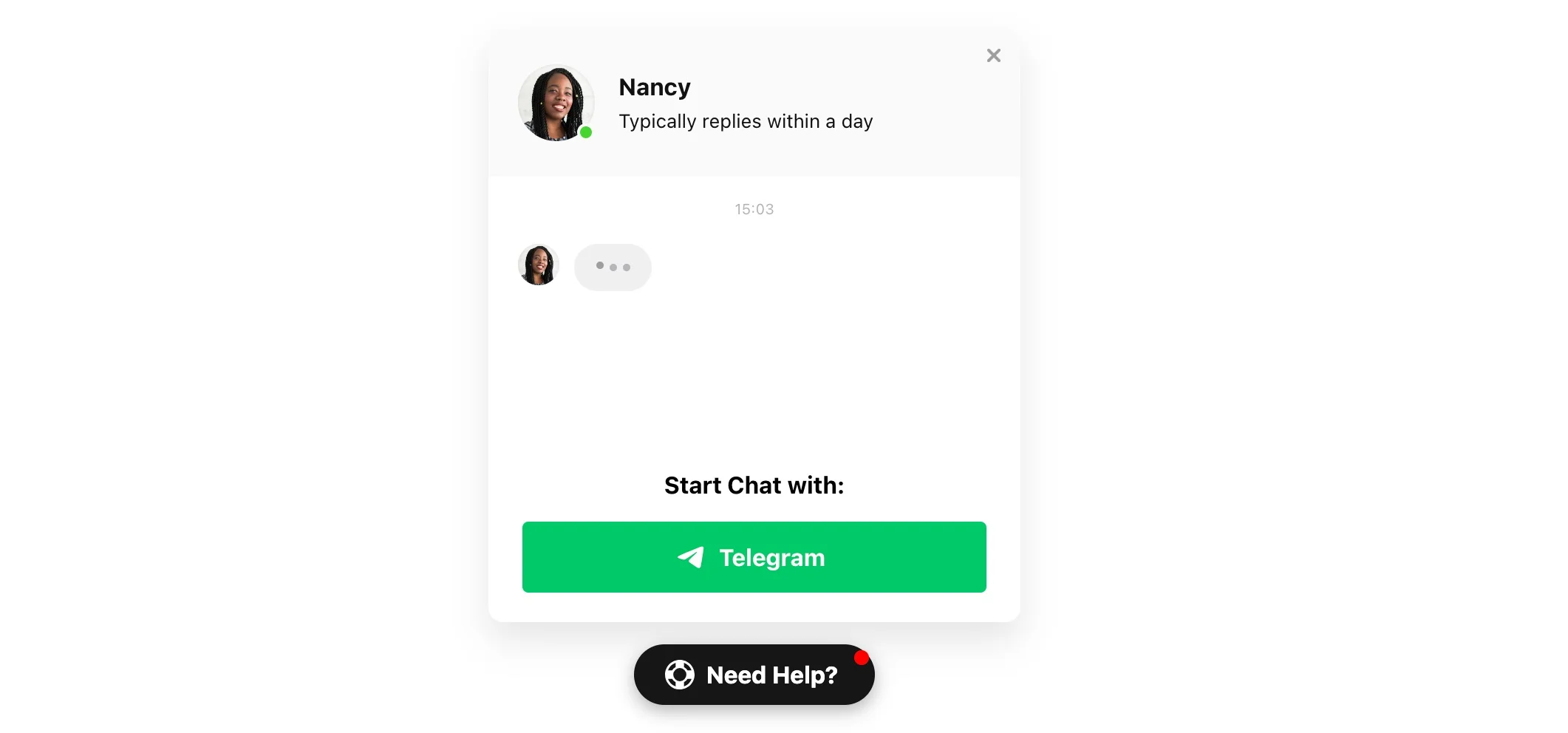 For those seeking top-notch customer support, Elfsight's Live Chat Plugin excels. By featuring a support team member's photo, your customers will have the assurance of chatting with a real person. Moreover, the chat box provides valuable insights by displaying the expected response time, giving visitors confidence in the support process.
Example 3: Sales Booster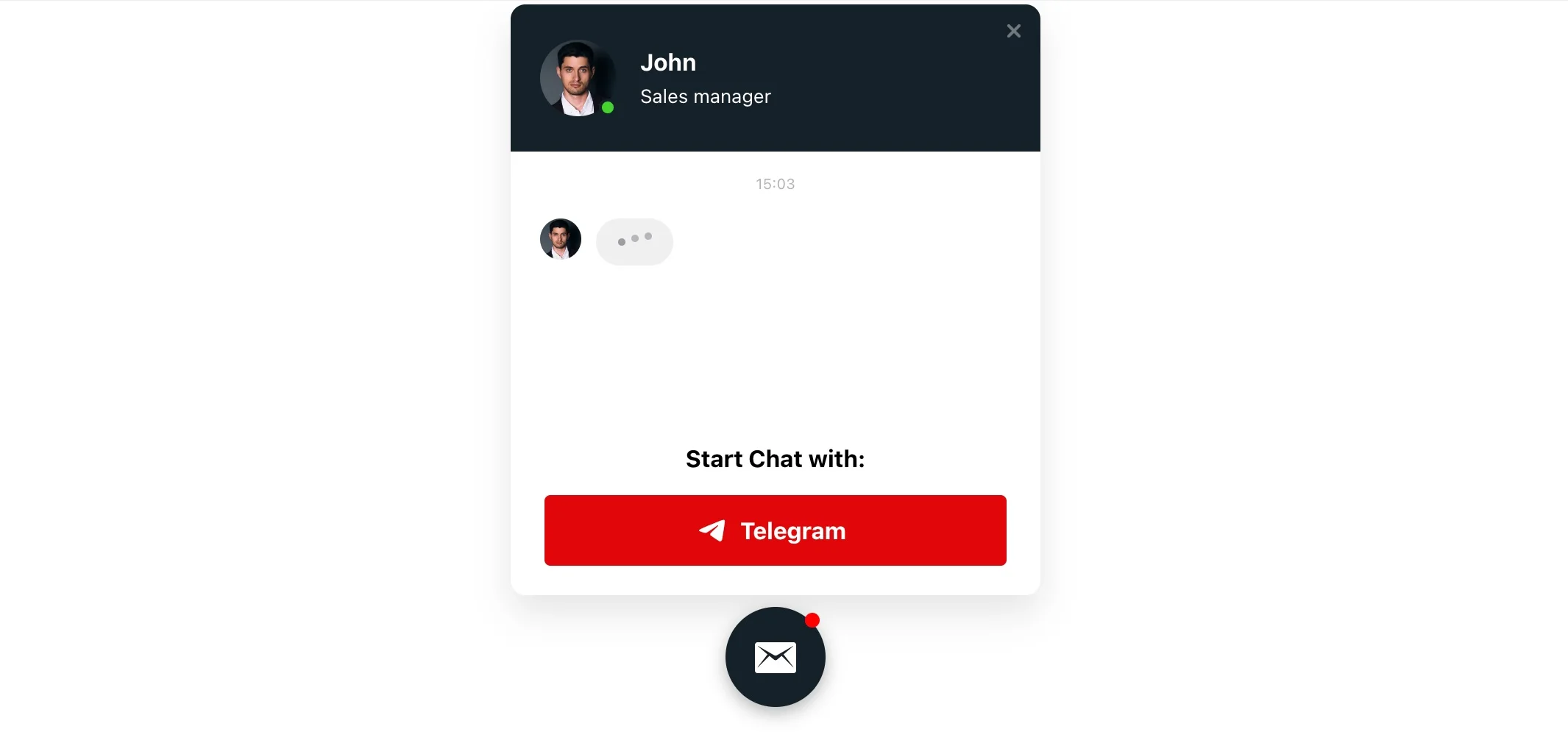 Looking to accelerate your sales? The chat box designed for sales purposes is crafted to captivate with its sleek design and strategic chat buttons, creating a visually striking contrast that expedites decision-making. Adding the manager's picture, name, and position to the header ensures customers receive real and credible advice.
Example 4: Seamless Booking Experience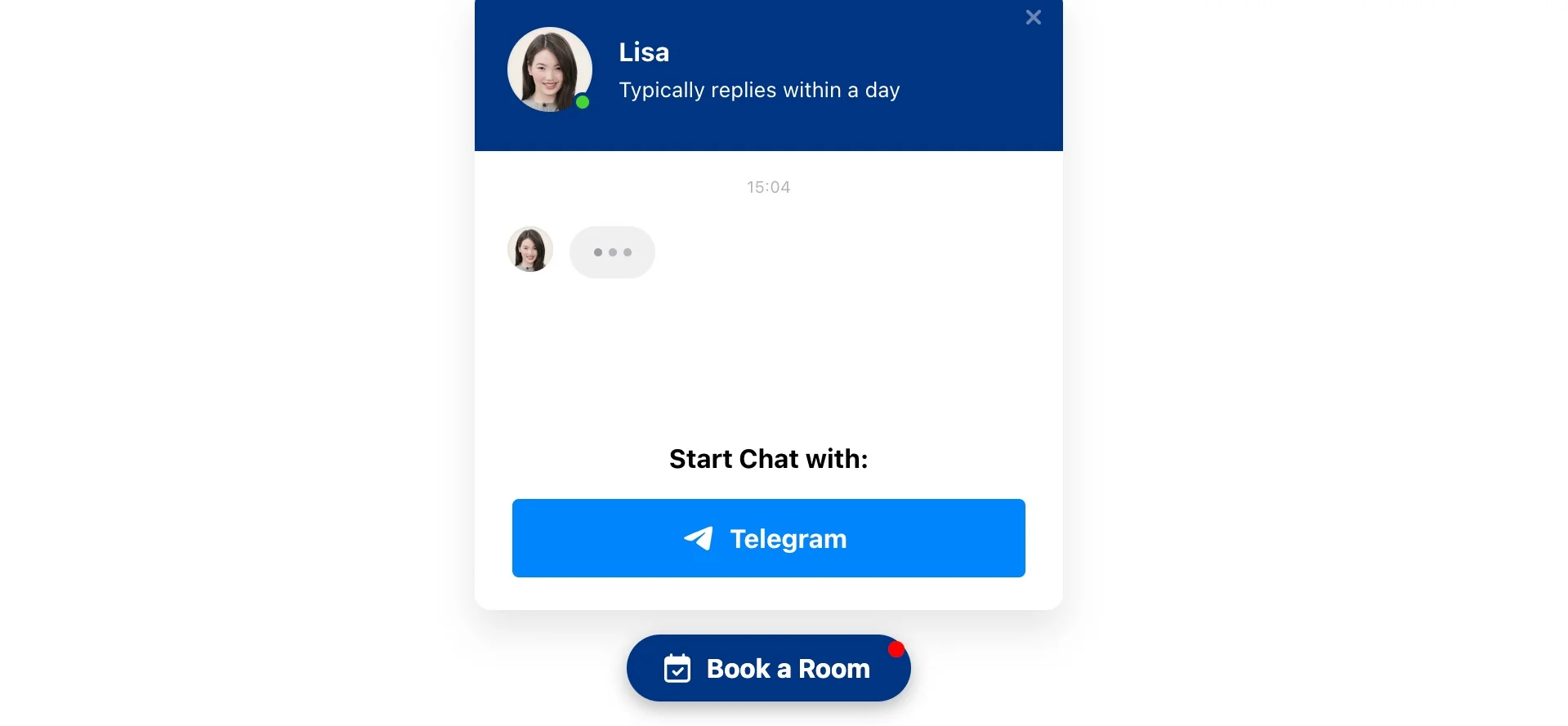 Make booking a breeze with the clean and organized design of the booking chat box. Its intuitive layout encourages guests to ask any questions they may have, while various messenger chat buttons enable swift access to your services. The eye-catching "Start Chat" button can be tailored to your specific needs.
Example 5: Feedback Collection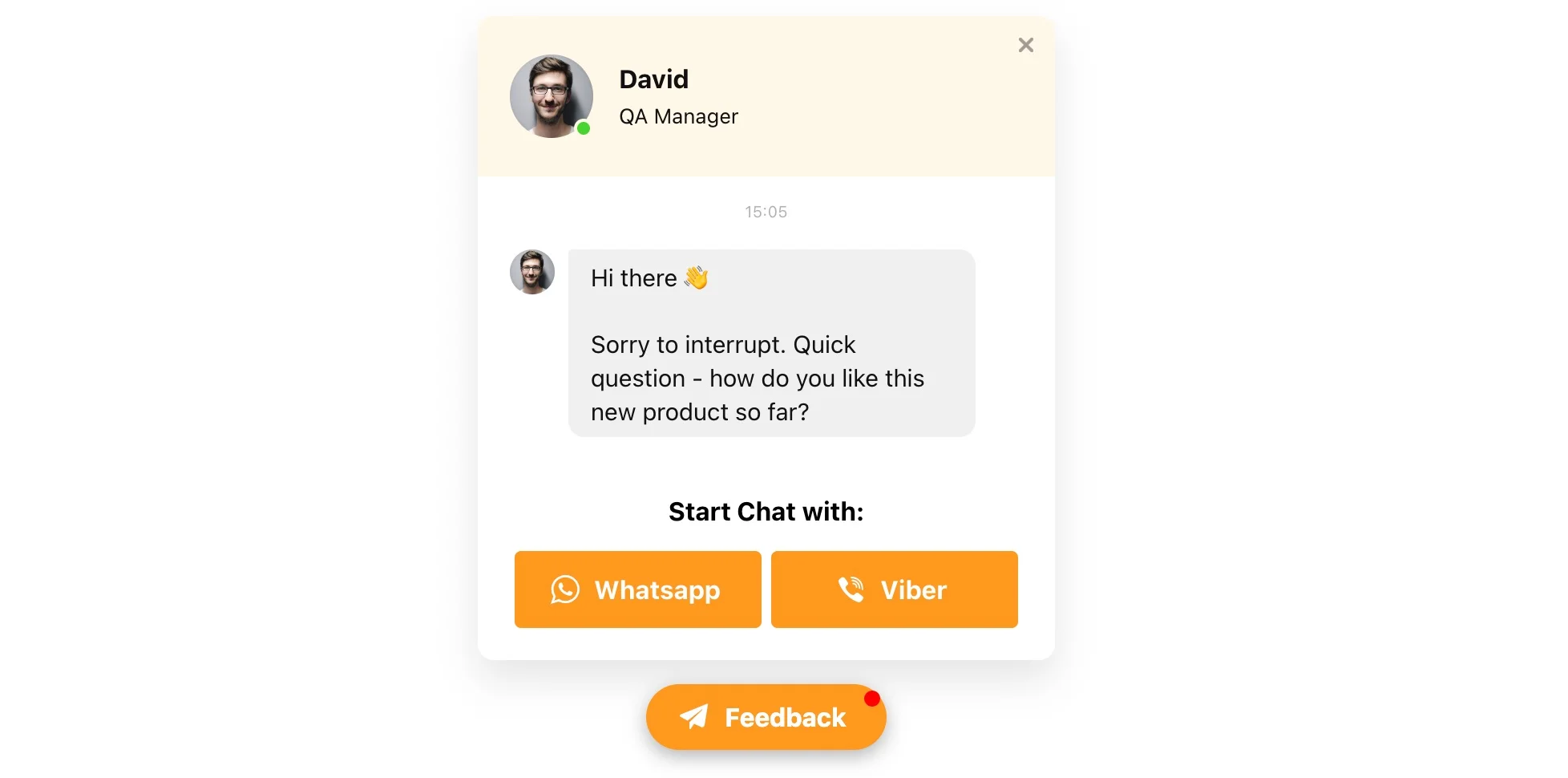 Collecting customer feedback is invaluable to any business. With a floating bubble placement and a vibrant design, the feedback chat box ensures you never miss an opportunity to gather authentic evaluations of your work. Positive reviews can be used effectively for promotion.
Example 6: Smooth Onboarding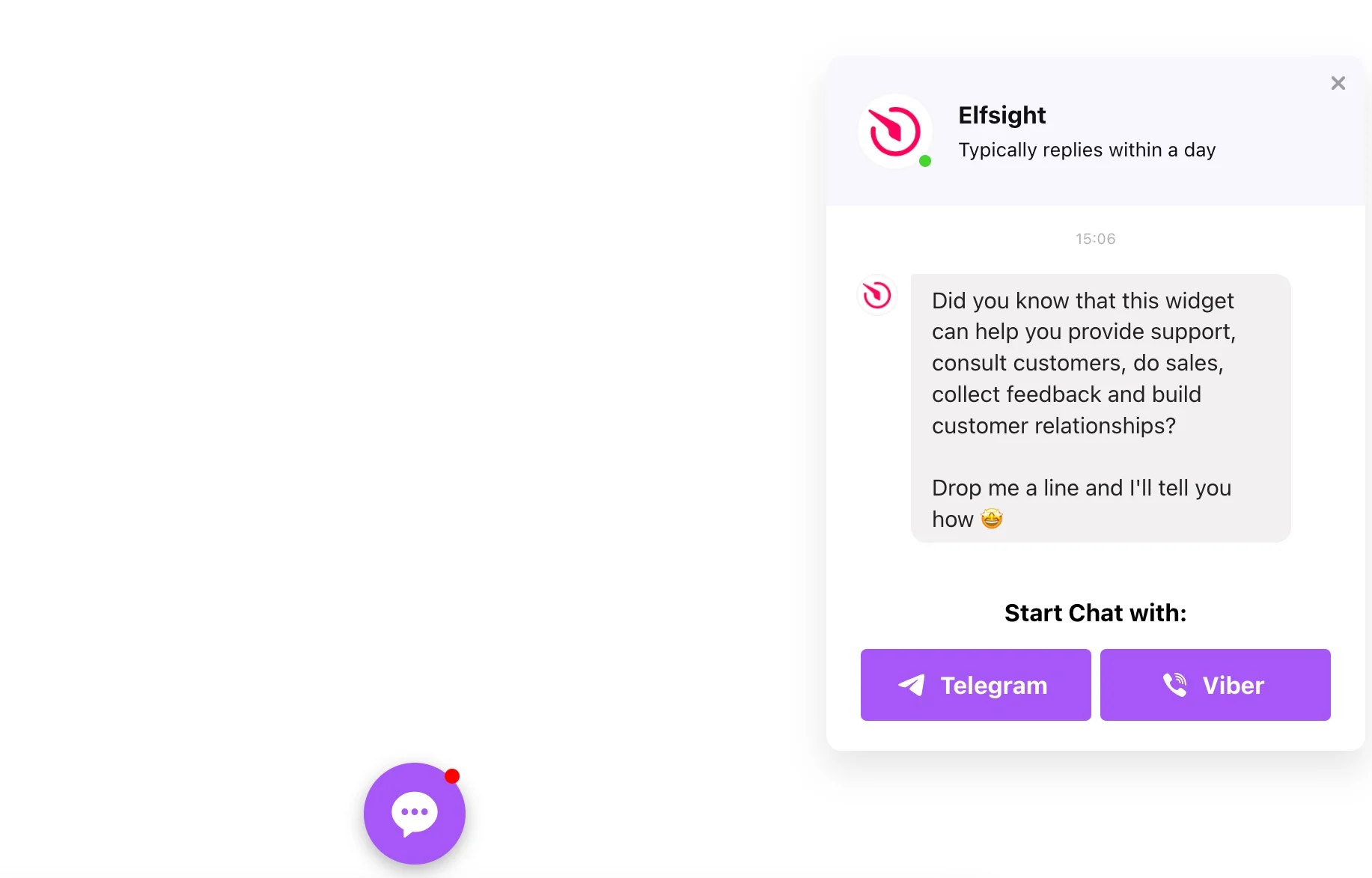 Eliminate the need for intrusive calls and requests to attract potential clients. The Elfsight Live Chat Plugin empowers visitors to learn about your services or products with ease. The conspicuous "Start Chat" button, in a bright purple hue, ensures they won't overlook the opportunity to engage.
Example 7: Effective Consultation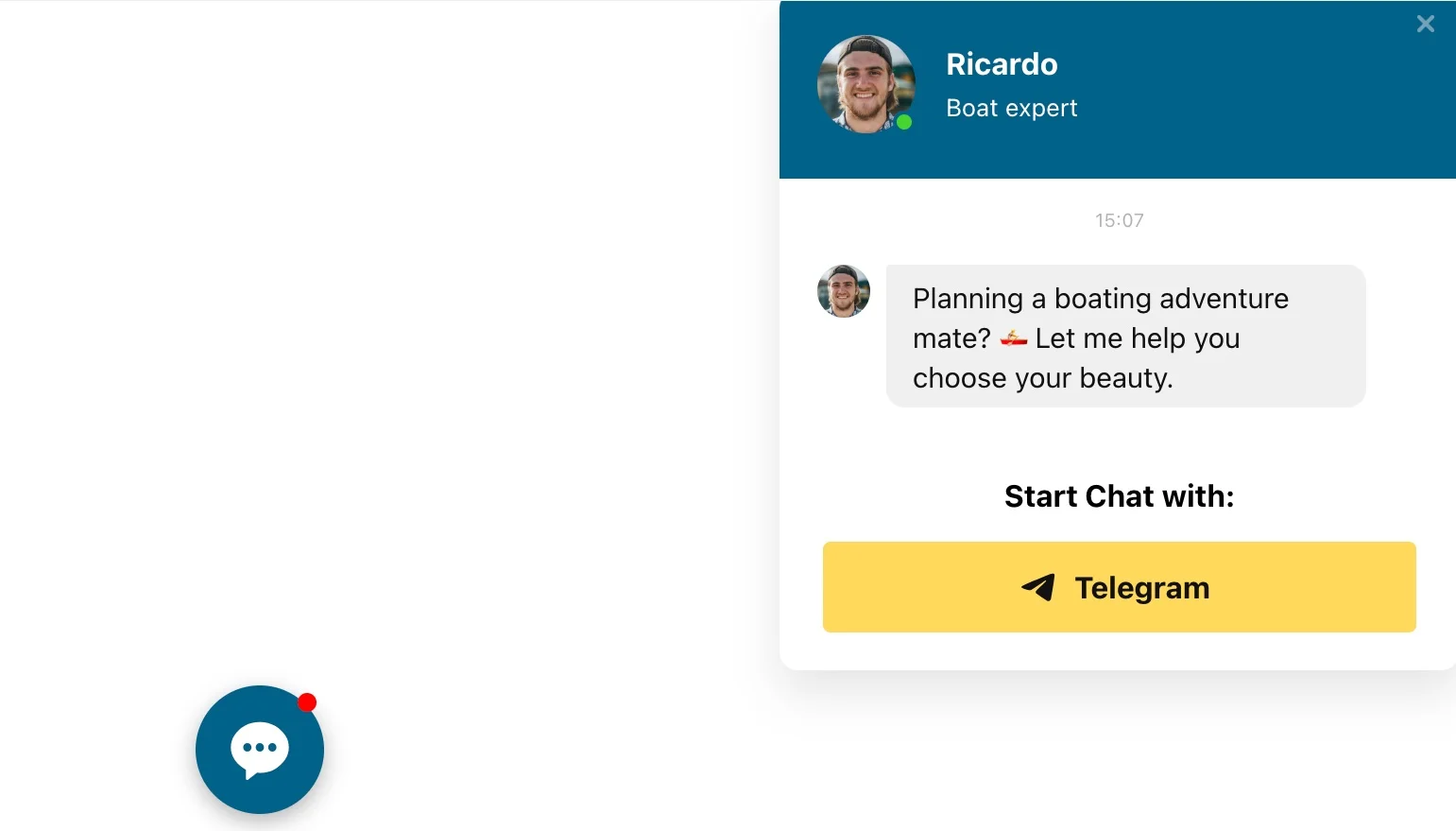 Empower your clients with the most effective consultation solution. A welcoming message and bright yellow messenger buttons make it easy for customers to initiate conversations. Provide service details in a comprehensive and unobtrusive manner, fostering informed decision-making.
Example 8: Seamlessly Add the Chat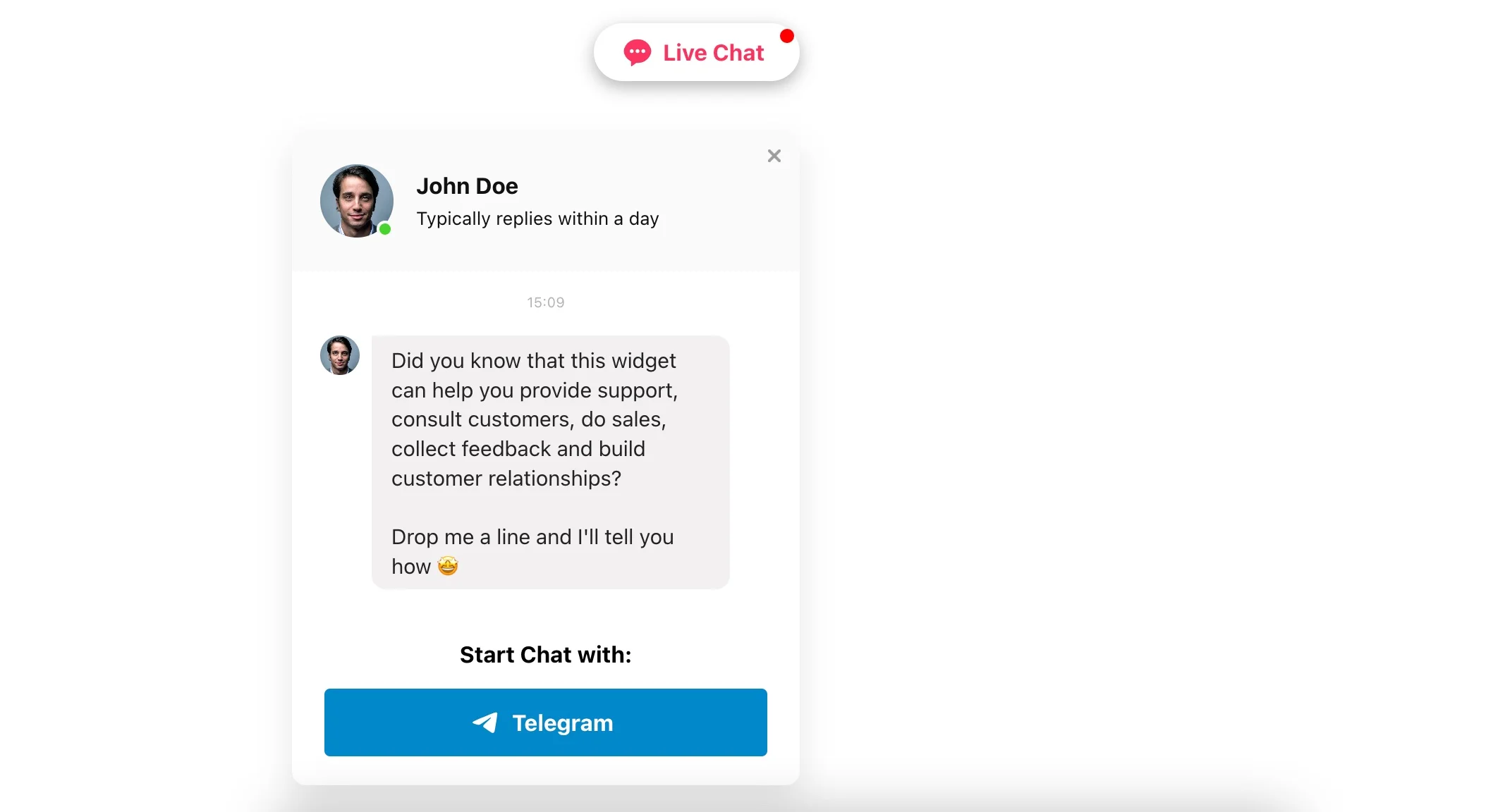 Integrate your chat into your Shopify store's content seamlessly with the Embed Chat Button feature. This small icon seamlessly matches any web design. Upon clicking, customers will see the chat person's name and a welcoming message, ensuring a smooth and user-friendly experience. Elevate your Shopify store's live chat capabilities and engage your customers effortlessly.
Why You Should Add Live Chat Box to Your Shopify Website
There exists a multitude of motives to embrace the live chat widget. In the following discourse, we shall delve into ten compelling reasons for you to wholeheartedly embrace, dare we say, the live chat.
Cost Reduction
Let's commence our journey with the financial advantages it brings.
Operational expenses constitute a significant outlay for all businesses. A live chat widget, when embedded within your website, warmly welcomes visitors and addresses their initial inquiries. When faced with complex questions, an online agent can seamlessly take over and resolve the issue. This approach enables your company to engage with a broader user base while requiring fewer agents.
This not only spares you from the expense of hiring additional agents for customer support but also leads to savings on training and other associated overheads.
This is precisely why live chat support proves to be 17-30% more economical than traditional phone support.
Gathering Valuable Data
Incorporating a live chat feature into your website can also serve as a source of and repository for highly valuable customer data.
This encompasses the frequent queries posed by prospective customers prior to making a purchase, as well as the common challenges encountered by customers post-product use. Such data holds the potential to significantly enhance your marketing initiatives and product development.
What distinguishes this data is its text-based format, rendering it more readily accessible than recordings of phone conversations. Furthermore, with an increasing preference among users for chat communication over email, you will amass a more extensive reservoir of customer information.
Always bear in mind that the more you comprehend about your users and their experiences, the better equipped you are to precisely tailor your offerings to meet their needs.
Boost Sales
As the adage goes, time is money, and nowhere is this truer than in the realm of live chat. It empowers you to support and engage with customers around the clock. By offering timely and pertinent information, the chat service assists users in making swift decisions.
According to a study, 38% of individuals attributed their purchase to the presence of live chat on a website.
Moreover, the same study reveals that 63% of people are more inclined to revisit a website that offers live chat support.
Elevate Customer Service
Customer service represents the guidance and advice provided to those who purchase or use your products and services. The speed and accuracy with which this support is delivered significantly impact its quality. Engaging with online visitors through a website chatbot is a pivotal skill to master, and getting it right is crucial for the overall health of your brand.
Studies show that the live chat's potent FAQ features were speedy and precise enough to rival real-time human support.
This resulted in higher Customer Satisfaction (CSAT) scores.
Swift Issue Resolution
Customers appreciate rapid solutions. In our fast-paced world, immediate responses from companies are highly coveted. While emails typically entail a 24-48 hour response time, and most phone calls go unanswered, live chats offer instantaneous responses and resolve issues within minutes.
Delivering swift solutions becomes especially challenging during peak hours or seasons. Companies often struggle to address all inquiries, let alone do so promptly. However, a live chat application makes this feasible.
Conclusion
Elevate your website's conversational experience with the Elfsight Live Chat Plugin for Shopify. Seamlessly integrating this dynamic app will revolutionize the way you engage with your audience and offer real-time support.
Adding the Elfsight Live Chat Plugin to your Shopify site is a straightforward process, designed to accommodate both seasoned developers and beginners alike. This user-friendly app streamlines the integration of live chat, making real-time communication a reality.
Our Live Chat Plugin empowers you to tailor the chat box's appearance to harmonize with your website's design and branding. You can customize styles, colors, and labels, ensuring a seamless and visually appealing chat experience for your users.
Beyond its functional advantages, incorporating the Elfsight Live Chat Plugin enriches the overall user experience on your Shopify site. It simplifies communication for your customers, creating a seamless and trustworthy real-time chat environment that aligns with your brand identity.
For those seeking guidance on adding the Elfsight Live Chat Plugin, we offer a range of valuable resources:
Dedicated Support: Our committed support team is always available to assist with any inquiries or technical assistance you may need. Whether you require step-by-step instructions or troubleshooting help, we're here to support you.
Community Collaboration: Join our vibrant community of Elfsight plugin users to share insights, exchange ideas, and explore the endless possibilities our Live Chat Plugin offers. Connect with fellow users in our forums and tap into collective knowledge and innovation.
By integrating the Elfsight Live Chat Plugin into your Shopify website, you not only enhance its chat capabilities but also provide a secure and user-friendly chat experience for your customers. Whether you're running an e-commerce site, a blog, or a corporate portal, this app is the ideal solution to optimize your real-time communication. Make the smart choice and transform your website's chat system with the Elfsight Live Chat Plugin today.