YouTube Gallery Features
Explore all the features of Elfsight YouTube Gallery and how they can help you create the most effective widget.
3 types of YouTube sources supported
Display any channel, share any YouTube video and choose it from any channel or playlist to construct an original video flow for your website. Just paste the required URL and the video will appear on the website. There are no restrictions concerning the amount and type of sources. Add channels, groups and separate videos in one widget at the same time.

Group videos for a more structured playlist
Divide videos in groups to make a neat and easy-to navigate playlist. Create as many groups as you like. You are free to give each group its own title, so that anyone will get a quick access to the required spot. In a word, make order out of YouTube chaos.
Tip: Create galleries and group your video content, rather than showing it as a whole flow. It will bring structure and make it easier to navigate.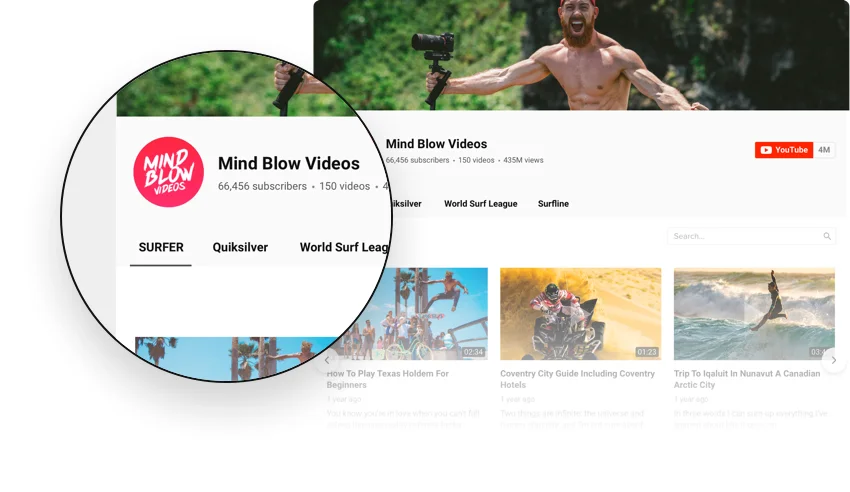 Content
Usage examples
See a selection of real examples to explore the full potential of YouTube Gallery for your website.
See in action
Live demo
Try all the features of YouTube Gallery in live demo now. No fees. No registration. No coding.
Try now
3 Video preview layouts
Our YouTube Channel widget has 3 tremendous layouts for video previews: Classic, Cinema and Horizontal. Display videos the way you like. You can also control an after-click video playback. After pressing on a preview, this video will appear in a popup player, new YouTube window or existing preview.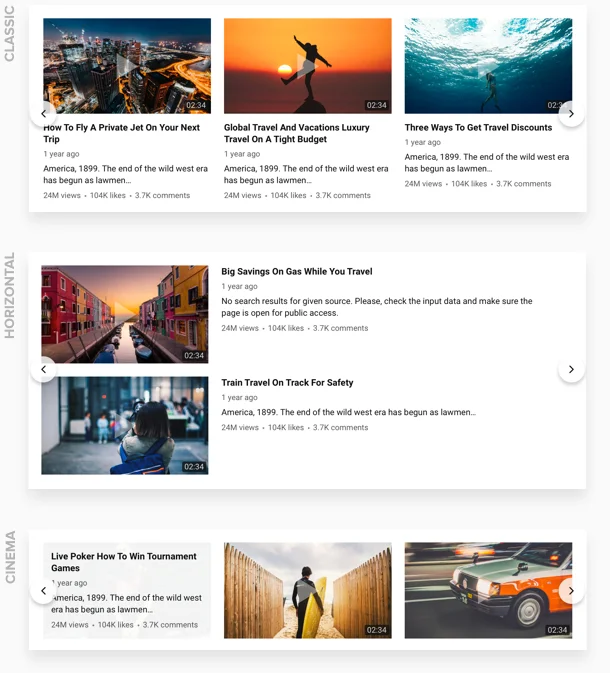 Impressive popup
You are free to show your videos inline, bring each of them to the foreground or open it right on YouTube – just choose your play mode. Impressive popup mode allows you to hide all 12 switchable elements to show only a video alone, or switch them on and reveal maximum information with comments, likes counter and much more.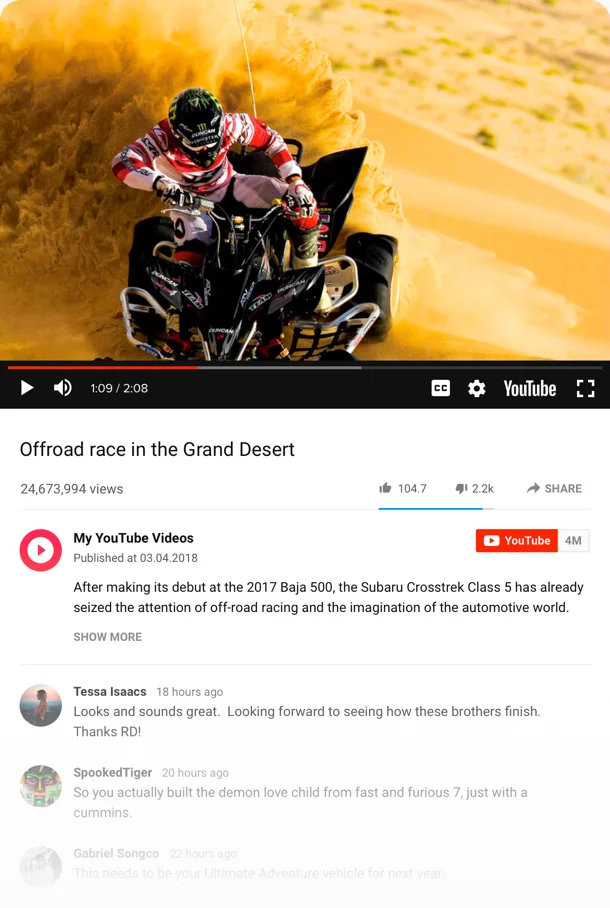 Flexible header with maximum design options
Using YouTube Gallery you get 3 header layouts: Classic, Accent and Minimal. Decide yourself what information should be presented in the header. Furthermore, customize info as you wish by creating a custom channel name, description, banner, and logo. Of course, if you don't need a header on the web page then just hide it.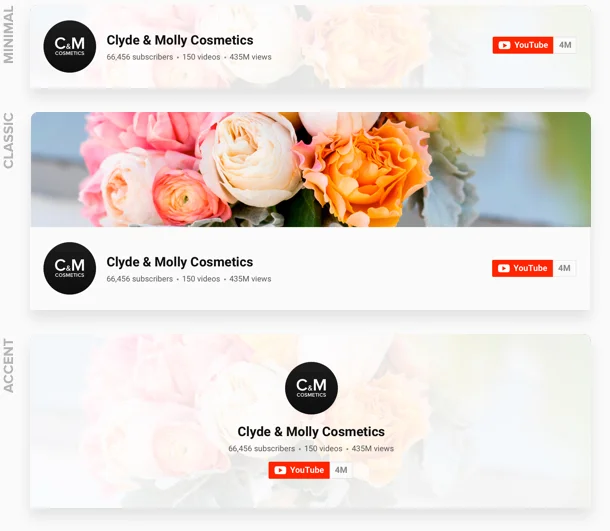 Design
Arrange your content into flexible grid
Elfsight YouTube Gallery helps you to arrange your content the way you need. You can set the parameters of content grid by choosing the number of columns and rows, as changing the gutter space. This will help to accommodate the widget to any size that you choose.
Tip: If you would like to show videos as a list, we recommend to set only one column in the grid. If you have a lot of columns and very tight space for each gallery element, then videos with horizontal layout will collapse to thumbnail.

Modify the size for perfect look
We have made everything to let YouTube Gallery stay effective whatever your space requirements are. You are free to adapt the width of the widget to the needs of your website by just inserting the value in the box. And no worries about mobile devices – our widget is mobile optimized and will look just as perfect on any device.

Diverse navigation options
Elfsight YouTube Gallery has 4 navigation controls: arrows, drag, pagination, and scroll – which you can use separately or together. In addition, you get free mode for smooth scrolling, horizontal/vertical scrolling, autorotation for automatic video sliding and a bunch of animation effects. You can disable or enable any of these options in one click. You can also show or hide a search box.
Tip: If you have only one tab with video content, our recommendation will be to hide tab navigation with default Uploads element. To do this, go to Layout tab of the editor, choose Groups and switch off Show groups option.

10+ included languages
We have translated our widget into 18 most widespread languages, and our users all over the world make their contributions by adding more languages to this list. You can easily apply your language and make sure your visitors have the most comfortable experience on your website.

Layout
Usage examples
See a selection of real examples to explore the full potential of YouTube Gallery for your website.
See in action
Live demo
Try all the features of YouTube Gallery in live demo now. No fees. No registration. No coding.
Try now
5 predefined skins
Choose out of five ready-to-use color templates, and change the style of your YouTube Gallery widget. Dark, Red, Deep Blue, and more – it's easy to install them in one click and find the one that will reflect the concept of your website and make the widget blend in with it.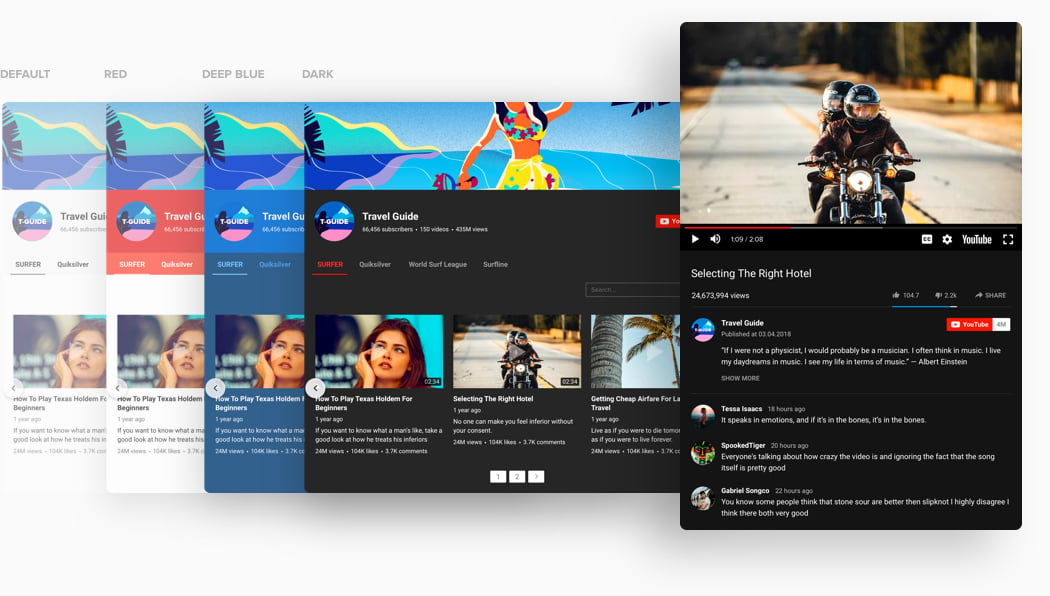 A variety of paintable elements for stylish look
If you want to make your widget maximum customized, you are free to paint the elements of header, groups, content, video and popup – it's only your imagination that can stop you! Find the most stylish combination of colors to make YouTube gallery even more attractive.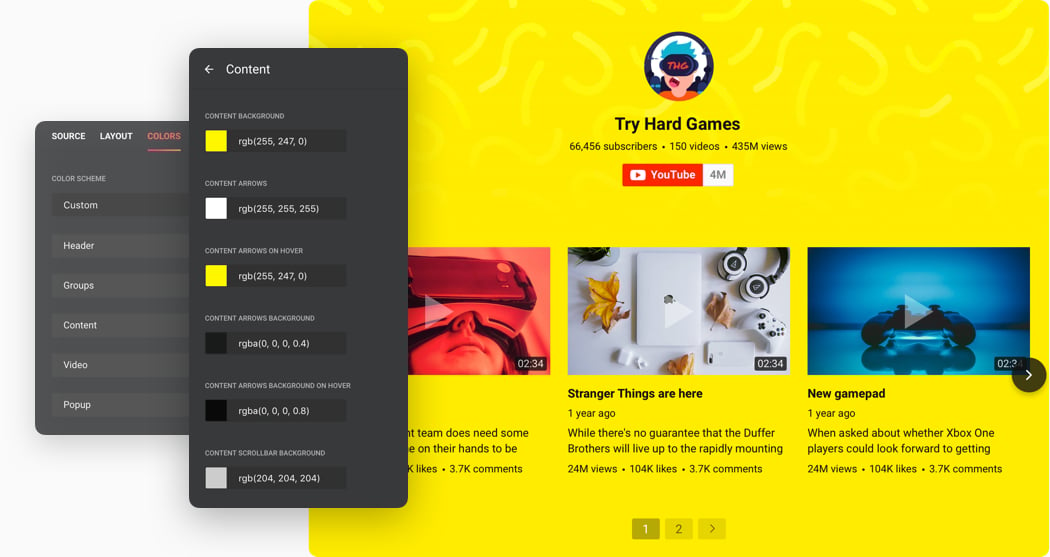 Style
Join 2,078,753 customers already using Elfsight Apps
Get the taste of 80+ powerful apps by Elfsight. No credit card. Joining is free!