PayPal Button Features
Explore all the features of Elfsight PayPal Button and how they can help you create the most effective widget.
One-time payment button
It will take just seconds to set a fast single-payment procedure for your clients. Here are the basic elements that you need to set:
1. Product name. Specify the name of your item or service in Product name field. Give the names that will be clear to your clientele and describe your offers best. What you enter here will be shown to the client on the payment page.
2. Price. Here's where you can set the price for your product or service. All you need to do is just enter the value, there's no need to specify the currency, since there's a special box for it.
3. Shipping price. If you apply shipping fees to your offers, you can easily indicate them in Shipping price field. If the shipping is free, just leave it empty. To bill your clients for shipping, only set the number value in the box, the currency will be applied automatically.
4. Tax. This option allows you to add tax to the payment, in case you do so. The tax can be set as percentage from the price of the item, or a flat amount. If you indicate flat tax, then it will be in the same currency as the price will. If you leave the box empty, then no tax will be applied.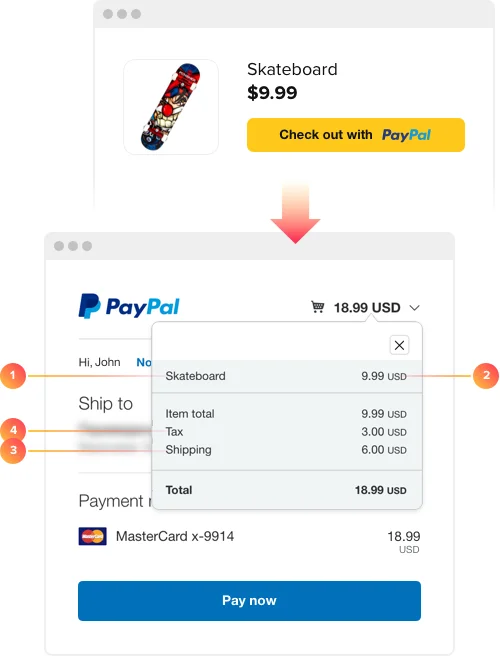 Checkout
Usage examples
See a selection of real examples to explore the full potential of PayPal Button for your website.
See in action
Live demo
Try all the features of PayPal Button in live demo now. No fees. No registration. No coding.
Try now
Automatically recurring subscription
To make your clients' subscriptions automatically continue until they manually cancel them, enable Recurring option. Thus you will set automatic billing for subscription on a fixed schedule and at a set price. It ensures that payments will reoccur based on the chosen frequency and payment details.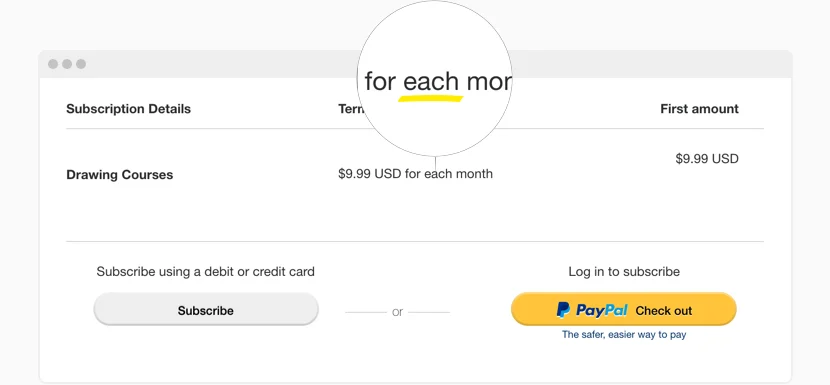 Daily, weekly, monthly, yearly, or your own way billing period
Get your subscription payments with any frequency you want: daily, weekly, monthly, and yearly. If you need to set an alternative variant, choose Custom and two more boxes will appear. In the Billing period box, pick the period to calculate the full cycle of the subscription. In the Billing cycle box, set the number of the periods per each cycle. For example, if you wish to bill your clients every four weeks, then choose Weeks in Billing period and set 4 in Billing Cycle.

Subscriptions
Secure and fast donation option on your website
With Elfsight Donation Button it's a matter of several clicks to install donation button on your website. By simply choosing Donation type of the button and adjusting a minimum of settings, such as merchant's email, donation price and currency you will add a reputable and fast tool for donors on your site. If you want to let your donors decide on the donation sum themselves, you can simply leave the Price field empty. In this case every donor will enter their donation value in the payment window themselves.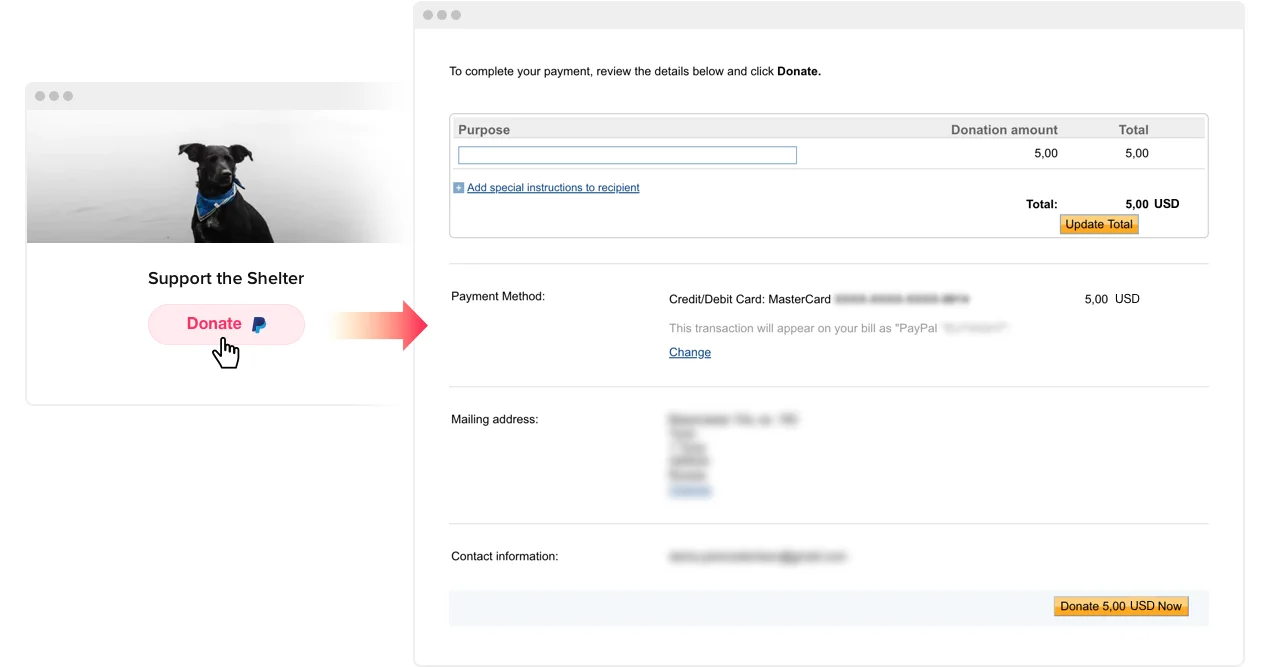 Donation
Usage examples
See a selection of real examples to explore the full potential of PayPal Button for your website.
See in action
Live demo
Try all the features of PayPal Button in live demo now. No fees. No registration. No coding.
Try now
Built-in localization for your country
With localization option you can use Elfsight PayPal button to receive payments made in any corner of the world with maximum comfort for you and your clients. Just choose your country, and the PayPal checkout window interface will be translated into the corresponding language.

Tip: When you change the button localization, verify that you also set the currency in which you want to get the payments.
20+ currencies for handy paying everywhere
Having a wide range of currencies supported by our widget, you can choose the one that will be the most convenient for your users and yourself. Our list includes 23 available options for any region of the world. The currency that you set will also be applied to shipping price and tax.

Localization
Shaping your custom button
Feel free to create your own custom button, choosing which element it will include. Button text, Button header, PayPal Icon and PayPal text – show or hide each of these. Customize the text of the button by simply typing your own in the Button text box. The width of the button will automatically adapt to the length of the new text.
Tip: Use Button header to write a call-to-action that will inspire users to make a purchase.

Adjustable size parameters
You can adapt the size of the button to the needs of your use-case, with the help of a handy slider bar. By just dragging the cursor, you can easily see how the button size changes from small to large. That makes it so easy to find the ideal size.
Tip: Make your button big enough using Button size option, so that your users could never miss it.

Button color variations
With Elfsight PayPal button, you can not only change the color of the button and text, but also choose one of the variants of the PayPal logo text color: original or white. It will help you to find the best color solution depending on the overall style of your website.
Tip: Use color options to create a button that will contrast with the background and other elements of the website and stay eye-catching.

Diverse border options
Border option of Elfsight PayPal Button allows you to vary the thickness of the button border and create an outline button. You can set border thickness using a handy slider bar. There's also an option to choose border color for a truly unique look.

Flexible button configuration
You can set the shape of your PayPal button to make it rectangle, with rounded angles or absolutely rounded. You can see how the border radius changes and vary the angles shape, dragging the cursor on the slider bar.

Payment systems icons
If you prefer, you can show icons of the most popular payment systems under the button: Visa, Mastercard, American Express, and Discover. Each one can be switched on and off. Showing the icons of supported payment systems contributes to higher trust in the eyes of potential customers and increases a chance of positive buying decision.

Style
Join 1,078,753 customers already using Elfsight Apps
Get the taste of 80+ powerful apps by Elfsight. No credit card. Joining is free!