Best Sports Website Builder
How to create a Sports website from the scratch or upgrade the one you've already built on the basis of any CMS or website builder
Step 1
Decide upon your prospective website tasks
Step 2
Choose a website platform
Squarespace
Create your own sports website employing a responsive readymade Squarespace template.
WordPress
Make your delightful Sports website employing a flexible premade WordPress template.
Wix
Form your highly professional Sports website applying adaptable readymade Wix templates.
Overall ratings
Form your flawless website utilizing the best site builders. Using the comparison table below, you can look over the necessary characteristics of the platforms and select the one that entirely fits your needs for the coming website.

Squarespace
WordPress
Wix
Free Plan
trial
free
free
*limited functionality
Paid From (mo.)
$12.00
free
$13
Overall
4.4 out of 5
4.3 out of 5
4.2 out of 5
Quality of Support

8.5
7.7
7.9
Ease of Setup
8.8
8.1
7.9
Templates
10+
1000+
* most are paid
75+
Our widgets
for Platforms
Widget List
Plugin Catalog
App library
All the info has been obtained from the publicly available sources. Elfsight does not bear the responsibility for reliability of the info presented. On condition of facing any inconsistencies, don't hesitate to contact our team.
Just as you choose a Website Builder for making a Sports website, always draw attention to take notice of website performance and good value for money. Use a trial period or free sports website builder version to look into the platform. This is the only way to reveal if the website builder is really as conductive and useful as they describe it.
Step 3
Sports website examples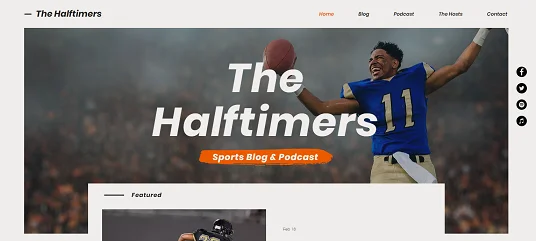 Example 1: Sports Blog & Podcast website
This is a multipurpose template that's a wonderful idea to get your brand glow! Accompanied by a couple widgets, it will definitely assist you stand out against your business rivals.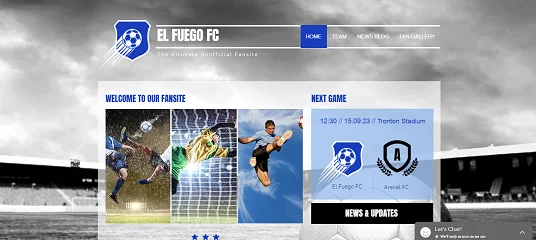 Example 2: Sports Fanclub website
In case you're in a search of a perfect starting point, employ this smooth, yet very efficient business template. Embed some of our widgets to improve its overall look and functionality and commence evolving your business right away.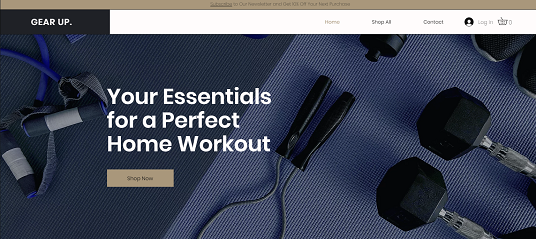 Example 3: Sports Gear website
Using this template, you'll unquestionably add a face for your company! The page has bright colors without being weighed down and makes it easy to understand what the site is referring to.
Step 4
Fill in your sports site
This is the first page users see when they come to your website. You can place your calendar here so that users could see all the upcoming matches right away. Also, this page should provide your audience with all the latest updates and news, scores and links to other important areas of the website.
Here all the info about your events should be placed. Tell users when and where the next sports match will be held and how they can get there. Also, provide them with all the necessary stats about the tickets.
Sports teams tend to be dynamic structures – they can change a lot due to various reasons – from retirement to injury. Let your fans be aware of all the changes that occur to the team with the help of this section.
In the life of each team there are both victories and defeats. Undoubtedly, all these are bright moments, so we advise you to create a gallery of photos and videos reflecting the team's progress. Let the fans relive these flashy moments with you again.
Every fan and sports organization wants to keep in touch with a popular team. And your goal is to make the communication smooth and effortless. Make sure your contact info is easy to find on site. Give all your emails, phone numbers, social media profiles and physical address.
Test your mobile efficiency.

Now it's highly important that your website works and looks great on mobile devices as more than half of your users will open it with their smartphones.

Adjoin your logo.

If you still haven't got one, produce it making use of a logo generator, like, Tailor Brands.

Connect your domain.

In case you haven't got it while using the site builder, you might want to buy it separately. Use GoDaddy to begin with.

Check the functionality

All carousels, pop-ups, CTAs or social media buttons should work in a proper manner, otherwise, users will leave your site hurryingly.

Announce your new site launch on social media.

Change the online visitors into real customers. Attach a link to your website to your social networks accounts so that your followers could see it.

Done! 🏆

Congratulations! You're a site owner. Now share the link to your website with friends and clients and start collecting the feedback – it will help you to attract more visitors. And don't stop developing your content and performance to reach even greater success.