InstaShow Version 1.7.0 – Loop Gallery Option, Debug Mode and More
InstaShow Version 1.7.0 – Loop Gallery Option, Debug Mode and More
We always listen to our customers in order to update our
Premium Instagram Feed
and to improve its functionality. New features and advanced performance are already here in the latest version 1.7.0 of InstaShow!
InstaShow 1.7.0 Change Log
We've updated all versions of
Instagram Feed Widget
with
new features and options
, which makes functionality better. The newest version has the following add-ons:
Loop gallery option
Debug mode
Description links in plain-text converting to HTML tags
Experimental option to support high-resolution images (1080×1080)
Gallery arrows active effect
We've also made some changes in the plugin, namely:
Second page loading on initialization prevented
Don't show error messages by default
Error messages text
Don't hide video marker in the gallery on media hover
Moreover, several issues were fixed:
Source uppercase bug
Video in popup starts playing on description click
Popup image width bug
Arrows blinking during loading
Let's head towards the detailed description of new features so that you can easily check out
new advantages of our Instagram Feed
.
Loop Gallery Option
The new feature, which lots of our customers with
embed Instagram
were waiting for! The name "Loop" speaks for itself. Your audience might quickly reach the last of Instagram photos in the feed. Turn this option on and you will get an
infinite Instagram gallery
. Loop gallery option is a simple and convenient solution, which
improves the viewing process
for web guests. After updating your feed, this option will be enabled by default.
Now it doesn't matter how many photos you have in your feed. InstaShow starts showing all images from the very beginning each time the Instagram feed comes to an end.
Debug Mode
What if something went wrong in your Instagram feed? In this case, it will display an error of some kind on screens of your website audience. For example, the plugin can show the following message: Option "source" is invalid. See details in docs. It will look like the next image.

Forget about it. After updating Instagram Feed to the latest version 1.7.0 error messages
won't disturb anyone
because your audience won't see anything that relates to the incorrect functioning. In addition, if the feed doesn't work properly, then it will
stay hidden
for your audience until corrections are done. We've also added a
special debug mode
, which allows you to show error messages. The debug mode is disabled by default. In order to show error messages you can turn on the mode manually. During the adjustment of the plugin, the debug mode is enabled in the shortcode generator so that you can see any issue.
Converting Description Links in Plain-Text to HTML Tags
It's a well-known fact that Instagram restrains the use of external links in any post. Even if you add a link to your photo, it will be displayed as a text and no one will be able to interact with the link. We decided to change the settled situation. The newest version of InstaShow will make all your
links in photo descriptions active
for web guests. So if you want to promote links using Instagram, maybe it's the right time to start. Insert a link, update our plugin and here you go!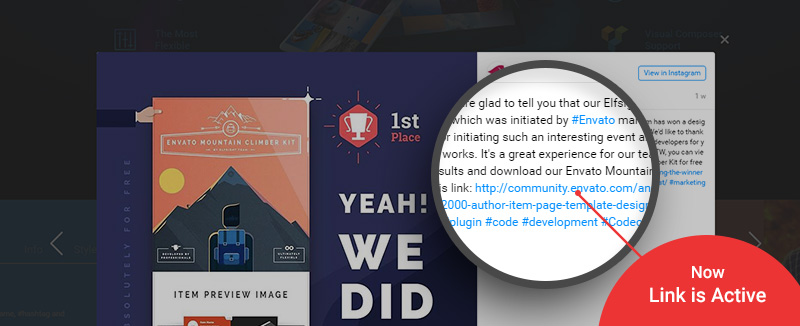 High-Resolution Images Support
One more important addition in the Instagram feed. As we strive to implement all relevant innovations, we can't get past this feature. Instagram supports high-resolution images and
so does our plugin
. If your Instagram feed includes high-resolution images and you turn on the new feature then they will be displayed in the proper resolution in popup. It means that your web guests will be able to look at the feed in a new fashion and enjoy amazing photos. It's an
experimental feature
because it was implemented using Instagram API functions, which are not documented. We can't guarantee that it will run properly all the time.
Gallery Arrows Active Effect
We've also added a
new visual effect
to the Instagram feed arrows when you want to shift pages of the grid. It makes browsing more convenient and native and it also looks cool!
Get Your Latest Version of InstaShow
There are tons of work behind each update. We strive to create the best Instagram Feed, which will meet any requirement. Our latest version is only one of further updates. There are still many features, which we are going to implement in further updates.
Check your InstaShow and be sure to use the latest version!
Don't forget to leave comments about your thoughts concerning this update and our product as a whole. Moreover, if you have any idea what should be improved in InstaShow, then
submit a ticket
in Elfsight Support Center. We will consider them and get in touch with you.
We do our best to deliver the great-performing Instagram Feed 😉