Discover the Elfsight Business Hours app for Wix, the ultimate solution to optimize your online presence. Elevate your website and give your customers the convenience of knowing your business hours. Are you running an e-commerce store on Wix? The Elfsight Business Hours widget is here to help you make a lasting impression. Embed it effortlessly and display your opening and closing times, ensuring potential customers always have the information they need.
Enhance Your Online Business Presence with Elfsight Business Hours Plugin
Revamping the way your business hours are presented on your website has never been easier. The Elfsight Business Hours widget is here to simplify the process. Whether you're a newcomer to web development or a seasoned pro, the power of widgets and plugins can streamline the experience. They offer a seamless setup, with many available for free, and the benefits are abundant. Let's explore how you can effortlessly integrate this top-notch Business Hours widget into your Wix website with just a few straightforward steps:
Customize the perfect template to match your website's aesthetics.
Easily generate the installation code using Elfsight's code generator and copy it with a simple click.
Paste the generated code into your chosen location on your webpage.
Curious to witness the transformation? Explore our live demo for a quick glimpse! Elevate your business hours presentation with Elfsight and watch your Wix-based business thrive.
The Benefits of Adding Elfsight Business Hour Plugin to Your Wix Website
Whether you're the proud owner of a charming local coffee shop, the driving force behind a thriving e-commerce venture, or the guiding hand of a dynamic consulting firm, the Elfsight Business Hours widget seamlessly molds itself to your specific needs. It's your golden ticket to effortlessly tailor your Wix website's displayed hours, precisely catering to the heartbeat of your business.
Incorporating the Elfsight Business Hours plugin into your Wix website is a walk in the park. Discover the simplicity of embedding this widget and offering your visitors real-time insights into your business hours, even during special occasions. Here are the key advantages at your fingertips:
Effortless Integration: Our user-friendly admin panel empowers you to effortlessly customize the widget's design and template to reflect your business's distinct style – no coding skills required.
Automatic Updates: Keep your website up-to-date and ensure your customers are well-informed with real-time business hours. The widget guarantees your visitors always have the latest information, even during holidays.
Versatile Compatibility: Regardless of your website platform, our widget smoothly integrates into any HTML field. Whether you're using Wix, WordPress, Google Sites, or another platform, it's the perfect fit.
Experience the full functionality of the Elfsight Business Hours widget for free. Showcase your business hours without any limitations. Elevate your Wix business and provide your visitors with the information they seek in a seamless, stylish manner.
How to Embed Business hour Plugin to Wix: Tutorials
Integrating the Elfsight Business Hours widget into your website is a breeze. Just follow these straightforward steps:
Access your Elfsight widget provider's admin panel.
Create and customize your Business Hours widget to align with your specific business hours preferences.
Save your widget settings.
Copy the installation code provided.
Paste the code into the HTML field within your website's backend.
It's that easy! Now, your website can harness the potential of the Elfsight Business Hours plugin, delivering real-time information about your business hours to your audience. This not only keeps your customers informed but also strengthens the connection between you and your clientele.
Next, let's delve into the nuances of embedding Business Hours on Wix.
How to Add Your Business Hour Plugin to a Specific Page

Simply follow these easy steps to integrate your widget to a dedicated Wix page:

Begin by accessing the Wix website editor. Log in to your Wix account and select the website where you intend to add the widget. Click on "Edit Site."
Incorporate an HTML block. Click on the Plus icon, navigate to the Embed section, and opt for "Embed a Widget" within the "Custom Embeds" tab.
Implant the installation code. Click on "Enter Code," paste the installation code, and hit "Update."
Tailor the widget's dimensions and placement. Drag the widget to the desired page location and expand or shrink it to achieve your preferred size. Continue resizing until scroll bars become unnecessary, ensuring that all the necessary information seamlessly fits into the block.
Optimize the widget's appearance for mobile devices and Publish. Transition to the mobile editor by clicking on the Mobile icon, adjust the widget's size as needed, and then click "Publish."
Congratulations! You've successfully added your Elfsight widget to a specific page on your Wix website. Watch your business hours display come to life and enhance your visitors' experience.
How to Add Inline Business Hour Widget to All Pages of Your Wix Website

Integrating your inline widget across all pages is a seamless process. Follow these easy steps:
Begin by accessing the Wix website editor. Log in to your Wix account and select the website where you wish to incorporate the widget. Click "Edit Site."
Incorporate an HTML block. Click the Plus icon, navigate to the "Embed" section, and choose "Embed a Widget" within the "Custom Embeds" tab.
Implant the installation code. Click "Enter Code," paste the installation code, and then hit "Update."
Customize the widget's dimensions and positioning. Drag the widget to the desired page location and adjust its size until it perfectly fits your requirements, ensuring that scroll bars become unnecessary.
Publish the widget across all pages. Right-click on the widget's container, select "Pin to Screen," toggle on "Show on All Pages," and click "Publish."
Voilà! You've successfully incorporated your inline widget across all pages of your Wix website. Watch as your business hours elegantly display themselves and enhance the user experience for all your visitors.
How to Add Floating Business Hour Plugin to All pages of Your Wix Website

Incorporating your versatile floating widget across all pages of your Wix website is a breeze. Here's how:
Navigate to your Wix website dashboard. Log in to your Wix account and select the website where you wish to integrate the widget. Click on the "Settings" section within your Dashboard menu, locate the "Advanced" section, and opt for "Custom Code."
Integrate Custom Code. Click the "+ Add Custom Code" button positioned in the upper right corner.
Insert your installation code. Place your widget's installation code into the designated "Paste the code snippet here" area and click "Apply" to save the changes.
You've now successfully elevated your Wix website by adding the floating widget to all pages. Witness the transformation as your business hours elegantly display themselves, enhancing your visitors' experience across the board.
Elfsight Business Hours Widget for Wix: Usage Examples
The Elfsight Business Hours widget seamlessly integrates into your Wix website, providing you with a powerful tool to elegantly display your business hours and ensure your audience stays well-informed. Let's explore the countless possibilities this widget offers, and get ready to harness its potential for your business!
Example 1: Comprehensive Business Hour Showcase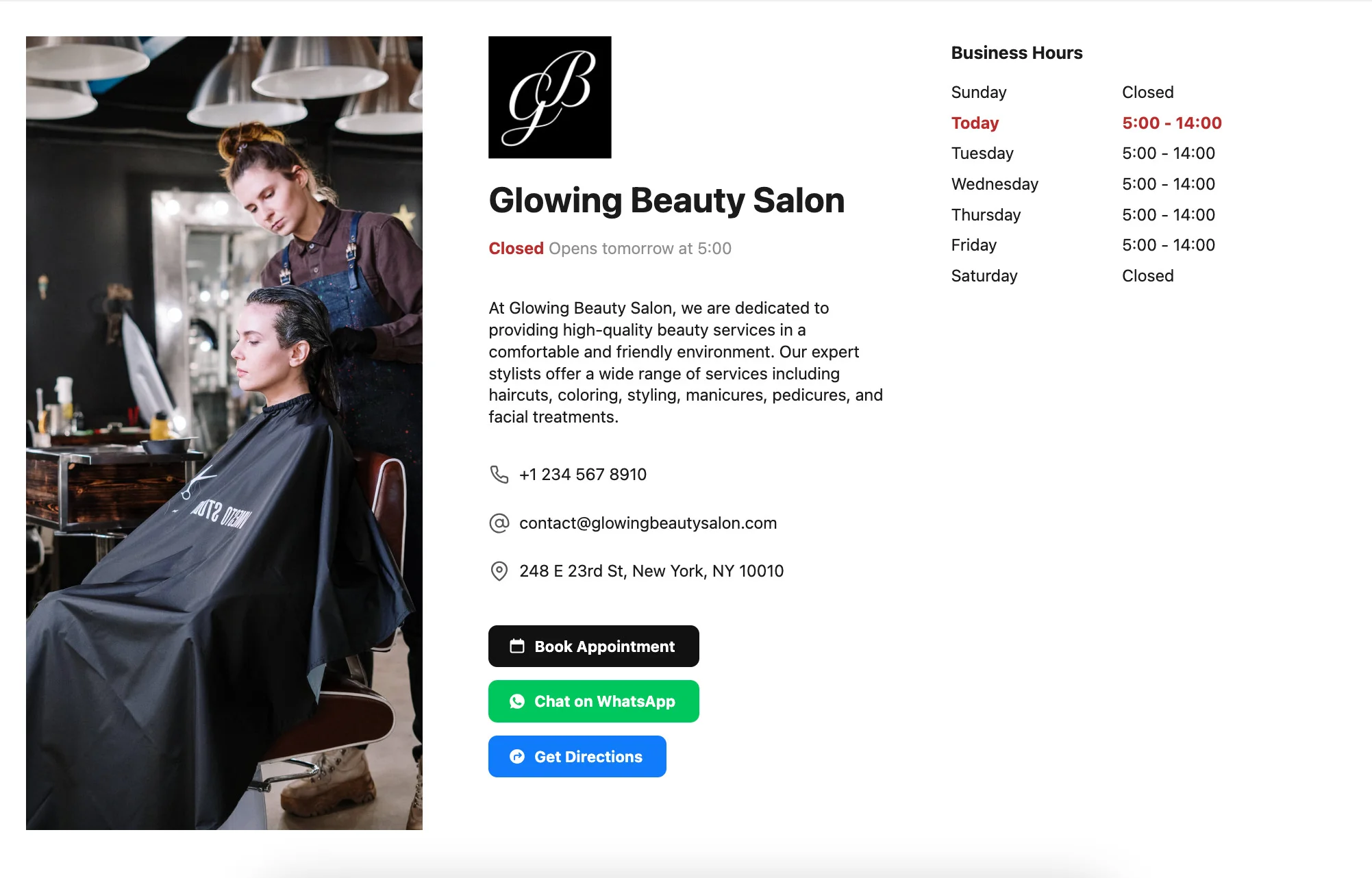 Meet the Elfsight Business Hours widget, your trusted ally in presenting your opening hours with crystal-clear precision. It's your gateway to ensuring that your customers are always in the know, enabling them to plan their visits or reach out to you with absolute ease. Our widget elegantly displays your business hours in a structured and user-friendly format, eliminating any confusion and enhancing the overall user experience. But that's not all; we go beyond mere hours – we highlight your vital business information, making it highly visible for your customers. Whether it's your contact number, email address, or physical location, we ensure it's readily accessible for quick reference. But wait, there's more! Our widget isn't just informative; it's action-packed. With eye-catching Call-to-Action buttons, it encourages seamless interactions with your business. Booking an appointment, initiating a WhatsApp chat, or getting directions to your location – it's all just a click away. Elevate your customer engagement with our Business Hours widget.
Example 2: Streamlined Business Hour Presentation

Experience the pinnacle of simplicity with our Business Hours widget. It's the ideal tool to elegantly showcase your business's weekly operating hours. This widget excels in clarity, providing essential information at a glance. Unlike cluttered alternatives, our widget focuses solely on displaying your weekly working hours, ensuring users can instantly discern when your business is open, without any distractions. Users can not only view your opening hours but also see the time remaining until your business closes for the day. This feature keeps your customers informed about the optimal window to engage with your business. Immerse yourself in the world of streamlined business hour presentation with our widget.
Example 3: Effortless Open Status Communication

Introducing the ingenious and space-efficient solution for communicating your business's open status to website visitors – the Elfsight Business Hours widget. It's all about simplicity and efficiency, streamlining the display of your working hours for a seamless user experience. Our widget places laser focus on revealing your current open status, enabling visitors to determine at a glance whether your business is currently open or closed. For those seeking a deeper dive into your hours, our widget offers an elegant solution. A simple click on the widget unveils an interactive pop-up or expanded view, showcasing your complete working hours schedule. This keeps your website clean while providing detailed information to those who need it. Simplify your open status communication with our widget.
Example 4: Feature-Rich Compact Contact Card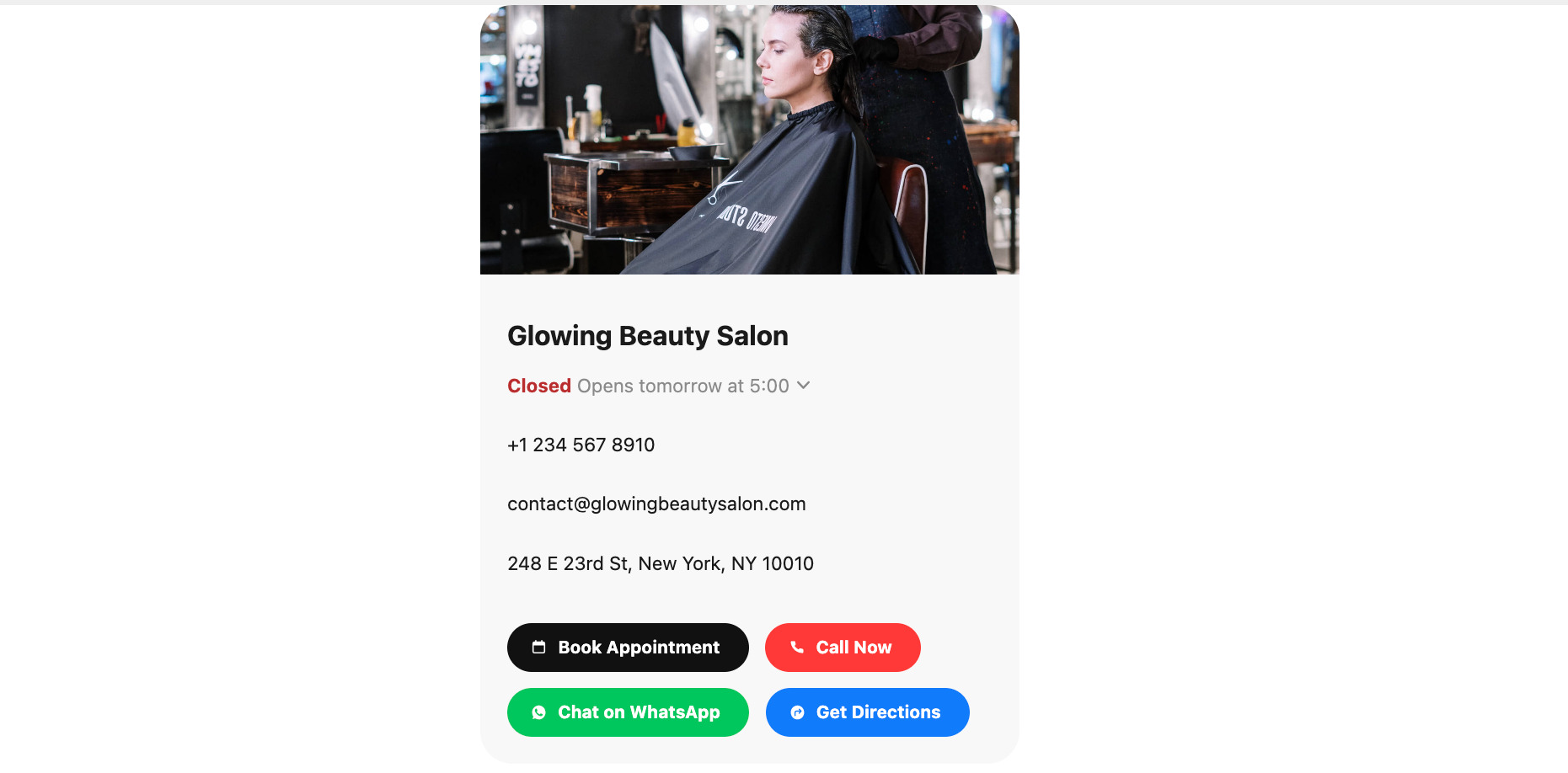 Introducing the compact yet feature-rich Business Hours widget – a powerhouse that brings essential information to your customers' fingertips. This widget combines a captivating location photo with prominently displayed contact details and a meticulously designed business hour display. Users can effortlessly access a detailed view of your schedule with a single click on the widget. What's more, it offers four prominent Call-to-Action buttons, enabling direct actions such as WhatsApp chats, directions, calls, and appointment booking. This enhances user engagement while streamlining interactions. Unleash the full potential of your website with our Business Hours widget.
Why It Is Important to Keep Business Hours Updated On Your Wix Website
In today's fiercely competitive business landscape, providing personalized customer attention and services has become the pivotal factor that can set your business apart. Customer service is now intrinsically linked with sales conversions; the better the service, the higher the conversion rates. Here's how our Opening Hours widget can revolutionize your revenue strategy:
Enhanced Customer Experience: Our Business Hours feature is designed to deliver a personalized customer experience without wasting their time or leaving them in the dark. Your customers are informed precisely about when they can access your business services, creating a sense of confidence and trust in your offerings. This, in turn, increases the likelihood of repeat visits in the future.

Optimized Sales: When a customer reaches out beyond your business hours, our widget enables you to offer alternatives. You can notify them when to call back or encourage them to leave a voice message detailing their requirements. This ensures you don't lose potential clients and allows you to reconnect with them during your designated Business Hours.

Effortless Communication: Keeping your customers informed about any changes in your business's Business Hours, particularly during festive seasons, is vital. This ensures that your customers are always in the loop, reducing the chances of them missing out on crucial services.

Seamless Accessibility: The Business Hours widget goes beyond mere information; it simplifies accessibility. Your customers can quickly find out when your business is open, which minimizes frustration and ensures a smoother experience. By embedding this widget on your Wix website, you're providing your audience with the convenience they expect, which can lead to increased foot traffic in your store or more traffic on your website.

Minimized Missed Opportunities: By having your business's working hours displayed prominently, you significantly reduce the chances of missed opportunities. Whether it's a potential client looking for your services or an existing customer wanting to reach out, clarity on when they can interact with your business is key. No more missed calls or missed visits due to uncertainty.

Adaptable Communication: The widget also provides adaptability. During busy seasons or holidays, you can adjust your Business Hours to accommodate the influx of customers. This flexibility in your business's schedule showcases your commitment to meeting customer needs and can result in heightened customer satisfaction.

Data-Driven Decision Making: Another advantage of the Business Hours widget is that it provides valuable data. You can analyze peak hours, days with the most customer engagement, and even measure the effectiveness of special hour changes during promotions. This data-driven insight can help you make informed decisions to further boost your business.

Effortless Integration: Adding the Elfsight Business Hours widget to your Wix website is straightforward. With a few simple steps, you can seamlessly embed this powerful tool to enhance your business's customer service and sales strategies. No coding knowledge is required, and you can tailor the widget to match your website's aesthetics.
Providing clarity about your business's operating hours can be a game-changer. It not only improves customer service but also contributes to increased revenue and a loyal customer base. So, don't miss out on the opportunity to take your business to the next level with the Elfsight Business Hours widget.
The Anatomy of Well-Built Business Hours
The manner in which you present your business hours online, though seemingly minor, can wield significant influence on user experience. Let's explore some subtle design strategies that can enhance your visitors' interaction with your website.
"Open Hours" Status Display: Often overlooked in design, the "Open Hours" status is a feature familiar to users from major platforms like Google and Yelp. Whether it states "Open until…" or "Open / Closes at…," this information is frequently sought. Display it prominently, such as in the hero section at the top of the page, ensuring users can quickly find this essential information.
User-Friendly Hours List: Users prefer to scan for what they need, rather than decipher every word. A table listing each day's hours is a format they find comfortable. Condensing hours into "Mon-Friday, Sat-Sun" can require users to think more, increasing cognitive load. The goal of a great user experience is to minimize cognitive load and make the interaction as smooth as possible.
Highlight the Current Day: We recommend dynamically sorting the current day to the top of the list for easy identification. How you choose to emphasize the current day is flexible and can align with your website's design.
Account for Variable Data: Consider integrating unique data like holiday hours and lunchtime closures. This ensures that your users know your hours are up to date and can quickly access this information.
Strategic Use of Dropdowns: Hours lists can appear text-heavy, especially if you have multiple sets of hours (e.g., drive-thru or ATM). Tucking the hours list into a dropdown can streamline content, but it's crucial to keep the current day's business hours visible and provide a clear action element to open and close the dropdown.
These principles result in well-designed business hours. By presenting your hours clearly, emphasizing critical details, and accommodating data variations, you enable users to quickly and effortlessly find the information they need. Share if your team adheres to these best practices or if you've discovered other valuable strategies to enhance user experience.
Conclusion
We trust that you found value in the tutorial and insights on maximizing the potential of your business hours. If you still have questions or uncertainties, don't hesitate to reach out to our Help Center. We're more than just product developers; we're attentive listeners who continuously refine our offerings. Your feedback and inquiries are not only welcomed but actively encouraged. We're here to provide support and guidance throughout your journey.
At Elfsight, we're committed to fostering a welcoming and interactive Community for our customers, and we extend a warm invitation for you to be part of it. Within this community, you'll discover a treasure trove of practical ideas, receive assistance from our dedicated managers, and gain insights from experienced users. This enriching experience will provide you with a deeper understanding of business hours and other plugins that enhance the cohesiveness of your Wix website. You'll have the opportunity to share your own experiences and glean wisdom from successful stories to stay abreast of current trends.
Moreover, we highly value your contributions to our Wishlist, where you can directly influence our future efforts, whether it's enhancing existing widgets or developing innovative ones. It's the perfect platform for discussing business features and reviewing Wix compatibility. Through this open dialogue, we're able to create in-depth tutorials like the one you've just explored, focusing on opening hours plugin and more. Your active participation is instrumental in shaping the future of our offerings.