Anyone who runs a business that relies on client scheduling knows how tedious it can be to manage appointments over the phone or messengers. Adding an automated system that allows customers to book or schedule online makes the process much easier. This article dwells upon easy ways to create and share an appointments booking calendar with your customers.
Think of how important it is for customers to find deals directly on your website or social media channels and book them right away. See how you can add this functionality throughout your business channels easily, fast, and free to reduce sales funnel leakage and facilitate appointments processes.
What Is Booking Calendar and How to Create It
Booking Calendar is an easy to use plugin with an interactive interface that can replace too costly and complicated systems for appointments. With such an interface, your website visitors can check availability and make reservations for specific days or time slots. Your clients can also sort the dates and search for available properties or services for specific dates and book their reservations online.
You will receive email notifications and manage reservations in a hassle-free way. The appointments booking calendar is designed to be fully adaptable to any use case. You can configure various settings of the interface so it would better suit your business workflows and customise the look to fit naturally with your website design.The beautiful and user-friendly interface makes leaving, receiving, and managing reservations a breeze.
How to Create A Booking Calendar for a Website
Take a look at this simple guide to organise a successful booking scheme and attract as many appointments as possible:
Plan your schedule thoroughly
Build your own Appointment Calendar
Embed calendar to website or share it via a link
Think about your working hours and plan the schedule; write down all the time slots available for booking and approximate the quantity of clients you can recieve. Register a free account at Elfsight Dashboard and find the Calendar app in the catalogue. Work online directly in the editor and choose a predefined template or create your custom booking calendar. Add the time slots for reservation with an active button that leads to the application form. When you're done setting up, click Add to website. You only get 2 lines of code or a unique link to share. Copy and paste it into your webpage, template, or share in newsletter or social media.
Create your own Booking Calendar Widget free of charge!
How to Embed Booking Calendar on any Website or Social Media Account
Once you've decided to display your schedule with the open dates and time slots for appointments on your site for online booking, it doesn't matter what CMS or website builder it's based on. See how to embed the widget on any site or link it to your social media account. It can be done easily, requires no programming knowledge, and you can try it free of charge. Check out the following guidelines to get a basic idea of ​​how it's done:
Enter your CMS or website builder Account and go to admin dashboard;
Select the site, page or template you want to place a calendar on and click Edit;
Add a custom HTML block there and paste the code you copied from Elfsight into the field;
Save your changes and visit your homepage to see how the section looks and behaves.
If you don't have a site, you can share a free link to your Booking Calendar via various channels like email or social media or post anywhere you can add a custom HTML element (
Facebook Tab
, e.g.).
Our calendar has many advantages, here are some of them:
Automation. Save time by setting a recurring status for time slots available weekly.
Greater attendance. Users can freely and automatically add time of application from your website to their own calendar and get notified about it later.
Mobile-friendly interface. It is a highly customizable calendar that adapts to any screen size.
Supports virtual format. Users can easily identify applications as virtual using special tags and follow links to video consultations and live streams.
Intuitive navigation. Users can sort and filter units in the interactive interface by tag, location, or category.
Unlimited units. Post as many time slots as you like. There is no limit to the amount you can add.
Features of the Booking Calendar
| | |
| --- | --- |
| Responsive interface design | The booking form supports fully responsive designs that look great on any device. |
| Standalone booking calendars | Supports an unlimited number of booking and appointment resources (property or services). |
| Customizable form | Configure the structure and fields of the booking form and choose from a range of elegant skins that best suit your design. |
| Email templates | Define email notifications for common booking actions. |
| Reservations at specific times | Book specific time slots for selected dates. |
| Multiple Reservations | Multiple reservations of the same whole day by different visitors, depending on the capacity of the resources. |
| Advanced day selection | Points Enter a choice of single, multiple, minimum and maximum days. Accepts half-day reservations. |
| Popup Mode | In addition to placing a "Book Now" button on your website, your booking page can be opened in a pop-up window. Let your online visitors see your full range of services, along with availability, session duration and costs. |
| Availability | Set the availability to book for a specific season of available resources for specific dates and visitor numbers. |
| Multilingual Support | Change the language of every element to reach out to local audiences. |
Who Needs Booking Calendar
A wide range of our plugins are intended for a diverse category of customers, both B2B and B2C of all sizes. And Booking Calendar is no exception! The widget has thousands of users. Whether you run a hotel or have rooms for rent, need to automate reservations for your service or business, or want to facilitate appointments booking process – Booking Calendar has got you covered.
It is ideal for anyone who has a scheduled working time and offers to book an appointment, service or accommodation and needs an intuitive embeddable interface for booking. Easily adaptable to any site, use case, or requirement, Booking Calendar plugin is an essential part of any business enablement strategy. These are just a few examples of the categories, that can benefit from adding it:
Appointment – This template suits any service that requires reservations on specific days or times. Here a user can choose a month to view and book appointments in any day and time, convenient for them. This is super helpful for those doing coaching or advising, planning clients (photographers, lawyers, beauty salons, spas, masseuses).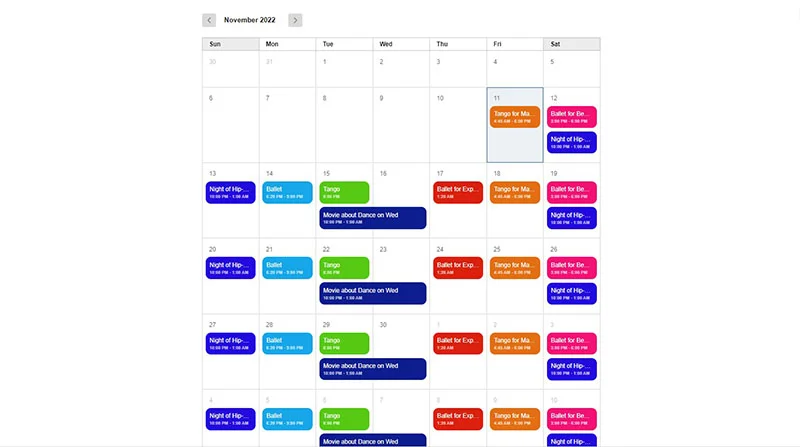 Booking – This template suits any business or service that implies any kind of resource planning like recreation business (Bed & Breakfast, Cabins, Hotel Rooms, Houses, Apartments, Rooms etc.), equipment rental (cars, bikes, computers, tech equipment), etc.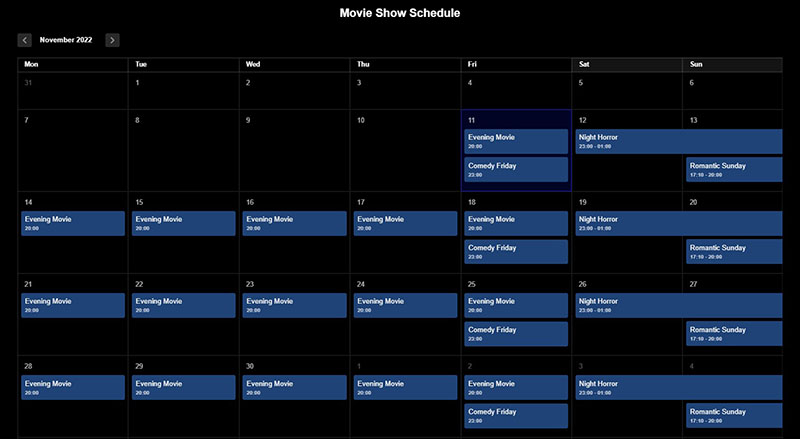 Schedule – This embeddable template is highly advisable for any scheduled service or those involving programming of events that should be booked in advance (conferences, courses, webinars, gym, yoga classes).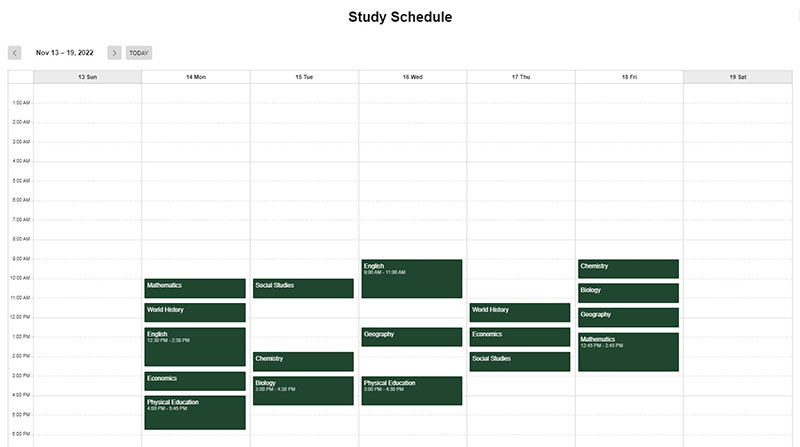 Where You Can Place Booking Calendar
Creating a widget is only half the battle. You also need to make it descriptive to grab your audience's attention. Here are some tips to help you make the most of your schedule and accommodate you as efficiently as possible:
Website: Do you want to allow customers to book appointments for certain services through your website? No problem. The automatically generated plugin code provided by Elfsight is simply embedded in your homepage or any other web page. You can easily get customers to book specific services on different pages of your site.
Social Media Account: Turn your Facebook page or Instagram account into a new booking channel. Let customers book appointments themselves via the Facebook Custom Tab. Your online traffic can book appointments directly from your Link in Bio, stories, timeline page and posts. The audience can also view your services and availability online to fill your calendar faster.
Email Newsletter: Respond faster to booking requests with embeddable appointment scheduler and Gmail. Your schedule is available at the touch of a button right in your Gmail. Whether you're writing a new email or replying to a request, you can browse your available time slots in a calendar .
QR Code: Create your appointment QR code and turn it into a gateway to your online booking site. With a single scan, your customers have real-time access to your service offering and availability. Display your QR code in your store and automatically plan foot traffic as you walk.
Why You Should Have a Booking Calendar On Website
Whether you're making reservations, rentals, classes, or service appointments, automating the scheduling process virtually eliminates the frustrations of manually scheduling appointments. Online scheduling is available 24/7 so customers can book when it suits them. They don't have to deal with the time and frustration of being put on hold or leaving a message when they call your business. Instead, they can quickly see real-time appointment availability.
There is a clear need to offer self-service online scheduling and booking. What gets complicated, however, is deciding which embeddable online programming tool is best. There are two basic models to choose from: linking to an external website or incorporating an interface that allows users to book directly on your own web page.
Reasons for Embedding Booking Calendar
Consistent Branding and User Experience
Any business invests a lot of time and money in creating consistent visual branding and user experience at every point in the customer journey. When customers are on your website, store, or social platforms, they know exactly where they are and what to expect.
Through the integration of interactive scheduling, booking, and appointment tools, both the brand and the user experience can remain consistent throughout the process.Your customers only interact with your business, not someone else's.
Google And Apple Calendar Integration
A user can add his appointment from the Elfsight Booking to his personal Google or Apple Calendar, so online bookings appear almost instantly. This way they'll never forget about their appointments, and you can efficiently plan your work and personal activities. This also reduces the likelihood that you or your customers will make a mistake, e.g. rebook a time slot twice or miss an appointment completely.
Maximum flexibility
A Scheduling plugin that can be integrated into your promotion channels offers you and your customers more flexibility. For example, the embeddable Elfsight Bookings allows you to offer users date and time ranges, block free time as unbookable, and set up buffers between bookings. Depending on your business, Elfsight also offers you the possibility to set up events for several people or groups.
If there are times or days that are less popular with your customers, you can offer special prices to book them. And if you do business across borders, embeddable Elfsight Booking can automatically display the time in the customer's time zone.
Close the deal
Perhaps the greatest weakness of managing bookings via phone calls, messages, or an external booking platform is that adding an extra step to the sales funnel makes the customer much less likely to close the deal. It's inevitable that some people will abandon the process if they're forced to make a call, write a message or click a link and get redirected to an outside platform. When you've worked hard to attract potential customers to your business, it can be frustrating to lose them in the final stages because they cannot book right away. Integrating an embeddable appointments reservation system with your own website ensures a seamless customer experience and makes it special thereby reducing sales funnel leakage.
Retain valuable customer data
With the Elfsight Booking Calendar you have the ability to gather and store the information about a customer. You can send users updates about your special offers and invite them to make another appointment by embedding a link to your newsletter.
Why Booking Calendar is Important to Have on Business Website
When all the time slots available for your services are shared online in one place, it's easy for people to find those that suit them and book them in a few clicks without tedious phone calls, messages, or emails. And for you as an organiser or a business person, including the embeddable booking schedule is the best way to share the wonderful things you're doing to support the areas you care about, while inspiring others to apply, attend, and return to you soon.
FAQ
Is the Booking Calendar widget mobile-friendly?
Sure! You can check how the widget appears on different devices in the screen view in Editor.
How do I create an embeddable events calendar and add it to my website?
Sign up for our service, use our editor to create your Booking widget. Then copy the popup code and paste it into an HTML block in your site admin and save your changes. This way you can use a free Elfsight account to test how the embedded calendar works and looks on your web page.
Does your Booking widget support time zones?
Yes, you can set the time zone for your appointments and your visitors will see the time settings according to their browser's time zone.
Can I have more than one Booking Calendar on my website?
Yes. To do this, you need to choose a paid subscription that best suits your needs, and then you can create multiple plugins and embed them on your page.
What kinds of appointments can I create in your embeddable Booking section?
A fully customizable interface of our plugin allows you to present time slots for booking online and offline appointments of various kinds embedded in your homepage: coaching, healthcare, recreational and others.