Within this article, we aim to meticulously monitor the most recent advancements and enhancements within Google My Business. We will provide you with enhanced comprehension on leveraging this influential and complimentary resource to its fullest potential. Stay tuned as we unravel the intricacies and unveil the diverse array of features at your disposal.
GMB Updates And Changes
Google My Business has long been the ultimate resource for boosting SEO and online visibility of small enterprises. In all honesty, if you haven't established a Google My Business profile by now, it's high time you take action.
Tip: Google My Business was recently renamed to Google Business Profile.
In case you're not acquainted with this platform, it functions akin to managing a personalized social media profile, tailored exclusively for local businesses, aiding in enhancing search rankings and facilitating customer feedback. Google, in its ongoing efforts, has recently revamped the platform, presenting valuable opportunities for business owners like yourself to stay up-to-date with the latest developments. Dive deeper into the realm of Google My Business 2023 updates and embrace the beneficial alterations brought forth. Now let's see what Google Business Profile has to offer its users as for 2023.
Now You Can Manage Google Business Profile Directly On Google
This exciting new update brings forth a more visible and easily accessible location for users to make edits and modifications. Previously, accessing the Google Business Profile dashboard was not as straightforward, often requiring users to search for "Google My Business" in the search bar to obtain the dashboard's URL. However, with the latest enhancement, the dashboard takes center stage, eliminating the need for such detours.
Moreover, an intriguing new hack emerges, empowering you to effortlessly access your Google Business Profile by simply searching for the name of your business on Google. This streamlined approach grants instant visibility and control, enabling swift modifications and updates. It's important to note that to access this feature, you need to be logged into the Gmail account associated with the management of your Google Business Profile.
These updates signify Google's commitment to providing an enhanced user experience for businesses and individuals alike. By simplifying and streamlining the process of accessing and managing your Google Business Profile, Google empowers businesses to exert greater control over their online presence and engage with customers more effectively.
With your Google Business Profile now at the forefront, you have the opportunity to showcase your business's key information, including your logo, address, and other essential details. Ensure that your profile is accurate, up-to-date, and enticing to potential customers. Leverage this prime real estate on the front page of Google to capture the attention of local searchers and stand out from the competition.
To sum up, here's what you can do with the latest Google My Business updates:
Check out the newest reviews and star ratings people have left for your business.
Stay on top of things by responding quickly to your Google reviews.
Create Google Ads in a few clicks. It's faster and much easier to get your ads up and running.
Spread the word about your special offers by creating a Google post in a quick popup.
Get valuable insights into your business by checking out Google analytics and gaining useful data.
Keep your GMB listing up to date. You can update your business information, phone number, business description, business category, and more.
And the best part? It's now even simpler to view important metrics like phone call data from your profile, the number of people searching for your business, search queries, and the number of new online reviews you receive.
The New GMB Dashboard
While working with the updated Google Business Profile dashboard, you'll get access to a wide list of new features as well. Let's delve into the exciting capabilities now available to you, and see what you can do with it now:
| | |
| --- | --- |
| View Google Insights and Analytics | Gain valuable insights into your business's performance with Google Insights and Analytics. Explore metrics and data that provide a deeper understanding of your audience, online visibility, and customer engagement. Make informed decisions based on these valuable insights to drive your business forward. |
| Read the Latest Business Reviews and Ratings | Stay connected to your customers and stay informed about the latest feedback by easily accessing and reading the newest business reviews and ratings. Respond promptly and engage with your audience to build trust and enhance your reputation. |
| Create Google Ads (quicker and much easier than before) | Leverage the power of Google Ads to reach your target audience effectively. With the updated interface, creating compelling ads has become quicker and simpler. Promote your business and attract customers by customizing your ads with ease. |
| Create Google Posts and Promote Special Offers | Showcase your special offers, events, and news through Google Posts. Utilize the new interface, which allows you to create posts quickly and seamlessly. Grab the attention of potential customers and drive conversions with compelling content. |
| Make edits and changes to your business listing | Enjoy the flexibility of updating your business listing effortlessly. Adjust essential details such as your phone number, business description, business category, and more. Ensure your information is accurate and up-to-date to maximize your visibility and accessibility to customers. |
The latest update has streamlined the entire process, making it even easier to access and view important metrics. Gain insights into crucial aspects of your business, such as the number of messages received, search volumes and queries, and the quantity of new online Google reviews. Stay informed about these key metrics to gauge your business's performance and make data-driven decisions.
Messaging on Desktop for Enhanced Customer Interaction
Google also has rolled out updates to the messaging feature of your Google Business Profile, providing you with more ways to connect with your customers. While messaging was previously available only through the app, you can now access and manage messages directly from the desktop version as well. This enhanced Google Messaging tool offers a range of features designed to streamline communication and elevate your customer service experience.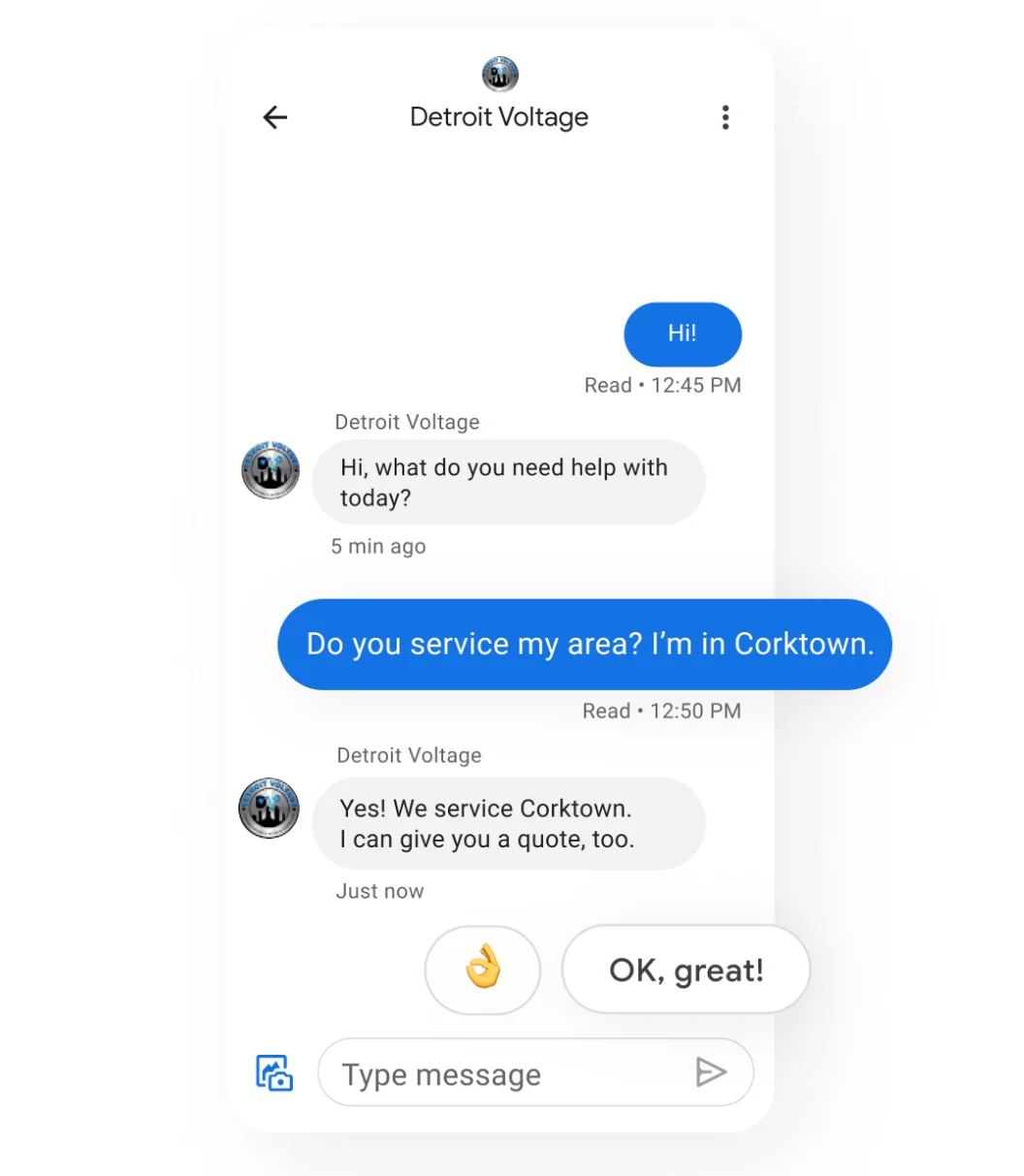 Let's explore the new possibilities and benefits of this update:
Efficient Communication
The Google Messaging tool enables you to activate or deactivate chat, allowing you to control when you are available for customer interactions. Additionally, you can enable read receipts to track message views and add frequently asked questions (FAQs) to provide instant responses. Moreover, you have the flexibility to create a customized welcome message that greets customers when they initiate a chat. To ensure you never miss a message, you can even set up SMS alerts on your phone. Google has also provided chat guidelines to help you deliver exceptional customer service.
Empowering Customer Connections
With the chat feature enabled, customers can easily get in touch with you directly from your Google Business Profile. This presents an excellent opportunity for you to engage with potential customers, answer their questions, share your story, and ultimately attract more business. By leveraging the messaging functionality, you can establish a direct line of communication that fosters trust and strengthens your customer relationships.
Seamless Functionality
Here's how the messaging feature works:
| | |
| --- | --- |
| Enable Chat | By activating the chat option, customers can access the "Chat" button on your Business Profile and send you messages at their convenience. |
| Receive Notifications | You will receive timely notifications for incoming messages, ensuring you can respond promptly and provide excellent customer support. |
| Customize Welcome Message | Craft a personalized welcome message that customers receive when they initiate a chat, creating a warm and inviting first impression. |
| Share Photos | Enhance your communication by sharing photos directly within the chat, allowing you to provide visual assistance or showcase your products and services. |
| Multiple Users | If multiple individuals own or manage your Business Profile, each person can engage in chat conversations with customers, ensuring seamless communication and collaboration. |
Storage and Export
When you activate chat on Google, you have the option to store your messages within your Business Profile. However, it's important to note the following:
Deleting a message from one device will remove it from all linked devices, and you will no longer be able to access those deleted messages.
It's crucial to remember that deleting a message only removes it from your devices. The recipient will still have access to the conversation on their end.
If you wish to keep a record of your messages or use them with other Google products, you can export and download them for future reference.
Prompt Responses for Enhanced Engagement
To maintain a high level of customer service, it is important to respond to messages promptly. Google has established a requirement for businesses using the messaging feature on their Business Profile: replies must be provided within 24 hours. This prompt response time not only promotes trust but also encourages increased engagement with your customers. Failure to meet this requirement may result in deactivation of the chat feature for your business, so be sure to prioritize timely responses.
Tracking Average Response Time
To help businesses monitor their messaging performance, Google provides insights on average response times within the app. These insights utilize the last 28 days of data and enable you to gauge your responsiveness. You can also choose longer time periods and compare your wait times with similar businesses in your vicinity. Customers searching for your business on Google will receive a status update indicating your typical message response time, such as "Usually responds in a few minutes," "Usually responds in a few hours," "Usually responds in a day," or "Usually responds in a few days."
Harness the Power of Messaging on Desktop
With the latest updates to the messaging feature on your Google My Business Profile, you now have more convenient ways to communicate with your customers. Whether you're using the app or the desktop version, the Messaging tool empowers you to connect, engage, and build meaningful relationships with your audience. Take advantage of these free features and enjoy enhanced customer interactions on Google, streamlined communication, and increased business opportunities. Embrace the changes, leverage the features, and make the most of this valuable addition to your Google My Business toolkit.
Unlocking the Power of Google My Business Posts
When it comes to social media, most people immediately think of platforms like Facebook, Twitter, and Instagram. However, Google My Business (GMB) Profile stays overlooked. But you'll be surprised how this powerful tool can significantly support your overall digital strategy, making it a valuable asset that deserves more attention in 2023.
In order to maximize the benefits of GMB, businesses must leverage the Posts feature, which plays a crucial role in boosting local rankings. With the ability to create various types of posts, GMB now offers businesses a great opportunity to engage with their audience. Here are some types of posts you can create:
Events: Share important events such as grand openings, annual sales, or fundraisers to generate excitement and attract local customers.
Offers: Promote exclusive offers and discounts to incentivize potential customers to choose your business over competitors.
Products: Showcase your latest products or highlight popular items to drive interest and increase sales.
Welcome Offers: Extend a warm welcome to new customers by providing special offers or discounts for their first visit.
When creating posts, it's important to optimize them for maximum impact. Here are a few tips to consider:
Targeted Content: Customize your posts with location-specific information to target your local audience effectively. This helps create a sense of connection and relevance.
Compelling Visuals: Incorporate eye-catching images or videos into your posts to grab attention and make them visually appealing. A picture is worth a thousand words, so make sure your visuals are engaging and representative of your brand.
Infotainment Approach: Strike a balance between providing valuable information and entertaining your audience. Infotainment posts blend advertising elements with engaging content, keeping your audience interested and eager to learn more.
By taking advantage of these features and implementing them strategically, you can unlock the full potential of Google My Business Posts. Elevate your online presence on Google, increase your local visibility, and attract more customers to your business. Don't underestimate the impact that this often overlooked social media platform can have on your overall digital marketing success. Start leveraging GMB now and embrace the changes that will propel your business forward in the digital landscape.
Embrace the Power of Google Business Profile for Local SEO Success in 2023
In 2023, it's crucial to recognize the prominent role that Google Business Profile plays in local SEO. If you haven't yet created a Google Business Profile, now is the perfect time to do so. This essential platform has become the face of local SEO, and optimizing your content for it is more important than ever.
Google Business Profile offers a plethora of features and benefits that can significantly enhance your online presence and attract local customers. By creating a comprehensive profile, you can showcase vital information such as your business address, contact details, opening hours, and more. This allows potential customers to easily find and engage with your business when they search on Google or Google Maps.
Moreover, Google Business Profile is not only about providing basic information; it's a dynamic platform that allows you to showcase your brand personality and connect with your target audience. You can add compelling images of your logo, products, or services, giving your profile a visually appealing touch. This helps in creating a strong brand identity and generating customer trust and loyalty.
In terms of SEO, optimizing your Google Business Profile can have a significant impact on your local search rankings. Ensure that you provide accurate and detailed information about your business, including relevant keywords that reflect what your target audience is searching for. This will increase the chances of your business appearing in relevant local search results on Google, boosting your visibility and attracting more potential customers.
Additionally, Google Business Profile offers valuable insights and analytics that can provide you with a deeper understanding of your audience and their interactions with your profile. You can track the number of views, clicks, and engagement metrics to gain actionable data for refining your marketing strategies.
One of the key changes in 2023 is the increasing reliance on Google Business Profile as a primary source of information for customers. With the rise of mobile searches and the convenience of Google Maps, customers now turn to Google Business Profile to discover local businesses and make informed decisions. This shift emphasizes the importance of optimizing your profile and ensuring that it accurately represents your business.
In conclusion, if you haven't already embraced Google Business Profile, it's time to take action. Create your profile, optimize it with relevant information and keywords, and utilize its features to engage with your audience. Keep up with the updates and changes that Google introduces to make the most of this powerful platform. By investing in your Google Business Profile, you'll position yourself for Google local SEO success in 2023 and beyond. Don't miss out on the opportunity to showcase your business to a local audience and drive more customers through your doors. Get started now and reap the benefits of this free and invaluable tool provided by Google.