How to Get Instagram Client ID and Client Secret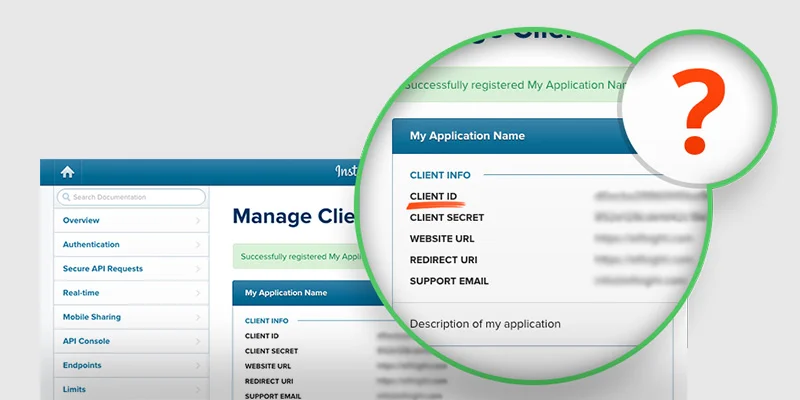 Instagram Client ID and Client Secret are a point of discussion for a lot of people who try to use Instagram in their applications or use directly such apps. They are the must-have values for each app, which works with Instagram.
The most popular question concerning the Client ID and Secret is how to get them. To open the veil of secrecy and to help you with installation, let's look deeper into this task with our guide.
What are Instagram Client ID and Client Secret – Description in Brief
Instagram Client ID and Secret are keys, which are generated from Instagram Developer Page by using Instagram account. These keys are used by an application software which is installed on your website or mobile devices.
The Purpose of Using Client ID and Client Secret
Client ID and Secret is used by different apps, plugins, software extensions to communicate with Instagram API. These applications use Client ID and Secret to fetch photos, videos, hashtags and profiles information. When an application requests to the Instagram API, primarily service validates a Client ID and Secret then handles a request and returns a response to the application.
To sum up, Client ID and Secret are required values. They define what kind of registered applications does a request. Without them you won't be able to exchange data with the Instagram API.
So Instagram Client ID and Client Secret are essential for the usage of Instagram based apps.
How to Get Instagram Client ID and Client Secret – Step by Step Approach
First things first you need and Instagram profile. If you don't have it then it's obligatory to register in social media. You have to complete 4 main steps for getting the desired keys:
To do all steps correctly we've prepared the detailed instruction with attached photos of the process.
1. Visit The Mentioned Webpage
While opening this link you see the next page (if you don't log in Instagram).

Don't worry! The first thing you should do is to log in as an Instagram user.
2. Log in Instagram
To get a Client ID and Client Secret you need to be registered in Instagram. Create an account or log in to proceed the guide.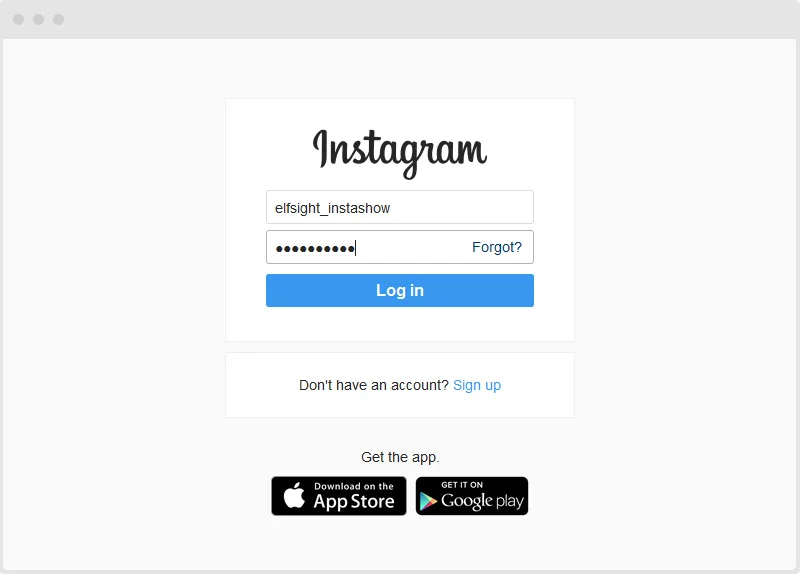 See? Everything is easy. We promise that next steps will be the same.
3. Fill in A Developer Signup
As you are going to implement the special tool on your website, you have to sign up as a developer. After login in Instagram you will see the next window.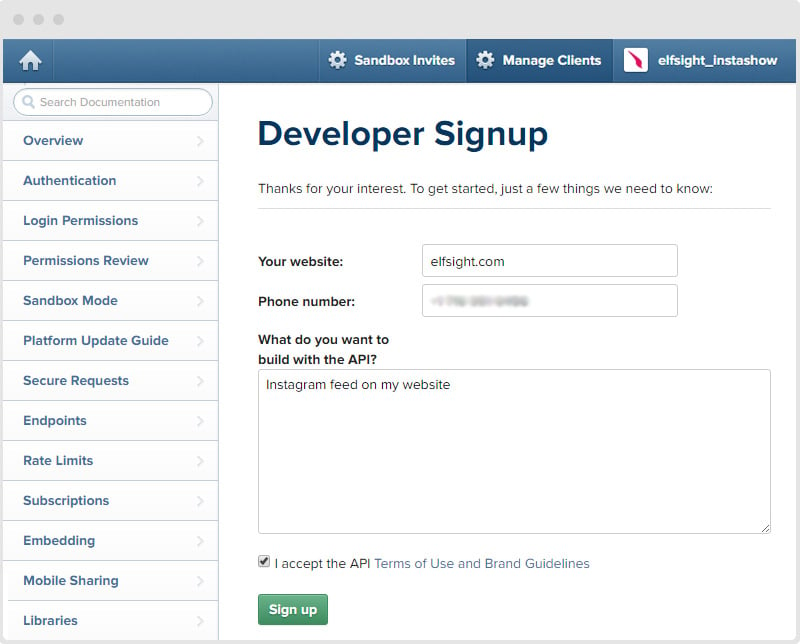 Check all the fieldson the web page:
Your website – the URL where you are going to implement the Instagram feed
Phone number – any phone number
What do you want to build with API – any short description
After this signup the Instagram Developer Documentation will appear where you will see greetings and the following overview.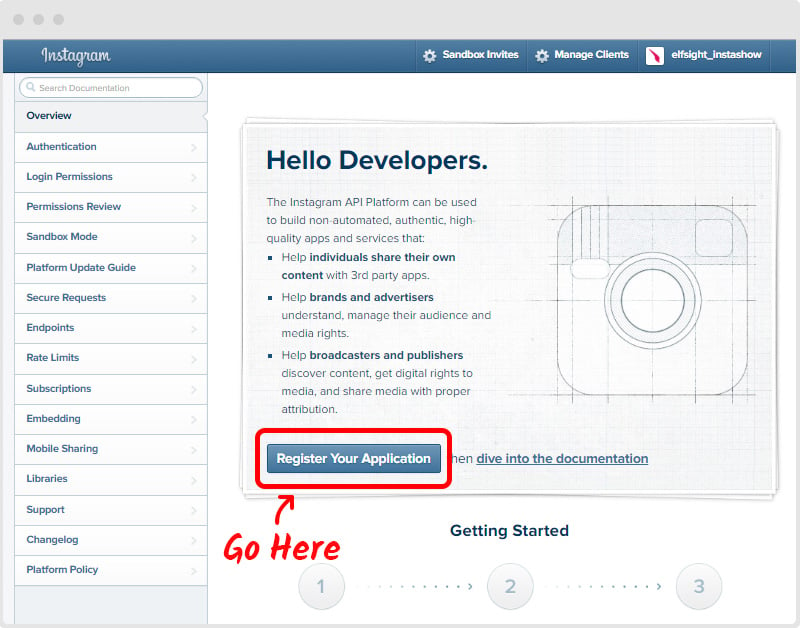 Now as a developer you can register you application. To do that click on the link marked above. Instagram will notify you that at the moment you don't have any apps and will offer you to create a new one.

The next step is to authorize your new application and new client.
4. Register A New Client ID
The next page has more fields for filling so be attentive!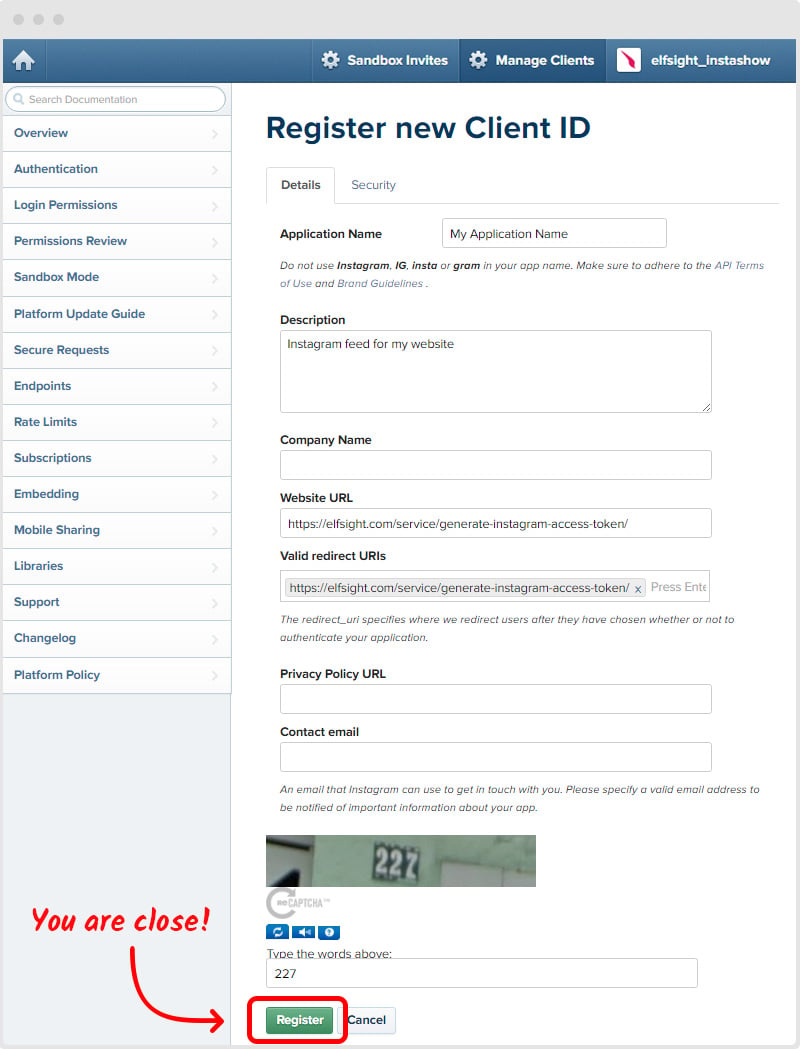 Check all the fields on the web page:
Now confirm your data for the final result.
Successful Result
The mission accomplished! You get your all-new Instagram Client ID and Client Secret!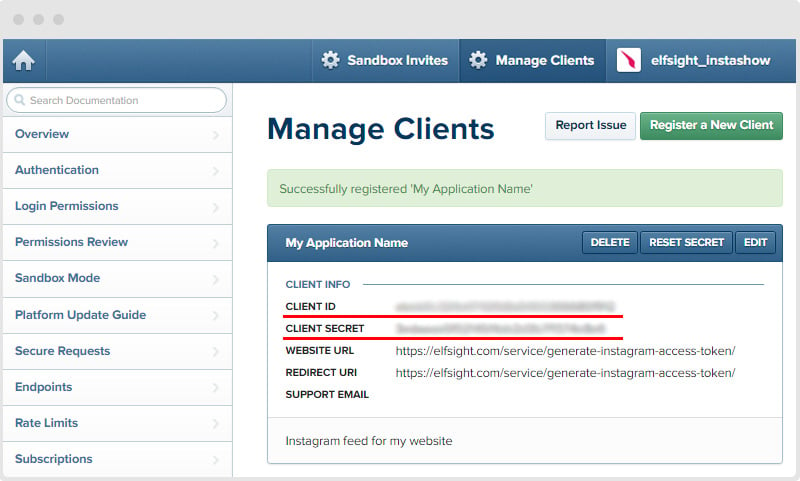 Note that if you are going to work with square photos on your website then turn on the non square media option. Just edit your client and find "Migrations" section. Don't forget to click "Update Plugin".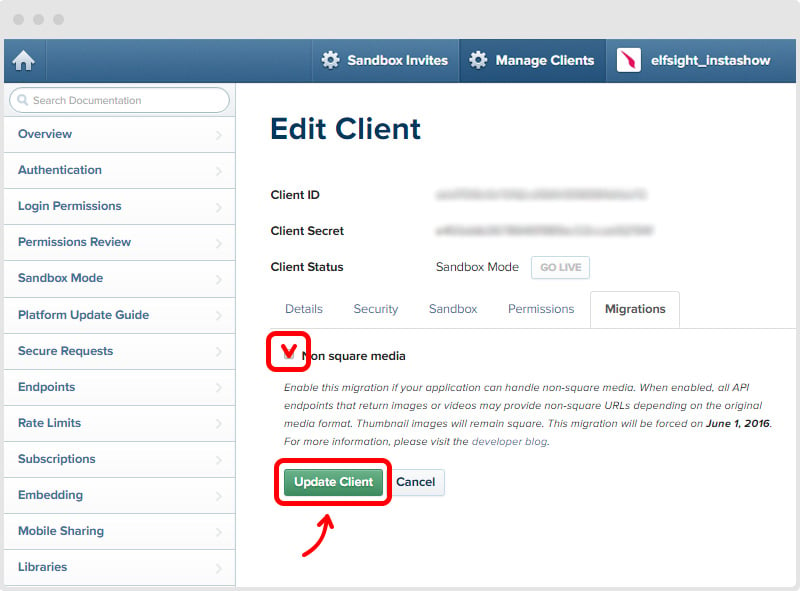 That's all! You've achieved the task and get your Instagram Client Info. Be free to use it.
Key Usage Advices
Please note that each Instagram key has the limit of 5000 requests. In case of having few small websites with not-so-widespread audience, you are able to have one key for all sites.
However, in such plugins as InstaShow we recommend to use an individual Client ID for each website. It will guarantee you a smooth operation of the Instagram feed.
You Don't Feel Secure?
You might have another question concerning your newly achieved Instagram plugin and its security: "What if someone will get my ID?". Simply – nothing terrible. Here's why.
You can't do anything with Instagram ID except browsing photos. ID doesn't give any access to your personal data. Also it doesn't allow making any action from your name.
If someone get your ID then don't worry.
Keep going and share your Instagram feed on the website.