New ecommerce opportunities. More sales
Current statistics. Diverse content
Draw more new visitors
With an option to offer their own prices for products, new users are more likely to visit your store in search of what they need
Unlimited number of auctions
You are free to add as many auctions on your website as you need with no extra charges
Uplevel your sales
A possibility to conduct an auction on your ecommerce website will definitely take your sales to the next level
Join 2,078,753 customers already using Elfsight Apps
You can start with creating your first Elfsight Auction widget for free.
What makes Elfsight Auction special?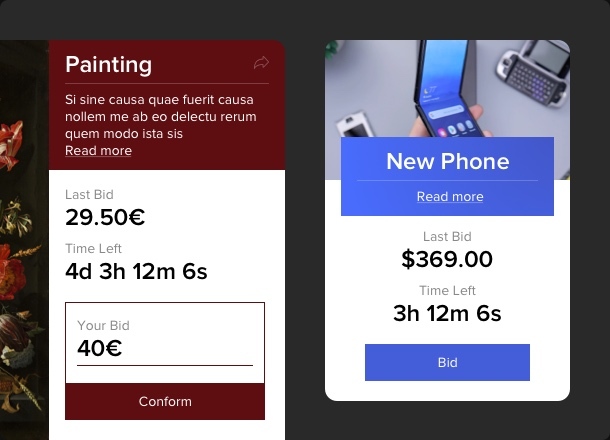 AUCTION
Easy-to-manage auction on your website
Boost sales on your website with the new Elfsight Auction widget! Now you've got a simple yet efficient tool to start an auction for any of your products. You are free to set your own increment rules and the increment gaps, as well as the minimum price that must be reached to buy your products. And the handy admin panel will help you monitor, start and end any of your auctions. Also, it's up to you to decide whether the joining will be free or paid.
BIDDING
Tons of possibilities for your convenience
You as the admin are free to set up the bid increase parameter which defines the minimum amount by which the auction bid must be raised each time the highest bid is exceeded. The dynamic close allows you to extend the auction time after placing the last bid. You are also free to determine the buyout price - the price you are expecting to sell some particular item. The auction will be automatically closed as someone reaches this price, but you are free to change this in the widget settings.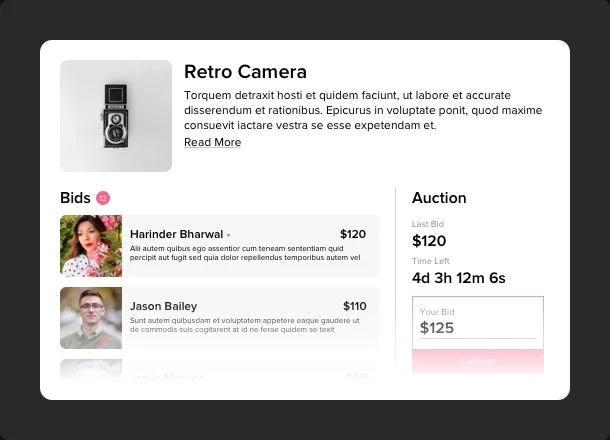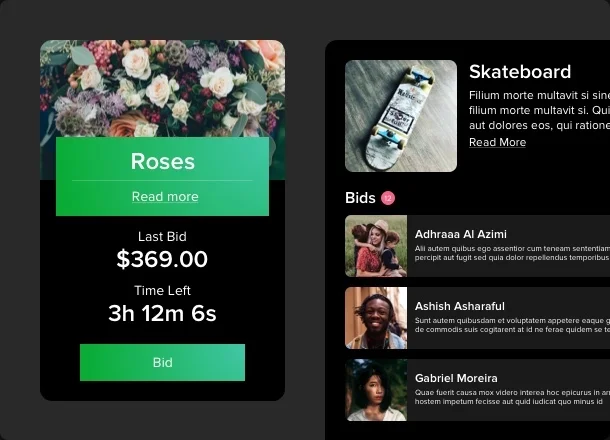 STYLE
Choose a ready-prepared color pattern or create your own design
Our developers offer an extraordinary solution for design amateurs - a Color Scheme Generator that'll produce a design for your all by itself. Just select brand color, either a Light or Dark mode, and permit the auto color designer to set everything up for you. In addition, if you need a peculiar design, you can continue to customize all the components individually: popup, head section, background, and more. See all modifications instantly in a free configurator without hours of programming and editing.
STAY TUNED!
Many more amazing functional and design options upcoming soon
Our awesome developers and designers are working up the plugin functional capability and appearance at this stage. There will be a large variety of settings, you'll have an opportunity to alter your content the way it becomes an inseparable section of your website. It'll be possible to build the widget and test all the functions very soon, stay tuned!
What our customers say ❤️
I needed to move the plugin to a different domain and had several custom CSS questions. GREAT support and GREAT widget! So thanks Elfsight!
Very flexible and customizable plugins which display beautifully. They don't break nor slow down my website, which is so great!
Unrivaled plugins! Elfsight answered all our questions quickly, friendly and professionally, so finally we could install without problems.
Frequently Asked Questions
What is an Auction widget?
It's a simple tool allowing you to organize multiple auctions on your ecommerce website.
How do I add Auction to any site?
In order to embed our app, follow the points from the clear guideline:
Manage our editor and start creating your custom-made tool.
Customize the widget characteristics and save the essential adjustments.
Acquire the unique code shown in the notification.
Insert the unique code into your web page and save it.
Congratulations! You've properly embedded the Elfsight plugin on your site.
Encountered any issues during the installation? Feel free to get in touch with our support group and they'll be happy to give you a hand.
Does it go with my CMS or site builder?
Sure thing. Our widgets are adaptable with all CMS. Find yours in the list below: Webnode, BigCommerce, Wix, Magento, iFrame, Drupal, Squarespace, OpenCart, jQuery, Elementor, WordPress, Blogger, Weebly, Google Sites, ModX, Webflow, Shopify, HTML, Facebook Page, WooCommerce, Joomla, Adobe Muse, and so much more.
Best way to use the Auction on your website
One of the best ways to use the Auction widget is to organise some seasonal actions on your website devoted to any holiday season.
Can you tell what other widgets will be produced by Elfsight soon?
We offer you to wait for the following widgets:
Coupon
,
Help Center
,
Appointment Booking
.
If you didn't get what you were looking for, then be sure to contact us straight or write us at the wishlist section!
Can I adjust the widget's layout?
If you'd like to perform any edits to the plugin or add sources, you have an opportunity to do this right in the admin panel. Make all the alterations, click save and they will be automatically
Can I add the auction widget on Wordpress?
Of course, there's a simple way to integrate the auction plugin to WordPress for your users to start bidding any time they want. All you're up to here is to open our live Configurator, perform all the necessary changes and save the edits. After that, copy the code from the popup window and your silent auction plugin is ready to use for your WordPress website visitors!
Does the widget support silent auction?
For those who were looking for silent auction bidding options for their website, our widget is there to provide them with such an opportunity. You can find all the necessary info and features in our handy configurator - simply start forming your widget. After you integrate the widget on your website, you can organise a silent auction so that your visitors can start bidding.
Can I embed the auction widget on Shopify?
Yes. To add the auction widget to your Shopify website, you've got to form your tool in the live configurator. After that, copy the code that appeared in the popup window and insert it into your website. Done! Your shopify auction widget is ready for your users to start bidding.
Join 2,078,753 customers already using Elfsight Apps
Get the taste of 80+ powerful apps by Elfsight. No credit card. Joining is free!