Why do I need Elfsight Grid?
Bring structure in a web page layout. Compose content easily.
Structure web page effortlessly
Achieve effective alignment and consistency in content arrangement with little effort.
Get a single widget for any type of grid
Create unlimited masonries, lists, carousels, and grids, resize columns, colorize all the elements.
Add any type of content to the gallery
The plugin will support image, video, text, and other formats for you to easily create any gallery.
Join 2,078,753 customers already using Elfsight Apps
You can start with creating your first Elfsight Grid widget for free.
What will make Elfsight Photo Grid plugin special?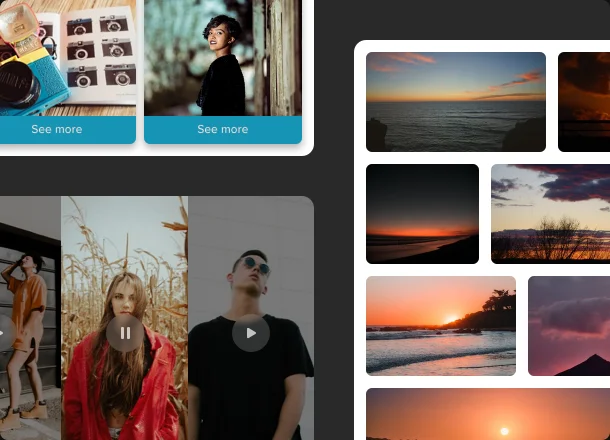 Numerous layouts
Opportunity to arrange content as you wish
You'll have an opportunity to organize posts in any layout: masonry, grid, list, or carousel and further customize all the elements. You will be able to change the number of posts, columns, boarders, buttons, and so on. Finally, there will be a chance to add different content types: images, videos, texts, and many others. It'll be possible to adjust content the way you like in mere seconds by visually modifying all the settings in the online configurator.
Structure and convenience
Enhance usability of your website by composing content
Grid will bring a basic structure or even skeleton to your web pages. It looks visually appealing and consistent, so website users will surely spend more time gazing at the gallery. The widget will help you align all the elements without any knowledge of CSS and HTML. Media Grid plugin will ease the process of arranging the content.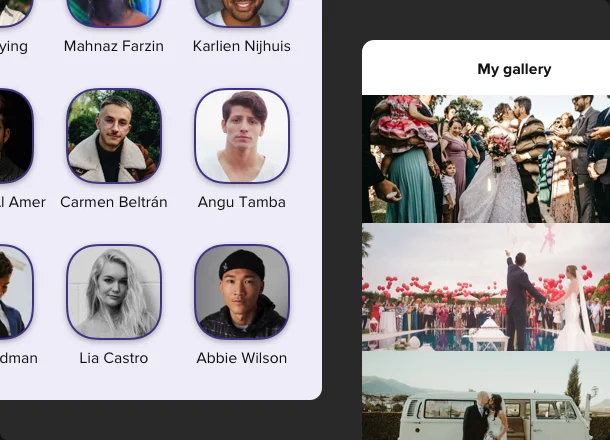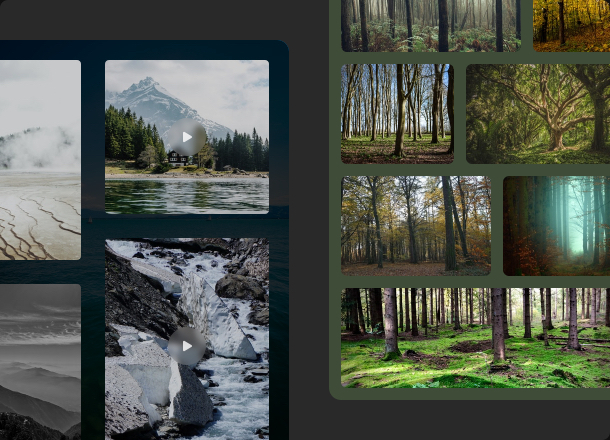 Style
Select a ready-to-use color palette or set up your own concept
We offer an extraordinary tool for non-professionals - a Color Theme Generator that'll create a scheme for your button all by itself. Just pick up the main color, either a Dark or Light mode, and let the auto color designer do all the magic for you. On the other hand, if you need a unique look of the widget, you can always further modify all the Photo grid plugin's constituents individually: colors, text, size of the button, and so forth. See all modifications immediately in the free configurator without hours of altering and coding.
Stay tuned!
Many more amazing design and functional options are coming soon
Elfsight incredible design and development teams are working up the plugin appearance and functionality right now. There would be a large range of features, it'll be possible to alter your button so that it becomes an inseparable section of your website. We will inform you about how to add a Grid widget and the nuances of setup when the widget is published. We will tell you about how to add a grid plugin and the nuances of installing it as soon as the widget is published. You'll be able to test all the settings and produce the plugin very soon, wait for it!
What our customers say ❤️
All the Elfsight plugins are easy to embed and work exceptionally on any website! Had a problem and the support service reply was exceptionally quick and punctilious.
The widgets are exceptional and have an easy to understand interface. 100% personalized and integration is a breeze. Their customer support is always responsive and helpful.
Wonderful customer support - they response much more faster than any other support I've ever used. The plugins are a breeze easy to embed and have wide range of features.
Frequently Asked Questions
What is The Grid widget?
It's a simple widget allowing you to organize the content on your website in a form of a grid.
How to add Grid widget to my site?
In order to embed our app, see all the points from the uncomplicated guideline:
Perform our configurator and start forming your own plugin.
Tailor the widget characteristics and apply the essential corrections.
Get the unique code which appears in the notification.
Add the widget code on your homepage and save it.
Congratulations! You've successfully implemented new widget on the site.
Came across any troubles during the installation? Address our client support group and we'll be happy to help.
Can I change the design of the widget?
Certainly! You can perform all the needed alterations in our live editor. Simply open the Style tab and submit all the needed changes. After you're done, save the changes.
Are your widgets adaptable for my website platform?
Yes, they are! Our widgets perform exceptionally on all well-known website platforms, for example, Shopify and on all platforms with custom HTML (Blogger, etc). Also, supposing that you face any obstacles you can always address our support staff.
What other widgets are coming to Elfsight in short order?
We offer you to watch for the following products be launched:
Gift
,
Reading Progress
,
Spinning Wheel
.
In case you didn't manage to get what you wanted, then hurry up to notify us directly or write us at the wishlist field!
Best way to use the Grid widget on my website
Create an awesome visual gallery with the help of the Grid widget!
Join 2,078,753 customers already using Elfsight Apps
Get the taste of 80+ powerful apps by Elfsight. No credit card. Joining is free!