It's October 21, 2015! Welcome Back to the Future, Marty!
It's October 21, 2015! Welcome Back to the Future, Marty!
Most of us at least hear about the legendary "Back to the Future" trilogy. So the date 21 October might sound familiarly. This day has come! It's time to greet the brave time travellers and remember their adventures.
Yeah, we know! This post has no connection with widgets, WordPress or web-development. But we couldn't pass by this date. There is only one reason:
Today Marty McFly returns!
Elfsight team loves the great "Back to the Future" trilogy!
Let's remember these gorgeous fantasy films together.
The First Film of "Back to The Future" Trilogy Was Released 30 Years Ago!
Just imagine that the first film was applauded in cinemas 30 years ago! The time has passed with the incredible speed. Back to the 90s, it was difficult to even realize in mind this precise date – 21 October… What the world would be after several decades? No one was able to answer this question but still, everyone was dreaming about the better future.
The Earth Is Prepared for The Arrival!
Today is the exact day, when Doc Brown sent Marty McFly and Jennifer Parker in the year 2015. It should be noted that the Universal studio decided to celebrate the anniversary of its films in a big way and developed a full-scale activity this year. To meet expectations of fans the following things were made:
a Pepsi Perfect drink was presented on the Comic Con in New York
the special blu-ray 30th anniversary edition of the trilogy was issued
the comic book from IDW was published
even the trailer of the movie "Jaws 19" was shown
One more thing that everyone was waiting for in 2015 – hoverboard. Unfortunately, the best way to practice in riding a hoverboard is to watch the film "Back to the Future".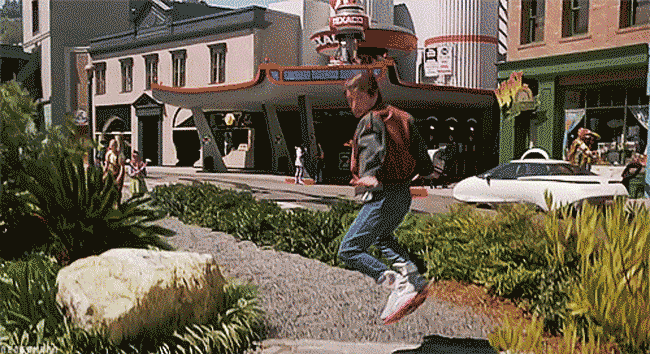 Don't Forget to Watch The Fantastic Trilogy!
In 1989 the future seemed very far away and full of unbelievable inventions. So today it is a high time to watch the
"Back to the Future"
trilogy again and to compare as far as films were close to the truth. We've searched the Internet for an interesting article and find this
one
.
As you can see, the future is already here! Welcome home, Marty 😉