Instagram verification is a coveted status that many users aspire to. However, getting verified on Instagram with a blue check mark isn't a straightforward process. In this article, we'll explore how you can use two methods to increase your chances of becoming verified on Instagram and everything that comes with this decision. Stick with us!
What Is Instagram Verified Status? And How Does It Mark Profiles?
The meaning standing behind Instagram website verification has slightly changed over the years. Following the new eligibility requirements, the Instagram verified status indicates a verification-passed process for raising consciousness and deciphering real accounts from fake ones.
It no longer remains to be an absolute for only notability and uniqueness. But rather a way to confirm the authenticity of your IG profile. So how can you mean that it deserves credibility?
Take a look at the Instagram account of Vogue magazine: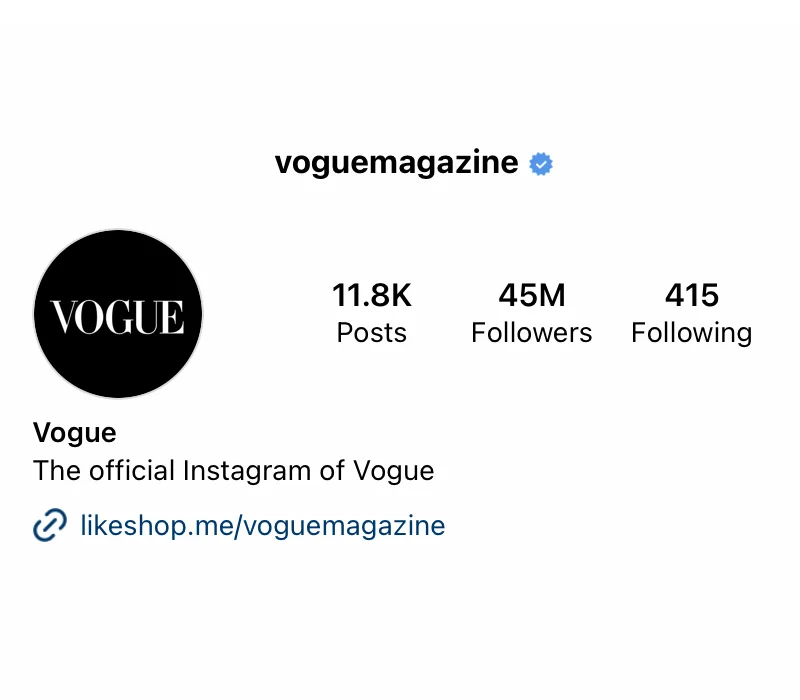 With a simple analysis, this IG profile is sure to be trustworthy. Why? It's not because of the number of followers or posts but a checkmark badge symbol. The verified accounts on Instagram get a blue mark check symbol next to the username. This is a way to set yourself apart from fake and fan profiles, which could otherwise try to impersonate you or your brand.
Keep in mind that the blue check mark only validates the legitimacy of your IG account without giving extra guarantees of increased engagement. It is partly due to the policy that Instagram promotes: the blue check mark badge shouldn't be associated with favoritism, expertise, or any authority. So providing high-quality and consistent content, having a strategy, and building a bond with your followers will ultimately mean the true success of your account.
Keep in mind that the blue check mark only validates the legitimacy of your IG account without giving extra guarantees of increased engagement. It is partly due to the policy that Instagram promotes: the blue check mark badge shouldn't be associated with favoritism, expertise, or any authority. So providing high-quality and consistent content, having a strategy, and building a bond with your followers will ultimately mean the true success of your account.
In general, social media platforms have warped our sense of accessing true or fake information without lacking trust or having doubts. With never-ending news and stories of somebody else being scammed or cat-fished, the checkmark verified option seems fair enough a great deal for fighting fake data.
And because of that, the key question is still up in the air: how do you get verified on Instagram to have a blue check mark symbol of desirable credibility? What are the ways to establish a strong presence on Instagram without being fake?
How to Get Verified on Instagram to Receive Blue Checkmark?
The verification check mark badge appears next to your username on your profile, search results, comments, and DMs. With a new announcement and release of an Instagram subscription—Meta Verified—there are two alternatives to get yourself verified on a platform and receive a blue check mark. Here we are ready to present both ways and articulate the difference that lies between them:
1. Instagram Request Verification
This is more of a traditional method of getting a blue check mark. Instagram's request verification is a feature that allows users to apply for a verified IG profile with the blue checkmark symbol. It's a somewhat simple process that takes a few steps to complete. Once you submit your checkmark request, Instagram's review team will assess your account and decide if it's eligible for verification.
Before applying for verification, you should ensure that your account meets Instagram's mark verification criteria and does not represent a fake account. Once you've confirmed this, you can apply for check-mark verification by following the steps below:
Step 1: Open your Instagram profile
Log into your Instagram account from your mobile app or web browser. Go to your profile by clicking on the picture of your profile.
Step 2: Tap on the hamburger symbol
Click on the hamburger symbol (three horizontal lines) on the top right corner of your home feed. It will take you to the menu screen.
Step 3: Go to Settings and privacy
Choose "Settings and privacy" (or just "Setting," depending on which Instagram update version you use) at the top of the screen menu.
Step 4: Navigate to Creator tools and controls
Pick the "Creator tools and control" option. If you have an older version of the IG app, then scroll down to the bottom and find "Account."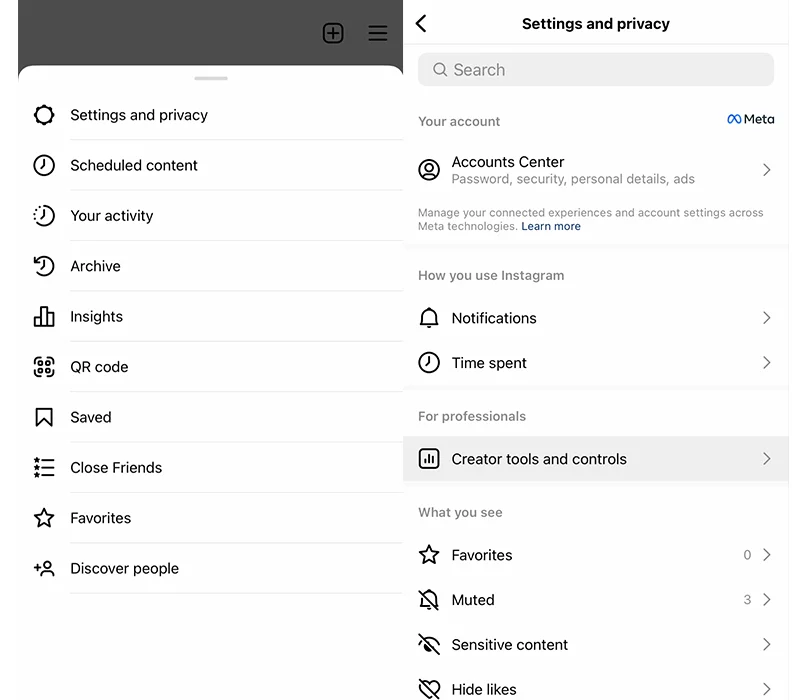 Step 5: Click on Request verification
Find the blue-colored Request Verification option and hit it.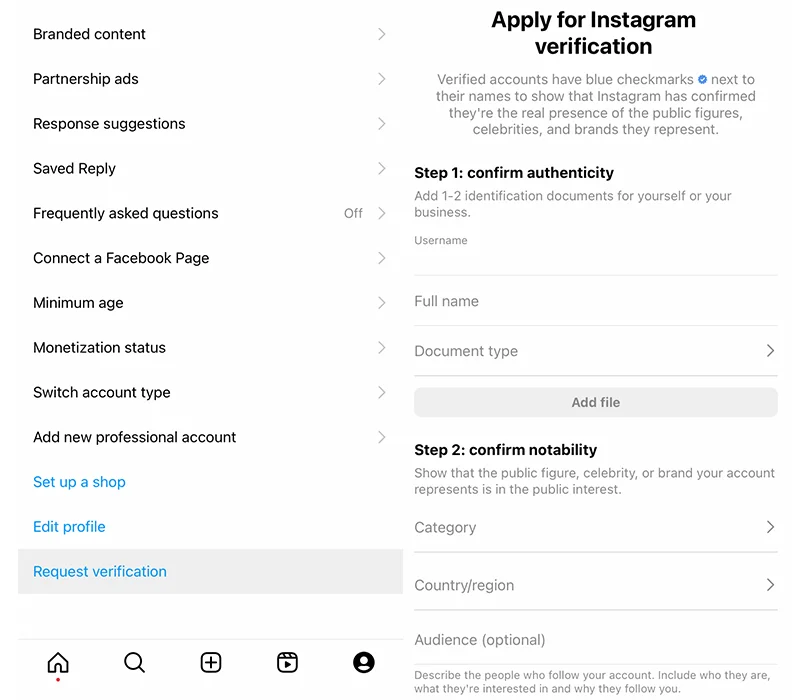 Step 6: Fill out the confirm authenticity fields
First of all, type in your full and real name or the name of your business. Then attach a government-issued identification document to validate the accuracy of the data input. If you're applying for a business Instagram account, you'll need to provide business documents that mark your legal entity name and address which means to not come off as fake.
Here is the list of documents that you can attach to get the checkmark:
Driver's license
Passport
National identification card
Tax filing
Recent utility bill
Articles of incorporation (for business owners)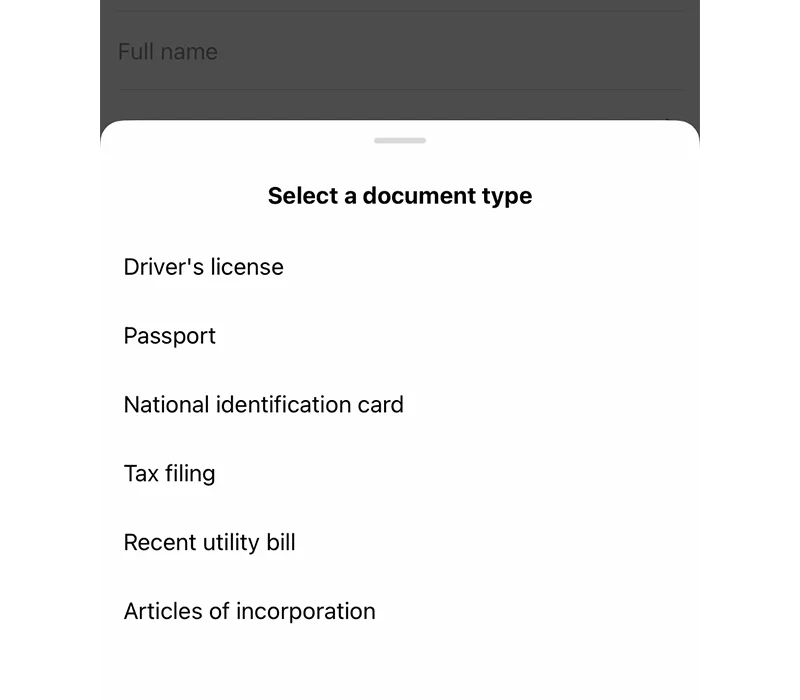 Step 7: Confirm your notability
Pick a category that generally describes your field of influence: sports, music, fashion, media, etc. The next thing you should do in order to receive a check mark is select a country that locates most of your target audience.
To grow your chances of getting verified on Instagram and obtaining a blue checkmark symbol, take time to characterize the people who follow you and add names in other languages, stage names, or popular nicknames in the "Also known as" field.
Step 8: Include links to other sources
Even though Instagram refers to this part of the submission as optional, it may hold the needed power regarding the blue check mark symbol on your profile. Add up to five sources that mention you or your business: business website, newspaper article, other social media platforms with massive following and registration, and many more.
These sources can't be promotional or paid. Instagram wouldn't take them seriously and might consider them fake.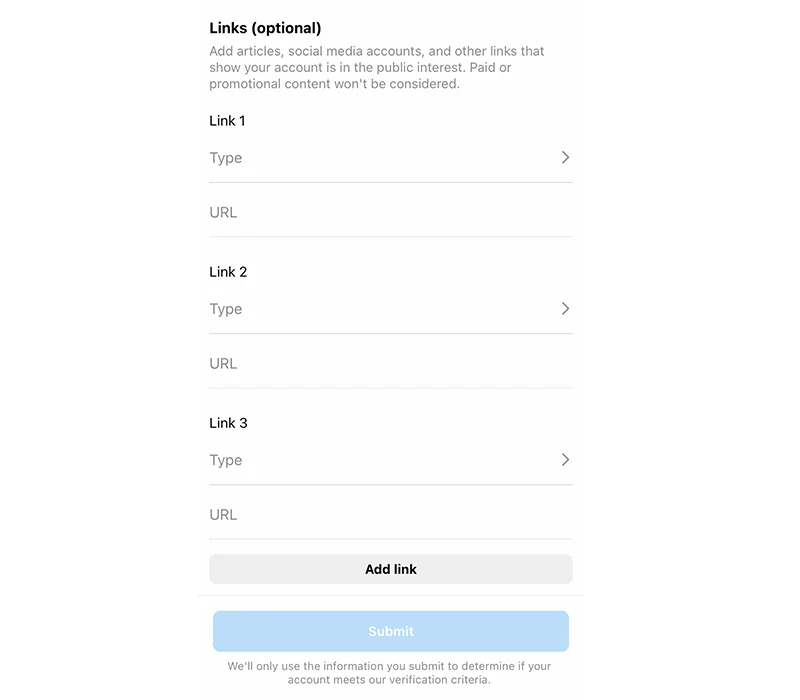 Step 9: Submit your request to become a verified IG user
Once you've completed the form, click on "Submit."
Your request will be sent to Instagram's review team for assessment. Instagram will notify you of the status of your blue check mark application via a notification in Activity within 30 days. In case of denial, you will be able to submit a new version in the next 30 days.
2. Meta Verified
Meta Verified is a subscription bundle released in March 2023 by Instagram, which makes it a new addition to the market. This feature is aimed to help Instagram and Facebook users obtain a blue check mark symbol in no time and effort.
At this moment, Meta Verified is only available in the Instagram app and selected regions: the United States, the United Kingdom, Australia, and New Zealand. So if your country is not on a list, don't rush to express frustration: Meta is working on it. It means sooner or later, Instagram will add it to a selection, but until then, you can sign up for a notification.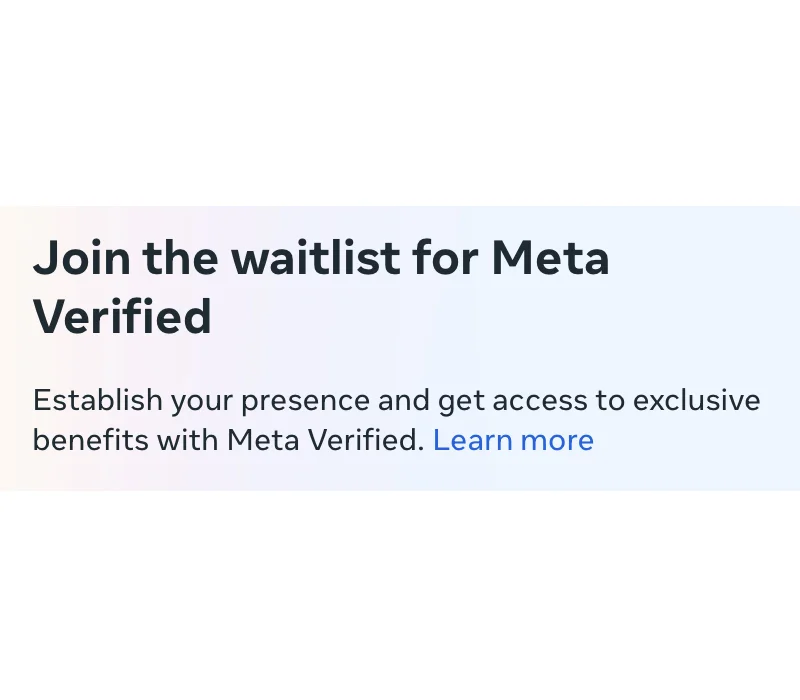 If there aren't any obstacles in your way, this is what you should do to get a blue check mark via Meta Verified:
Step 1: Open your IG account
Launch your Instagram app and go to the home profile feed by clicking on the symbol.
Step 2: Press the hamburger symbol
In the top right corner of Instagram, locate the symbol with three horizontal lines.
Step 3: Select the Meta Verified option
Find the "Meta Verified" option and click on it.
Step 4: Accept the Meta Verified offer
Read the "Terms of Use," check the pricing, look through the benefits, and ensure you fit under the eligibility requirements of obtaining a checkmark. Then hit the "Get Meta Verified" or "Subscribe" button.
Step 5: Set up your payment
Agree to monthly subscription payments by clicking on "Pay now."
Instagram provides a 60-day refund period if you don't match the criteria for a blue check mark symbol. And, of course, you can always cancel the subscription within 24 hours before its renewal.
Step 6: Submit additional IG profile information
It means to add more information about yourself for identification purposes: name as it appears on your ID or driver's license and a clear profile picture of your face. Also, make sure to turn on the two-factor authentication to fit the checkmark policy.
Take a picture of your ID or any other document that confirms your identity. Follow the blue check mark guidelines by Instagram: have a good light, avoid darker areas or shadows, and include four corners of the ID.
Step 8: Wait for a little bit
When it is all good, click "Finish." You will receive a final decision about the checkmark within 48 hours of waiting.
With that being said, you have two polarized methods to get a blue checkmark. The first one is completely free, focuses more on notability proofs, and takes more time to get the final checkmark feedback from Instagram. Whereas Meta Verified alternative is a paid service for interested parties to highlight the authenticity in a much faster manner.
There is no right or wrong option, which means that it depends on your needs and what you can afford. So slowly but shortly, it leads us to discourse on another crucial topic—eligible requirements.
What Requirements Should You Follow to Get Verified on Instagram with Blue Mark? [+ Some Tips]
When it comes to building a compelling presence on Instagram, one of the crucial goals is to get verified and receive the blue check mark on your profile. The blue check mark indicates credibility, authenticity, and trustworthiness. It not only increases the visibility of your profile but also helps to establish your personal and professional branding on the IG platform.
The first step to getting a blue mark verified on Instagram is to fulfill the eligibility requirements put forth by the platform. According to Instagram, there are a few criteria that a user must meet, which means become approved for a blue check mark via the request verification option:
Authentic. Your IG account must represent a real person, registered business, or entity.
Unique. Your IG account must represent a unique entity, such as a registered business, brand, or public figure.
It means you should have only one Instagram account per person or business. The only exception that wouldn't be considered fake are accounts in multiple languages.
Public. Your account should be public, and all content should comply with Instagram's community guidelines.
Complete. Your IG account should have a complete bio, profile picture, and at least one post.
Notable. Your IG account should be well-known, highly searched for, and have a consistent following.
Take for example, the Instagram account of Adam Mosseri to confirm the stated points about the checkmark requirements: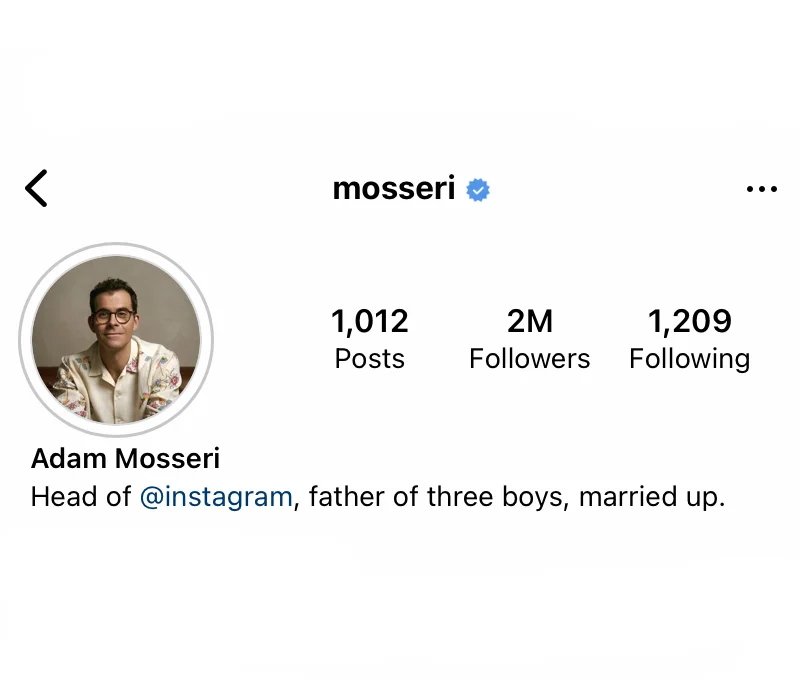 Like Instagram request verification, Meta Verified subscription has some blue check mark requirements too. Your IG account must meet the following general rules to be eligible for blue-mark verification:
To access the services, you should live in one of these counties: the United States, United Kingdom, Australia, or New Zealand.
The list of countries is going to expand with time. Check the Instagram Help Center for more detailed information.
Fit the age requirements: 18 years and older.
The Instagram account can be public or private. But it should have a full written name and profile picture showing your face. Try to reflect on your identity to avoid assumptions of being fake.
The two-factor authentication setting should be enabled.
Have at least a bare minimum of Instagram activity, like posting history, comments, or likes.
Provide a government-issued ID to verify the data: name and photo.
Follow the Instagram Terms of Use and Community Guidelines.
Once you meet the eligibility requirements, provide Instagram with documentation to support your checkmark verification request. The documents required to get a blue check mark may vary depending on the account category. For example, if you are a public figure on Instagram, you may need to provide the following documentation:
Government-issued ID. Provide a copy of a government-issued ID, such as a passport, driver's license, or national identification card.
Articles of Incorporation. If you are a registered business entity, you may need to provide articles of incorporation or other legal documentation to prove the existence and legitimacy of your business.
Media Coverage. If you are a public figure, you may need to provide media coverage with featured information about you or interviews that you have given.
Tips to Increase Your Chances of Getting Blue Mark Instagram Symbol
Even though meeting the eligibility requirements and providing valid documentation is crucial, there are a few additional tips you can follow to boost your possibilities of getting blue-mark verified on Instagram:
Consistency. To increase your chances of getting verified with a check mark, make sure you are consistent with your profile information and posts. Use the same name, handle, and bio across all social media platforms, and keep your content relevant and current.
Promote your brand. Create a strong personal or professional brand and promote it across different channels. The more recognition your brand gets, the more likely Instagram is going to get a blue checkmark.
Build a strong following. Having an influential following on Instagram can increase your hopes of getting a check mark verified. Build an engaged audience by creating content that resonates with your target audience and using relevant hashtags and ads to increase visibility.
Stay active and engaged. Interact with your followers and other Instagram users by commenting, liking, and sharing relevant content in your niche. Being an active and engaged member of the Instagram community can boost your chances of getting a blue checkmark.
Getting verified on Instagram and receiving the blue checkmark is not an easy task, but it's not impossible either. Following these requirements and tips, you can improve your chances of getting verified, build credibility and reputation, and promote your personal or professional brand on Instagram.
What Are the Benefits of Instagram Blue Mark Verification?
In the world of social media, an Instagram blue check mark badge can be the key to unlocking a host of benefits for your business or brand. This coveted blue check badge conveys a sense of trust and credibility and boosts your visibility on the platform.
Let's explore the top benefits of Instagram's blue check mark verification and why this is essential for any successful social media marketing strategy:
The blue verification mark is a sign of authenticity, telling your followers that your account and content are legitimate. Verification shows you representing a real business, public figure, or brand. This helps to build trust with your Instagram audience, stops the fake thoughts, and gives your content an edge over others who may not have a verified account with the checkmark. It's a crucial aspect of establishing yourself as a serious player in your industry.
Instagram blue check mark verification can also boost your visibility on the platform. It means when users look for keywords or hashtags related to your account, your content is more likely to appear in their search results. Ultimately, this can lead to increased engagement, followers, and revenue.
Another benefit of Instagram check mark verification is access to new features. As the Instagram platform continues to evolve, verified users gain extra attention: exclusive stickers and account support help from a real human, not a bot.
Protection Against Impersonation
One of the most significant benefits of Instagram check mark verification is protection against impersonation and fake profiles. Verified accounts are less likely to be targeted by scammers or imposters looking to capitalize on your brand's reputation. It happens due to the proactive monitoring of fraudulent activity and keeping your followers safe from engaging with illegitimate fake users.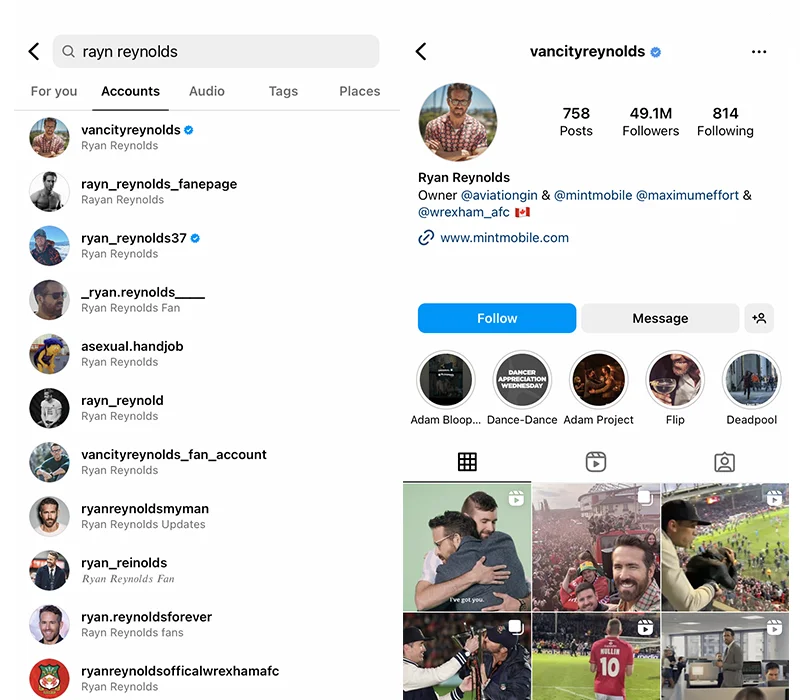 Increased Credibility with Brands and Partnerships
If you are running a business or representing a brand, Instagram blue mark verification can be a game-changer when it comes to securing partnerships and sponsorships. A verified Instagram account tells potential partners that you are a legitimate, not fake, established company or brand with which they can do business. It can improve your chances of arranging successful and profitable collaborations with other brands and influencers.
Raised Number of Followers
Another benefit of Instagram blue-mark verification is the potential to raise your follower count. As mentioned earlier, verification increases your visibility on the platform, which leads to high engagement and follower growth. Attract new followers in return for more conversions.
Broadcast the Legitimacy on Your Website
If you want to add and promote the Instagram Feed using an Elfsight widget, you can be sure of the blue-mark symbol appearance. So users across your multiple channels can be confident that this Instagram account is yours without proclaiming it fake.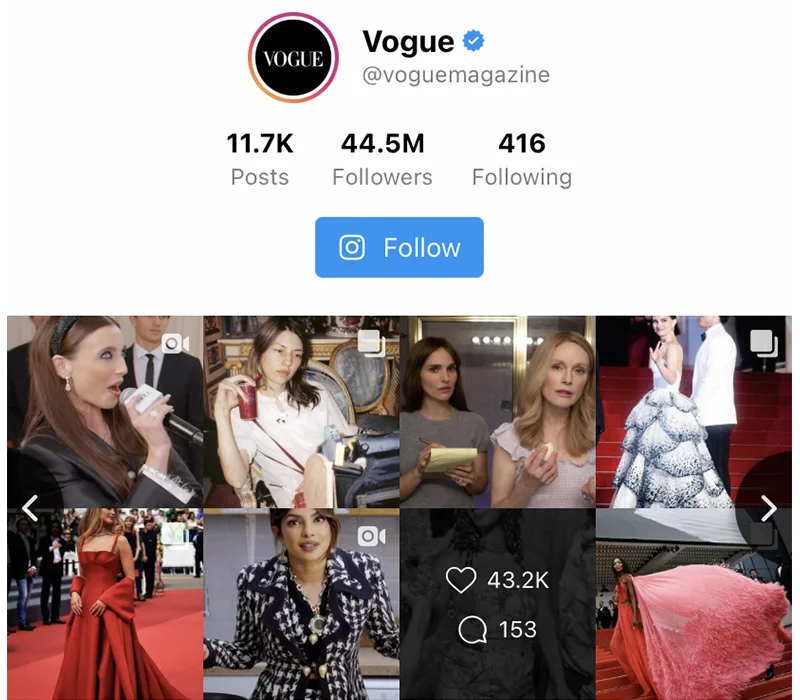 The blue mark verification badge on Instagram can take your social media presence to the next level. Don't wait any longer to pursue Instagram mark verification and start reaping the rewards for your business or brand!
FAQ
We've collected some of the most common questions to give you a detailed explanation of the Instagram verification process to get you started:
How much does the Meta Verified cost?
The subscription for Meta Verified costs $14.99 USD per month for the Instagram app and $11.99 USD for Facebook. But to verify both social media accounts, you should purchase the service not only for Instagram but also for Facebook.
Can I verify a business Instagram profile via Meta Verified?
At this moment, Instagram doesn't allow users to Meta Verify business profiles.
Can I buy a blue checkmark on Instagram?
You can sign up for a Meta Verified subscription and try your luck to get a blue checkmark. But broadly speaking, if you want to purchase a fake badge, you put yourself in a risk zone of getting suspended by the Instagram team.
What number of followers do you need to get a blue checkmark on Instagram?
The number of Instagram followers doesn't play a big role in verification. Simply, it doesn't matter that much—you can have 100 or 1 million followers. The Instagram team will grant you a blue mark for matching requirements and following rules.
Can Instagram take back verification?
Yes, Instagram can remove the blue mark badge. It happens if you have misled or used fake or false information while applying for the check mark symbol—Instagram doesn't support violating rules, reselling a badge, and trying to get verified through any third-party services. These all can lead to much worse consequences, like disabling your account.
Conclusion
Getting verified on Instagram and receiving the coveted blue checkmark badge—is not an easy task. It requires effort, time, patience, and the right approach. Following the outlined steps and requirements, you can improve your chances of getting verified and earning the trust and credibility that come with it.
Remember, being verified on Instagram is not just about having a badge or bragging rights; it's also a way of demonstrating your legitimacy and staking your claim as a reputable account on the platform. So, if you're serious about growing your Instagram presence and getting authentic, we encourage you to take action and begin the verification process today.