For businesses in the hospitality and travel industry, adding customer reviews to your website is essential in helping to create an engaging and trustworthy digital presence. In this blog post, we will explore the reasons why you need to consider TripAdvisor reviews for your business and the major steps of embedding them into a website using the Elfsight widget. Keep reading!
What Are TripAdvisor Reviews?
TripAdvisor reviews are comments and ratings by travelers that help others conveniently plan a trip or book a reservation. These reviews are absolutely subjective and draw a person's viewpoint and experience with a particular location, tour, or restaurant.
Given a broadened perspective, this source of information remains the main expertise for validating any business quality and building trust. The reviews may range from one-word remarks to full-length stories that offer an in-depth look at what travelers went through and what they liked or disliked about the service.
TripAdvisor reviews are the best chance for businesses to showcase their communication skills, impress potential customers and sell more. In fact, they will work amazingly as social proof on your website!
So here we stand: how to add TripAdvisor reviews to your website?
Elfsight has got you covered on that with the TripAdvisor Reviews widget. It doesn't take too much time to install or any special skills. Honestly, it is somewhat simple. Check it out for yourself:
Create a free Elfsight account or log in to the existing one.
Select a TripAdvisor Reviews widget in the catalog.
Add the link to the needed page on the TripAdvisor website.
Make some customizable changes: layout, title, review style, color scheme, etc.
Save all the changes and receive a widget's installation code.
Copy the code and embed it right into your website editor. That's it!
Keep the audience invested in your business with this impressive solution!
Why Do You Need to Embed TripAdvisor Reviews on Your Website?
TripAdvisor is one of the most trusted sources for travel-related reviews and opinions. If you embed these reviews into your website, you will provide an additional layer in forming a sense of confidence for potential customers. Highlighting precious feedback information can reinforce positive emotional states to increase the chances of selling more.
Without further adieu, here are some of the reasons why you need to add TripAdvisor reviews on your website:
Increased Website Credibility & Trustworthiness
Adding TripAdvisor reviews on your website can help you gain the trust of potential customers and earn the credibility necessary for running a successful business. When customers want to book a flight, make dinner reservations, or purchase travel tickets, they need reassurance that your business has positive reviews from other customers.
In the experiment-based study made in 2011, the researchers broadcast the evidence of enhanced trust effect because of positive reviews. To be clear: social-based information has a much more substantial impact on purchasing decisions and final judgments than a business image, sales, or warranties.
Reviews navigate through different experiences and can be seen as a game-changer for your business: create a feeling of reliability and trust that potential customers need before they are willing to convert.
Improved Search Engine Visibility
In addition, the process of embedding TripAdvisor reviews into your website is set to increase your SEO efforts significantly. This is done by enticing more organic traffic since most people depend on online reviews when researching a product or service.
Placing relevant keywords in strategic places like review titles and descriptions paves the way to improve your search engine rankings and show up in more search results.
Take note: The TripAdvisor Reviews widget is absolutely SEO-friendly. It delivers great results and undertakes higher rankings for your website.
Enhanced User Experience
When customers know that the provided services are up-to-the-mark and trustworthy, they are more likely to stay on the page for a long time period. Reviews can play a significant social proof phenomenon that serves as evidence of a high-quality product/service.
Additionally, embedding real-time customer feedback improves user engagement and encourages better visitor conversions.
Competitive Advantage
Finally, if you decide to add TripAdvisor reviews integration, it can help you stay competitive with other businesses in the same industry. The practice of translating the feedback and all the ins and outs of your product/service leads to gaining new prospects.
TripAdvisor is one of the world's largest travel review websites getting millions of visitors annually. This is a powerful source for consumers looking for trustworthy business reviews. It doesn't take by surprise — businesses should be eager to tap into this massive resource and showcase their TripAdvisor reviews on their websites.
With that being said, let's return to the original questions and unpack a few things in detail: how can you embed TripAdvisor reviews into the website without too much effort? And what are the crystal clear steps you need to take?
How to Embed TripAdvisor Reviews Widget on Your Website
Adding TripAdvisor reviews to your website can be a daunting task, as it might involve coding and working with the TripAdvisor API. This is where Elfsight comes in; our widget makes it easy for businesses of any size to embed TripAdvisor reviews on their websites without any coding knowledge required.
Let's break down the video's main points into a text guide:
Go to the Elfsight admin dashboard by signing in or creating a new account.
Look for the TripAdvisor Reviews widget throughout the list of other applications.
Start customizing the widget to your preferences by choosing the template, layout, color scheme, and review style. Don't forget to add the source as a link to your TripAdvisor website page!
Acknowledge the changes in the preview display and hit the Get the Code button.
Obtain a code to embed into your website.
Navigate to your website editor and paste the installation shortcode. After that, the TripAdvisor Reviews widget from Elfsight is ready for use on your website!
Keep in mind that all changes made in the Elfsight TripAdvisor Reviews widget will be automatically applied to your website too.
The TripAdvisor Reviews widget installation on your website takes seconds and only six simple steps. Isn't it empowering?
10 Features of TripAdvisor Reviews Widget From Elfsight
The TripAdvisor Reviews integration from Elfsight makes it easy for business owners to embed their customer reviews and ratings into their websites. Features of this widget include:
Accessibility

User-friendly interface.
Mobile-friendly.
Visually appealing design.

Integration

The integration source is the TripAdvisor review page.

Customizable design

Color scheme generator: light or dark theme mode.
Changeable fonts.
A vast collection of accent colors.
Supports custom CSS.
Adjustable widget title and header elements.

Review and source style

Three review style options.
Six review source style options.

Filters

Three filters: show reviews with text, specific ratings, and a total number of displayed reviews.
Exclude reviews to remove unnecessary details.
Include reviews based on specific criteria.

Sorting

Sorting is made by showing the most recent reviews or random ones.

Multilingual support

The widget is available in more than 20 languages.

Easy installation

Easy to install on any website within minutes.
Coding or technical skills aren't required.

Templates

Twelve ready-to-use templates for any occasion.

Layout

Six custom-made layouts with the support of customization.
6 Usage Examples of TripAdvisor Reviews Widget From Elfsight
The TripAdvisor Reviews widget from Elfsight makes displaying reviews on your website easy. It includes twelve pre-made templates that provide a range of design options to match any website's style. The templates are adjustable, so they can be tailored to achieve the exact look you desire.
The six examples of using the TripAdvisor Reviews integration from Elfsight are:
Carousel Template
This widget template offers a dynamic slider effect to display multiple reviews and a call-to-action button to encourage website users to leave feedback. It frees up a lot of space on a website page and includes a fully customizable widget title.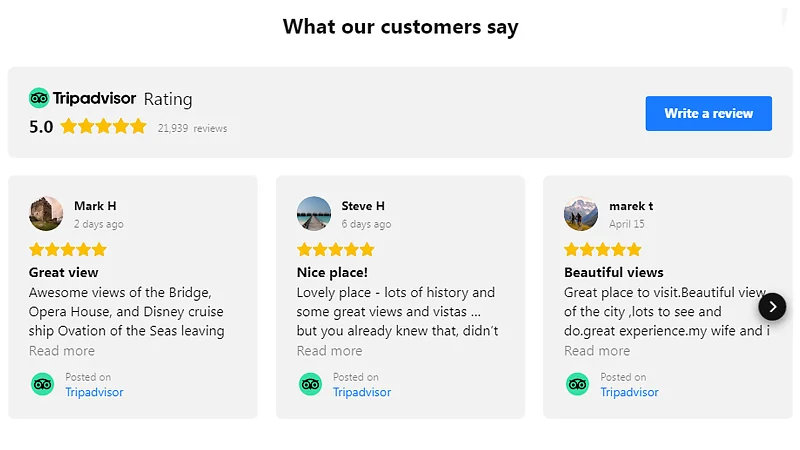 Grid Template
This widget template is designed for websites with multiple reviews. It displays them in an organized grid format for easy viewing, following the trends of minimalism. Specify the number of rows, columns, and gap sizes to complete the customization process.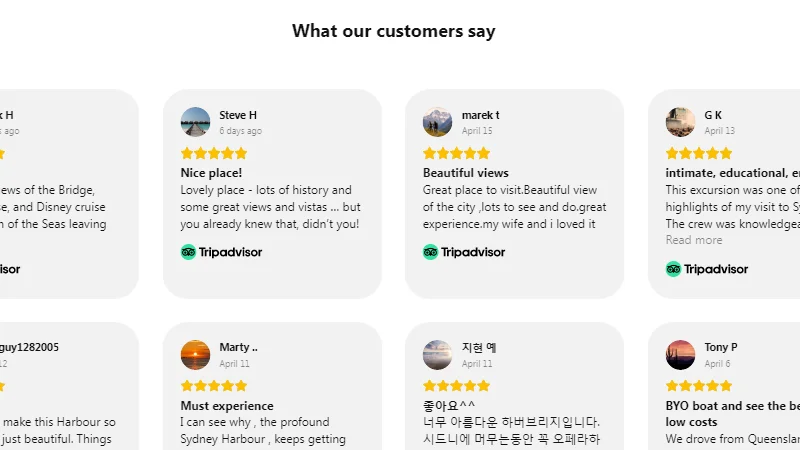 Badge Template
This one is ideal for websites with small space left for integration. In this way, you will only broadcast the average ranking with hidden reviews in a sidebar area. The badge widget template has two built-in layouts: floating and embedded. Depending on your case, pick the one that compliments the overall look of a website page.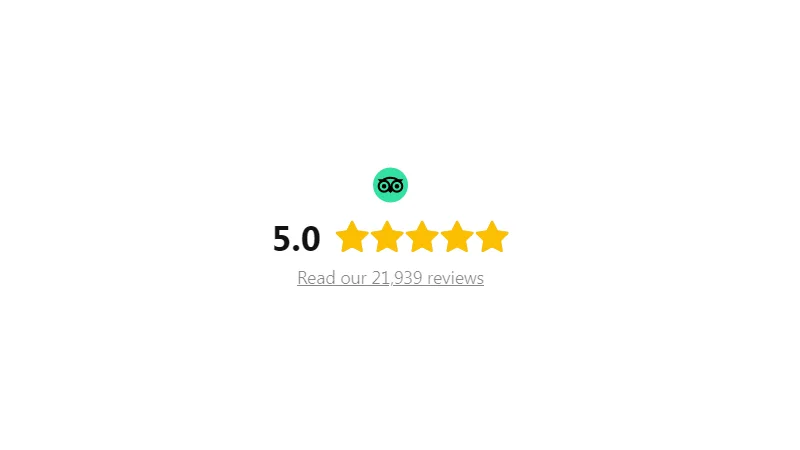 Mansory Template
This template provides an attractive gallery-style display of all your reviews, allowing users to scroll at their own pace. Feel completely free to play around with customization options: columns, number of loaded posts, gap size, header attributes, color scheme, and so on. Make it fully unique with a stylish look!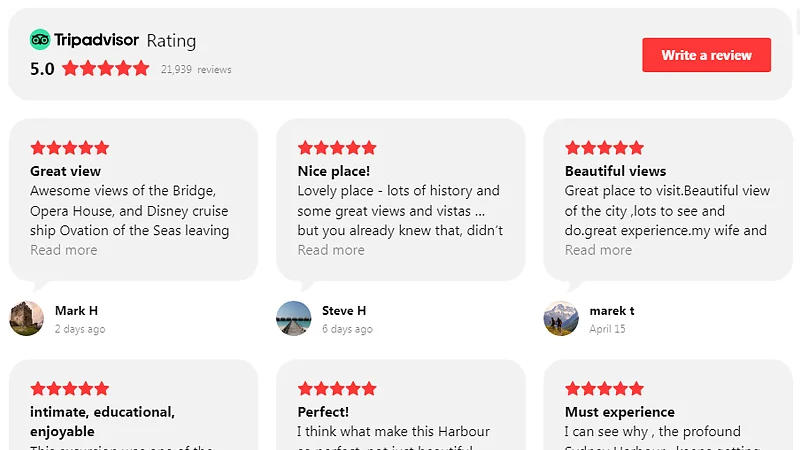 List Template
This template is perfect for websites with plenty of photos and images. It provides an eye-catching layout of individual TripAdvisor review images and star ratings in stripes across the page. Feel keen on switching between light or dark color schemes to blend the template well with the website design choice.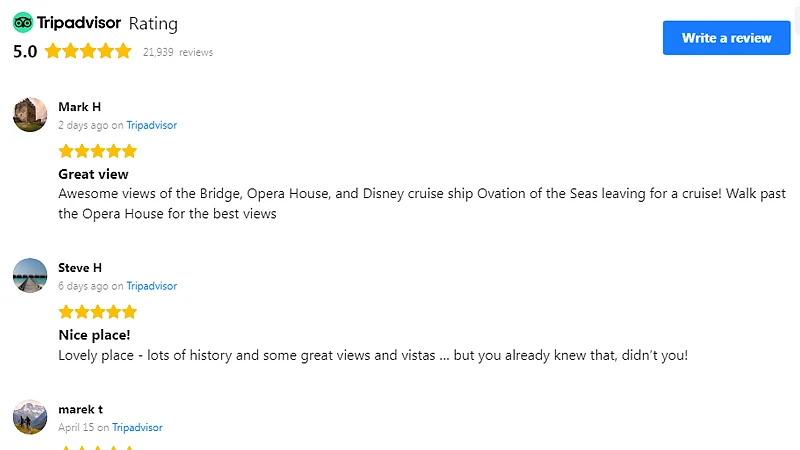 Sidebar Template
Embed the TripAdvisor review template in the sidebar area of your website to achieve an appealing look. It's compact but informative to help website users form positive opinions about your product/service.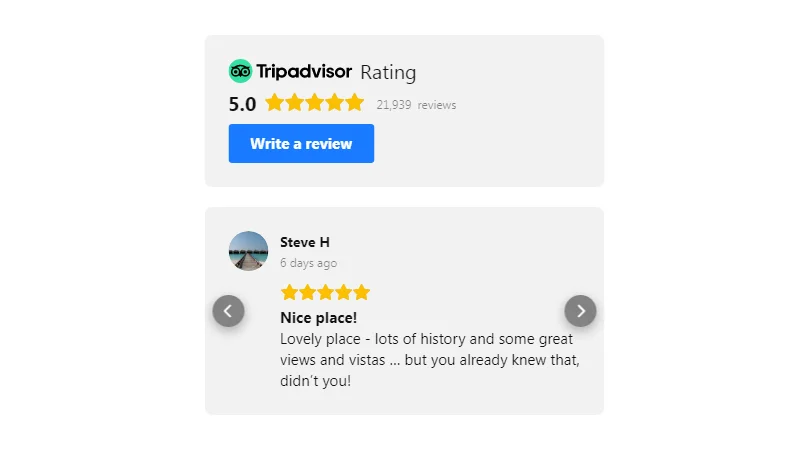 Using these different templates allows you to customize your TripAdvisor Reviews integration's look on your website, optimize customer feedback according to your needs and preferences, and provide customers with engaging information about your services without overwhelming them with an abundance of text or images on the page all at once.
Who Needs to Add TripAdvisor Reviews on the Website?
Businesses in the hospitality, accommodation, or travel industries—including hotels, restaurants, cruises, ticket sales, and travel agencies—can rely more heavily on TripAdvisor reviews embedded into a website. Why are reviews beneficial for them? It comes to the reason that these businesses depend on customer feedback to keep things running.
TripAdvisor ratings and reviews play a massive role in increasing customer trust. Customers are more likely to choose a restaurant, hotel, or other services if they can read honest assessments from those who have already been there and experienced the service first-hand.
Furthermore, businesses using the TripAdvisor widget can use feedback to identify and address outstanding issues quickly and efficiently. The art of paying attention to the customer's needs and being grateful for positive reviews can create an even better customer experience in the future.
By embedding TripAdvisor reviews on their website via the Elfsight integration, business owners can gain control over what customers see when they visit their website. Not only does this make their website look more professional and inviting, but it provides customers with a reliable source of information about what the business offers.
The Bottom Line
Embedding TripAdvisor reviews on your website is a great way to increase customer trust and confidence. Using Elfsight's widget, you can easily add TripAdvisor reviews to your site in minutes with no coding required. With features like custom design settings and multiple templates, you're sure to find the perfect solution for your site. Plus, you can benefit from added visibility and engagement from customers who leave reviews.
Do you feel lost on the TripAdvisor integration journey or have some questions? If the answer is yes, then these resources are for you:
Help Center. The Elfsight Support Team is ready to take your hand and guide you through any issues. On top of that, check out relatable articles on this topic!
Elfsight Community. Join our community, introduce yourself to the most genuine people you have ever met, and talk to peers about existing struggles.
Wishlist. Participate in the development process by advocating any cool and new ideas that Elfsight has yet to release.
With the TripAdvisor Reviews integration from Elfsight, you can easily add reviews to the website to build loyalty and engage your customers.