Learn how you can use Google My Business to advance in 2023. Read our detailed guide and see how it can help your business flourish.
What is Google My Business?
Tip: Google My Business is an essential guide for your business, provided by Google. It offers a platform where you can add, create, and manage your Business Profile, ensuring it aligns with Google's guidelines. Your Business Profile, also known as your Google business listing, appears in Google Maps and the local search results of Google.
When you create a Business Profile, you are essentially adding your business to Google Maps. This process can be done by anyone, be it a random stranger or an automated listing generator. All Google requires is the business name, location, and category. Once Google verifies that it's not a duplicate, they will generate the Business Profile for that location. Consumers can then freely leave reviews, add photos, ask questions, and even provide answers on the Business Profile. Additionally, Google may populate the Business Profile with information sourced from various web platforms.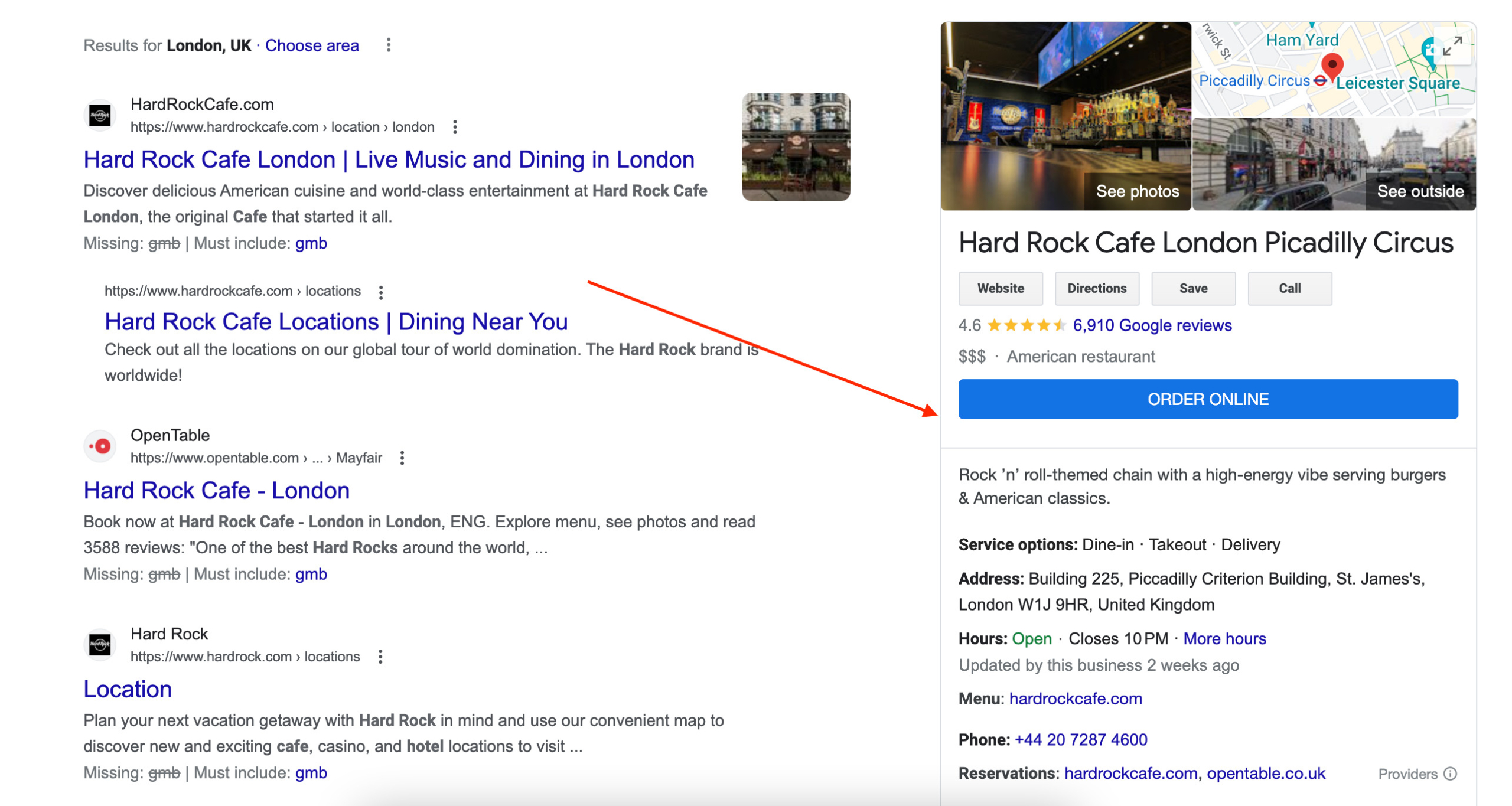 It's important to note that a Business Profile can exist independently without a Google My Business account. Whether you personally created the Business Profile or not, you won't have the authority to manage the displayed information or control the received reviews.
This is where Google My Business becomes valuable. By creating a Google My Business account, you gain access to your Business Profile on Google, allowing you to customize, manage, and enhance it. All these features are available for free, and we'll delve into them further in the following sections.
Google Business Profile is absolutely free to use.

It provides businesses with a powerful and comprehensive toolset to showcase their presence online. With a Google Business Profile, you can effectively manage and control how your business appears on Google Search and Google Maps.
What does Google Business Profile (GBP) Eligibility entail?
To be eligible for a Google Business Profile, your business needs to have a physical location or service area that customers can visit or where services are provided. It's crucial to establish and verify the business location, which can be accomplished through the verification process facilitated by Google.
The verification process typically involves options like receiving a postcard at the business address or receiving a phone call on the business phone number provided. It's worth mentioning that specific business types may have additional eligibility requirements in place.
It's important to recognize the immense value of managing your Google Business Profile effectively. With a well-optimized GBP, you can expand your business's reach, attracting new customers while actively engaging with your existing customer base. So, take advantage of this valuable, free tool, and explore the myriad benefits it can bring to your business.
The Advantages of Google My Business for Your Business
In today's dynamic technological landscape, promoting your products or services has become faster and more convenient than ever before. According to Search Engine Watch, a staggering 50% of mobile users who conduct local searches eventually visit a physical store. With smartphones being ubiquitous nowadays, imagine the potential sales you can achieve simply through organic search and leveraging the power of Google My Business.
Creating, verifying, and optimizing your Google My Business account is an invaluable opportunity that should not be overlooked. To fully capitalize on this feature, let's delve into the manifold benefits that Google My Business can bring to your enterprise.
GMB Puts Your Business on the Map and in Google Local Pack Listings
Have you ever noticed the highly visible map and the list of businesses displayed prominently at the top of the page when searching for local places on Google? This powerful feature is called the Google Local Pack, and it merits your utmost attention for two compelling reasons.
Unparalleled Visibility
The Google Local Pack dominates a significant portion of the first page of Google search results, capturing the attention of any user immediately after they enter their query.
It Provides Instant Access to Vital Information
The Google Local Pack, which manifests as a Search Engine Results Page (SERP), showcases relevant places based on your search query. It presents a wealth of additional pertinent details that potential customers seek, such as the precise location on the map, the business's contact number for inquiries or reservations, operating hours, and even the establishment's star rating. This convenient feature serves the needs of both businesses and customers seamlessly.
According to Moz, Google My Business plays the most pivotal role in determining Google local pack rankings.
Consequently, if your aim is to connect with your target audience — specifically those within your service area — verifying, updating, and optimizing your online information through Google My Business can significantly boost your visibility.
It is crucial to pay meticulous attention to the quality of your GMB listing. Utilize a reliable grammar check tool like Grammarcheck to proofread your work. Even a trivial typo could tarnish your business's credibility. Additionally, conducting competitor research ensures that you provide comprehensive and essential information, leaving no critical details behind.
GMB Empowers Customers to Leave Reviews of Your Business
Never underestimate the impact of customer reviews, especially when it comes to search rankings.
Another study by Moz indicates that online reviews are believed to account for 10% of how search engines rank results.
Therefore, if you want your business to shine in search results, enabling customers to easily leave positive feedback about your enterprise via Google My Business is indispensable. Let's explore further reasons why soliciting customer reviews is paramount.
Reviews Enhance Local SEO
Many consumers heavily rely on reviews when making purchasing decisions. Astonishingly, up to 93% of customers may be influenced by online reviews — almost everyone, in other words.
This high reliance stems from the fact that reviews are authentic testimonies from actual consumers who haven't been compensated by the company to promote its products or services. Consequently, people perceive them as more credible and are more likely to trust the opinions expressed.
In the quest to choose a local business, an increasing number of people turn to customer reviews. Recognizing the significance of reviews, search engines utilize them to rank search results. It is advisable to conduct regular local SEO analysis, extracting semantic insights from customer reviews, understanding how customers discover your business in search, performing GMB audits, and taking control of local reputation management.
Reviews Drive Sales
Positive reviews play a pivotal role, not only in improving your search engine ranking but also in acting as free and reliable advertisements for your offerings. Customers are more inclined to try a product that boasts numerous positive reviews, as opposed to one that receives numerous criticisms.
Online reviews carry as much weight as personal recommendations in terms of trustworthiness. The more positive customer reviews you accumulate, the greater your chances of generating leads and increasing sales. Research supports this claim, revealing a positive correlation between reviews and sales.
While it is crucial to strive for positive reviews, it is equally important to acknowledge that even the most outstanding businesses may receive negative feedback. In such instances, it is essential to handle negative reviews professionally. Avoid taking criticisms personally and instead utilize them constructively to enhance your products or services. Negative reviews, when effectively leveraged, can provide invaluable insights to propel your business forward.
In conclusion, harnessing the potential of Google My Business is a paramount step towards business growth. It offers unrivaled visibility in maps and Google Local Pack listings, empowers customers to leave reviews, and contributes significantly to local SEO and sales. Take advantage of this free platform, adhere to the guidelines provided, create your Google My Business profile, and unlock a world of opportunities to amplify your brand presence, attract new customers, and propel your business to new heights.
Bonus: Add Google Reviews to Your Website with Widget
Looking to add an extra spark to your website? Look no further than the Elfsight Google Reviews widget. With this powerful tool, you can effortlessly integrate Google Reviews into your website, even if you're not a coding expert. Say goodbye to the hassle of manually adding reviews and let this widget do the work for you.
Integrating Google Reviews into your website is a breeze, and it can be done in just a few simple steps. Here's how:
Sign up for a free account with Elfsight, the leading provider of Google Reviews widgets.
Choose your preferred template and customize the widget to match your website's design.
Copy the installation code and seamlessly embed it in the desired location on your website.
It's as easy as that! Your website will now showcase engaging Google Reviews that will captivate your visitors and build trust in your business.
But wait, there's more! Don't miss out on exploring the widget's versatility. You can try out all the features and see the widget in action through the free, interactive online demo. This gives you the opportunity to unleash your creativity and elevate your website with compelling Google Reviews.
Discover the power of Elfsight Google Reviews widget today and take your website to new heights!
GMB Unveils Insights That Equip You with Valuable Information
Google My Business (GMB) holds the key to enhancing your Google rankings, not only by promoting your products or services but also by offering invaluable market insights. Google's dominance in the digital realm is indisputable.
How does it accomplish this?
GMB comes equipped with robust features that provide insightful data, guiding your strategic decision-making process. This tool grants you access to statistics and insights that illuminate the origins of your target audience.
ViewsS
GMB provides visibility into the number of views garnered by your business profile, photos, and posts. This critical information allows you to assess the efficacy of your campaigns, determining whether they are capturing the desired attention and delivering tangible results for your business.

Search Queries
GMB furnishes a comprehensive report that elucidates how consumers discover your business. It showcases the specific keywords they input during their search, empowering you to comprehend the relevance of certain keywords to your online presence. This knowledge can significantly amplify your website traffic by enabling you to dominate pertinent long-tail keywords, resulting in a substantial increase in clicks to your webpages. GMB serves as a reliable source of this valuable information.

Engagement
GMB grants you an inside look into how your audience engages with your posts. It offers visibility into the posts they share and the types of comments they leave. Armed with this knowledge, you gain valuable insights into the content that resonates most effectively with your target audience.

Audience
GMB presents a section where you can access a summary of your followers' profiles. It provides key demographic information such as age groups, gender, and geographical locations. This data proves instrumental when crafting targeted campaigns.

Clicks on Website Link
Did you know that Google My Business also tracks the number of clicks on your website link?
Quantifying this information and understanding these statistics empowers you to devise sound strategies. By analyzing these insights, you can enhance audience engagement, drive website traffic, and boost overall company sales.
It's Free and User-Friendly
No matter how beneficial a product may be, its potential is limited if it comes with exorbitant costs, impracticality, or complexity. Fortunately, this is not the case with Google My Business.
This efficient tool is both free and user-friendly, making it accessible to businesses of all sizes to promote their products or services. Creating and verifying your profile can be accomplished within hours, and there are even tools available for instant verification. Once you've completed this process, you're ready to conquer the first page of Google.
Moreover, Google provides tools to analyze your performance, enabling you to identify areas for improvement and enhance your business's ranking.
Google My Business simplifies online promotion for local businesses, enhancing visibility and increasing the likelihood of appearing in search results. It facilitates the seamless discovery and contact of potential customers. This free tool empowers you to elevate your online presence, engage with your customer base, and boost your business's revenue.
Learn How to Set Up Your Google Business Profile
Setting up your Google My Business account is absolutely FREE, and it's important to note that the GMB listing does not replace your website. Therefore, it's essential to continue maintaining and promoting your website alongside your Google Business Profile.
To begin, start by conducting a Google search to find your business in the local search results. You can use Google Maps or simply enter your business name in the desktop version of Google search. Check if your company's detailed information appears on the right side as a snippet.
If you already have a Google Business listing in certain categories but it hasn't been claimed or verified, follow the steps outlined in this guide.
Here are the steps to create a new business on Google:
Create Your Google My Business Listing
If you don't have one yet, you can create your Google My Business listing for FREE right now. The account creation process is straightforward and suitable for any type of business, not just local ones.
Make sure to accurately enter your business address in the provided form or use the pin marker on Google Maps during the onboarding process to locate it precisely.
Verification Process
To have your business information listed on Google, verification is required. Once you've created your account, you'll need to go through the verification process.
Now that you have your business page, it's time to verify it. Google offers three verification options:
Option 1: Verification by Mail

Follow these steps for verification by mail:
Sign in to your Google My Business account.
Click "Verify" and select mail as the verification method.
Provide the name of the designated person who should receive the verification postcard by mail.
Enter the accurate mailing address where the verification postcard should be sent.
Click "Send a postcard."
After a few weeks, you'll receive a postcard containing a verification number.
Click "Verify Now" in the top red bar and follow the instructions to enter the verification code from the postcard.
Option 2: Verification by Email
For verification by email, follow these steps:
Sign in to your Google My Business page.
Click "Verify" and choose the email verification option from the dropdown menu.
Enter your email address.
Enter the code you receive either on the GMB verification page or within the email.
Option 3: Verification by Phone

To verify your business listing by phone, follow these steps:
Sign in to your Google My Business page.
Click "Verify" and select your phone number.
You'll receive a phone call, and an automated system will provide you with the verification code.
Enter the code into the provided field.
According to Google's guidelines, it may take a few weeks for your information to appear on Google after verification. Please refer to the Google Verify My Business Guidelines for further details on the verification process.
How to Claim an Existing Listing:
Claiming an existing Google Business Listing is a straightforward process. Here's what you need to do:
Find Your Business: Visit Google My Business (business.google.com/add) and sign in using your business email account. Enter your business name and address, then select your business from the search results.
Request Access:If the business listing has already been claimed, you'll see a message indicating this. In such cases, click on "Request Access" and complete the form.
Submit the Request: After filling out the form, click "Submit." The current owner of the business listing will receive an email regarding your request.
Wait for a Response: The current owner has 3-7 days to respond to your request. If they approve it, you'll receive an email granting you access to manage the
How to Optimize Your Google Business Profile
When it comes to Google, optimizing your business profile is crucial for appearing in local search results and connecting with potential customers. To ensure your profile stands out, follow this comprehensive guide to maximize its effectiveness:
Create a comprehensive Google Business profile:
Just like an online dating profile, a complete and detailed Google Business profile increases your chances of being matched with the right audience. Fill in all the necessary fields, providing accurate and relevant information about your business.
Craft a compelling business description:
Take advantage of the 750-character limit to write a captivating business description. Showcase your popular products, services, and even mention the areas you serve. A well-crafted description will entice potential customers and boost your visibility.
Keep your business hours updated:
Maintaining accurate business hours is crucial to avoid disappointing customers. Ensure that your profile reflects your current operating hours, and don't forget to update it for holidays or special occasions.
Choose the right business categories:
Selecting the appropriate business categories helps Google understand your business better. Pick the primary category that best describes your business and consider adding up to two or three secondary categories. This improves your chances of appearing in relevant search results.
Select relevant attributes:
Instead of stuffing keywords into your business name or description, use attributes to highlight specific qualities. Google offers a range of attributes, including "women-led business" or "veteran-led business." Regularly check for new attributes as Google adds them based on search trends.
Verify your location:
Verifying your business location is essential for local search optimization. Request a postcard to verify your address, ensuring it is a legitimate one and not a P.O. Box. Home-based businesses can hide their address and set a service area to appear in local searches.
By following these optimization strategies, you can maximize the potential of your Google Business Profile and effectively engage with your target audience.