Want to integrate your Airbnb reviews or content into a website or app? Read our comprehensive article to know about every method.
What is Airbnb API?
Airbnb API is a solution that enables you to connect your booking software to the Airbnb platform. This way, you can import your data to Airbnb, display your listings, and receive bookings right on their website.
BONUS: Create your Airbnb Reviews widget in a couple of minutes!
How do I get Airbnb API key
At the moment, the official API solution is not accessible to the wide audience. This means that Airbnb public API option does not exist so far. Nevertheless, Airbnb service does have an API for developers but this is granted only to the approved partners. First, you have to register in the Airbnb service.
Step 1 – Create an account

Go to the Airbnb partner section and press Log in button. Choose Sign up in the popup.

You will be offered to continue with your Facebook or Google account to create a new account. You can also create it from scratch using your email address. You're going to have to fill in the form in this case.

Step 2 – Accept official Airbnb statements

Read the Community Commitment and Terms of Use documents before joining Airbnb service to be aware of the principles they support and know if your project complies with them.

Step 3 – Verify your phone number

Complete the registration by verifying your phone number. This way your account will seem more credible. Choose your country from the drop down menu, enter your number and click Confirm. You will receive a 4 digit code via SMS. Enter it in the field that will appear on the popup. The confirmation will be done automatically.

If you will be lucky enough and get approved, you'll receive access to the Airbnb API documentation so you can start the development of your integrated software.
How do I become an Airbnb partner?
As of the moment, the service does not accept new requests for API access. Airbnb team is now looking only for prospective partners and reaching out to the prospective partners themselves. Their decision is based on the supply opportunity, technology strength, combined with the ability to support shared customers a potential partner service would present.
If you are interested and think your startup is qualified enough, you can give it a shot by contacting Airbnb global support team. Visit Prohost Airbnb to apply for API, scroll down the page and fill in every field in this form.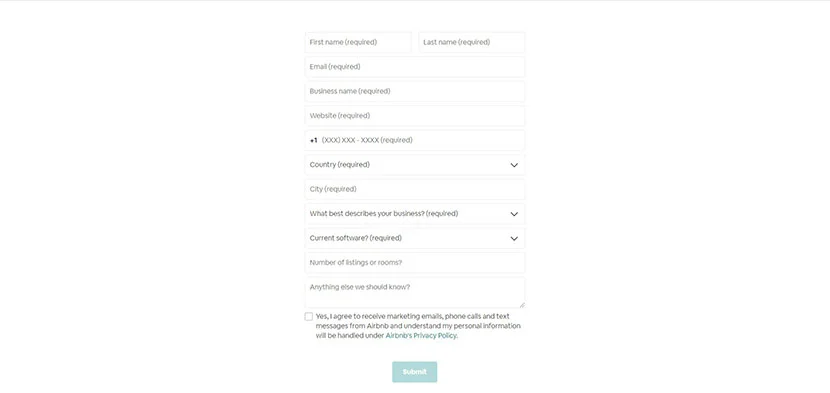 Don't forget to tick the box under the form so that Airbnb team members could reach you.
Airbnb API examples
Airbnb review API
Airbnb API solution gives their partners access to the information contained in new and existing accounts. Airbnb data managed through API includes rates, availability, and content (all the descriptions and text reviews).
Airbnb calendar API
Airbnb provides API-connected software to its partners, one of the main products among them being property management system (PMS) and channel manager (CM). Both of them give the opportunity to set the synchronization options. If you would like to have the same calendar dates of your listings on the Airbnb platform, you should choose the Sync everything option to have all the data updated.
Airbnb affiliate API
If you are interested in the Airbnb affiliate program, you will have to prove that your business complies with the platform requirements. To learn more about it, visit their Affiliate program website.
Think you have all the chances to fit? Then scroll the page down and fill in the application form.
Airbnb API integration
The Airbnb content can be accessed and integrated on a website of any cms or site builder. There are not so many options for that: integration of the Airbnb API-connected software into the website's code, using Airbnb partner software or third-party solutions.
Third-party solutions

The easiest and shortest way for right away integration of your Airbnb account data is using the highly adjustable third party plugins. Like, for example, Elfsight reviews. They provide you with the opportunity to integrate your reviews and rating in one responsive unit. You can also add a button to encourage people writing about their staying experience.

Airbnb API-connected software

If you want to run a development process using Airbnb API, you first need to become the platform partner. Only after that you will get access to the Airbnb API and API documentation. If you manage to be approved as a partner, you will be also granted an Airbnb partner manager who would answer any questions arising along the development process.

Airbnb partner software

The platform works with the leading software developers all over the world to make it for hosts to connect to the growing Airbnb guest community. The full list of these booking software providers can be viewed here.
FAQ
Does Airbnb have an API?
Yes, the service announces its official API in 2017 and was accepting the inquiries from the potential public and business partners. Right now the applications have been paused on their partners portal. You still can get in touch with the Airbnb global support team and ask them to review your case.
Can I control the booking of my listings through Airbnb API?
All your listings connected to the Airbnb platform via API will automatically be available for instant bookings. This is strictly controlled by Airbnb administration and cannot be switched off in the Airbnb dashboard.
My listings were de-listed from the Airbnb API.
Airbnb automatically disables all the listings that do not meet the noted minimum content requirements.
Title – At least 8 characters in the listing title
Description – At least 50 characters in the listing description field
Photos – At least 7 photos, including 3 with high-resolution (800×500 pixels)
Amenities – At least 5 amenities
BONUS: Fully adjustable Reviews Widget for your website!
Check all features and find out the coolest look of the All-in-One Reviews on your website.