Why do I need Elfsight Feedback Form?
Get your customers' insights. Improve your services.
Increase user engagement
Well-designed forms will encourage users to rate your services and voice out their expectations
Gain real insights to improve your products
Actionable feedback will elevate your business to a new level, uncovering fresh perspectives
Improve customer experience
Personalized responses and post-submit offers will help your clients feel appreciated and valued
Join 1,078,753 customers already using Elfsight Apps
You can start with creating your first Elfsight Feedback Form widget for free.
What makes Elfsight Feedback Form special?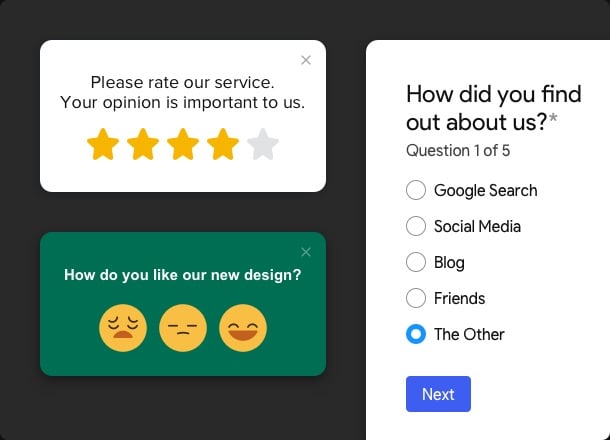 BLOCKS
Multiple ways to get actionable insights
Free Feedback widget for a website will assist you to design a visually appealing and clear form. Choose out of more than 20 field types: text and inputs, variety of rating scales, checkboxes, radio buttons or dropdowns for multiple-choice questions. Create a form without extra efforts - reorder blocks with a drag and drop, label the fields and add placeholders. With a new Elfsight configurator, you'll have all necessities to perform a well-structured feedback form that will obviously get completed.
SETTINGS
Smart feedback form to achieve all your aims
With the Elfsight Feedback Form, you will have plenty of options for fine-tuning the widget. Turn on/off the notifications for you and your customers, get all your submissions on your email or gather them with Mailchimp or Google Sheets integration. The conditional will help you to create a fresh personalized approach for post-submit actions: customers will get a message or special bonus offer, according to their satisfaction rate. The localization settings will create a smooth and perfect user experience with precise date, time, number formats and captions in the native language of your audience. Everything you need to create the best feedback form for your website.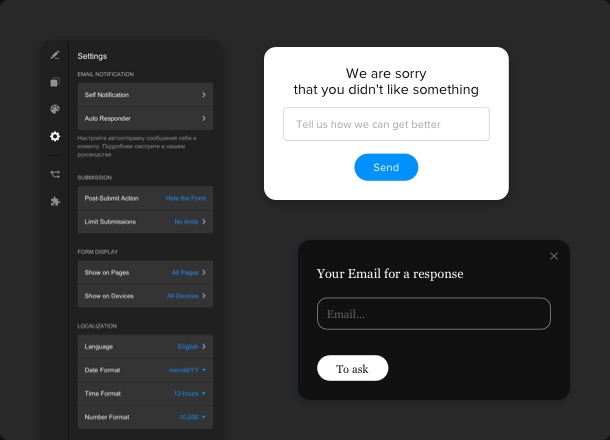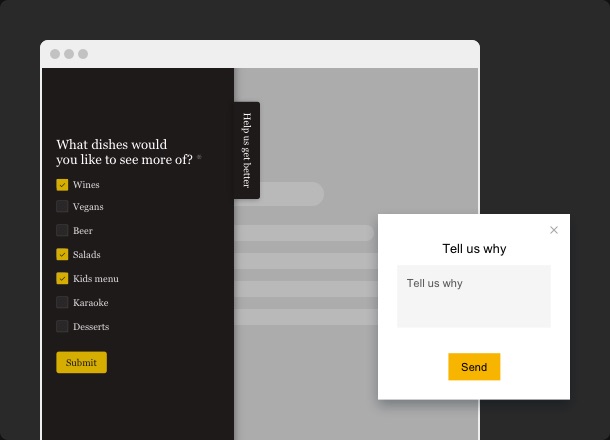 LAYOUTS
Ultimate feedback form for any use-case
Explore impeccable pre-made Elfsight layouts to create a feedback form for the website, which will suit all your needs. The Embedded variant can be added to any place in your content area. Pane Layout will always stay in front of users' eyes to gather as many insights as possible. Slide-in is a great way to save space on your website and draw visitors' attention with a smooth animation. In case you'd like to have a "Give Feedback" button, don't hesitate to use Popup Layout. Place the form wherever it's handy for your customers and provide them with a flawless experience with fully mobile responsiveness.
STYLE
Communicate your identity through the form
No more boring default feedback fields or standard questionnaires. Feedback widget allows you to create a unique survey experience exactly for your website visitors. Now you can change any of the form elements: colors, fonts, captions and many more. Forget about coding or inserting CSS, all you need - just a few clicks in the Elfsight configurator. Create a feedback form that can't be missed out.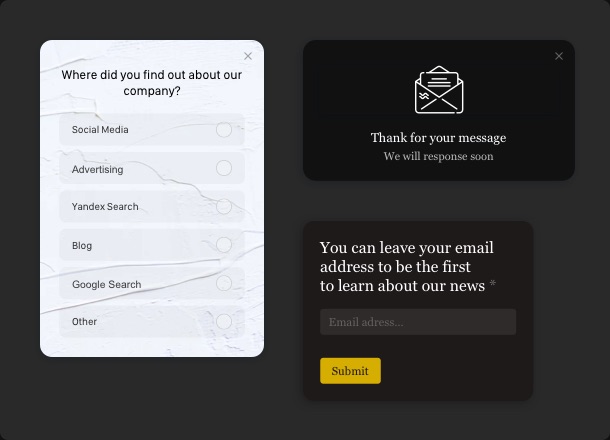 STAY TUNED!
Many more features and design options upcoming soon!
All Elfsight team is currently working on the widget functionality and design to add other handy features and make it 100% effective and user-friendly. With our updated configurator you will be able to create your custom form absolutely matching all your objectives and needs. We will report you about how to add feedback widgets, nuances of installing when the widget is released. Please stay tuned and be the first to explore all the features of the new Feedback Form Widget by Elfsight!
What our customers say ❤️
Very flexible and customizable Elfsight plugins that display nicely. They don't slow down my website, which is also good! Perfect!!!
Had to transfer the plugin to a different domain and had some custom CSS questions... GREAT help and GREAT plugin! So thanks Elfsight!
Supreme plugins! Elfsight support answered all our questions in no time, friendly and competently, so finally we were able to install without problems.
Frequently Asked Questions
Is there an option to customize the style of the widget?
Certainly! Feel free to perform all the required adjustments in our live configurator. After you're finished, save the changes.
How can I add the Feedback form widget on my website page?
Choose the template, then make all necessary changes in the settings, save the changes. Then copy your custom widget code and add it into the required layout or page.
Are your widgets compatible with my website platform?
Our widgets perform on all well-known website platforms, for example, Shopify and on all platforms with custom HTML (Blogger, etc). In case of any questions or difficulties you face, please contact our Support Team.
What other plugins are to be released at Elfsight in a short time?
We advise you to wait a while until the following plugins be started off:
Flickr Feed
,
Google Pay Button
,
Navigation Menu
.
To the extent that you didn't manage to find what you needed, then be sure to inform us directly or leave a message at the wishlist page!
Join 1,078,753 customers already using Elfsight Apps
Get the taste of 80+ powerful apps by Elfsight. No credit card. Joining is free!