jQuery InstaShow is released. The most flexible
Instagram Feed Plugin
is available for any CMS now. Read more about its advantages and requirements.
Our first version of the product is intended for WordPress as it is one of the most popular content management system (CMS). Nevertheless, we aren't going to stop on one version so that anyone would be able to use the most flexible Instagram gallery plugin.
The decision was made to release

Instagram Feed Widget

version which would support any website.
For now, by using our Instagram jQuery feed you can add it to non-WordPress sites. It means complete freedom of using the Instagram widget on any website. You will be able to fill a blank web space with a beautiful grid of photos chosen by you from Instagram.
All Lovely Features with Recent Updates
It's important to note that all features available for WordPress version are under your full command in jQuery one. To know a detailed characteristic of each feature you can read
the article
in our blog.

Both jQuery and WordPress versions have the following
awesome key features
:
50+ adjustable parameters
infinite combinations of Instagram sources
10 color schemes
24 design elements to paint
popup data
16 languages support
In addition, our jQuery feed
includes all updates
which were published for WordPress version, namely:
non-square images support
popup deep linking
popup video play icon
option to set cache time manually
Lots of handy features will help you to customize the Instagram widget as you wish. Make InstaShow an eye-catching tool for the audience.
2 Important Requirements You Should Complete
There are few necessary steps
for achieving success and installing the jQuery Instagram widget on your website. It requires:
jQuery 1.7+
Handlebars 2.0.0 beta-1
As you see, these are pretty simple requirements for starting using InstaShow and sharing your Instagram feed with everyone.
Get jQuery Version and Create Amazing Instagram Gallery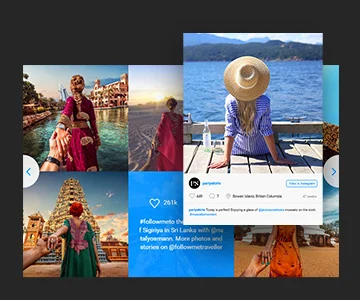 Unleash the full power of a responsive tool for sharing photos from any public Instagram profile or any possible hashtag. The jQuery version of InstaShow offers you lots of opportunities for customization so that you will be able to choose the desired parameters depending on a website's purpose. jQuery InstaShow costs $14 and is already available for
download on Codecanyon
. We ensure our customers fast and qualitative support from our team. We guarantee you the amazing look of Instagram images!
The premium 24/7 support for six months is already included in the standard price of jQuery InstaShow.
Use WordPress Website? We Have a Great Deal for You!
For those who use WordPress we advise buying the WP version of our Instagram gallery plugin.
WP version is the easiest way to implement and manage InstaShow on WordPress websites!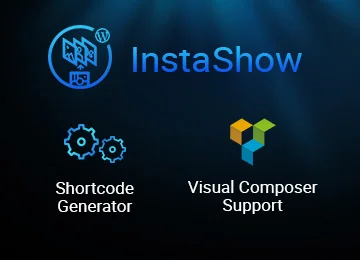 WordPress version has some advantages for easy and fast installation over the jQuery widget, namely:
embed Instagram in a few clicks
no need in programming skills
built-in shortcode generator
Visual Composer support
works with any WordPress website
Subscribe us on Twitter and Facebook and know more about our products from the fresh blog.