Special edition of Friday Showcase is here! If you use Shopify platform, you can also find our top-trending plugins in this store. Thus, we present you the newest examples of our
Shopify YouTube plugin
.
Shopify is truly a great platform for anyone who is going to found his own online store with
minimal costs
and
maximum benefits
. One of the market purposes of Shopify users is to increase their sales by attracting customers to websites and getting audience acceptance. In order to do this, anyone can use one of the various apps presented in official Shopify store. Among them you will also find our
Instagram Feed
and
YouTube video gallery
. An increasing number of online stores start using Elfsight apps and it's worth saying that some of them are just fabulous!
Be careful, you might want to purchase some item on one of these websites!
We think that such websites deserve being showed wide audience. Therefore, the special Shopify volume of Friday showcases is already here! We keep searching for great examples, which show the
versatile usage of our plugins
. And today we are ready to share several solid cases with you.
Today's Shopify App – Yottie
YouTube is a global video-sharing website, which contains almost anything you can actually film with a camera, smartphone or even car video recorder. Among all entertaining content, there are lots of channels, which companies use to
achieve their marketing goals
. Taking into account the fact that almost each company has its own website nowadays, why not to share YouTube spots right on a corporate website? With the help of Yottie you can:
Add any video from YouTube to your online store
Increase audience engagement with product reviews
Customize more than 100 parameters to get a unique video gallery
Show your YouTube channel by setting the appropriate URL in the source field. Attach reviews of your products right behind web audience to get immediate responses and increase audience engagement. Alternatively, just create a list of different thematic videos, which you'd like to play and group them for better browsing.
Our customers use Yottie on various stores, where absolutely different products are sold. In our today's list you will see unusual radiators for sale, drone shop, equipment for trade show events and even auteur films.
We present you amazing YouTube galleries examples:
Adventure videos website
Online drone shop
Show Events store
Designer radiators shop
Men's beard care shop
Now let's view each
YouTube gallery
example in all its beauty.
The website is all about adventures of Donnie, who passionately strives to show a wide audience the beauty and the power of nature through his own films. Our YouTube app helps him
promote his works
and show indicative trailers right in his Shopify store. As a result, Donnie gets a vast audience coverage and more persons interested in his videos.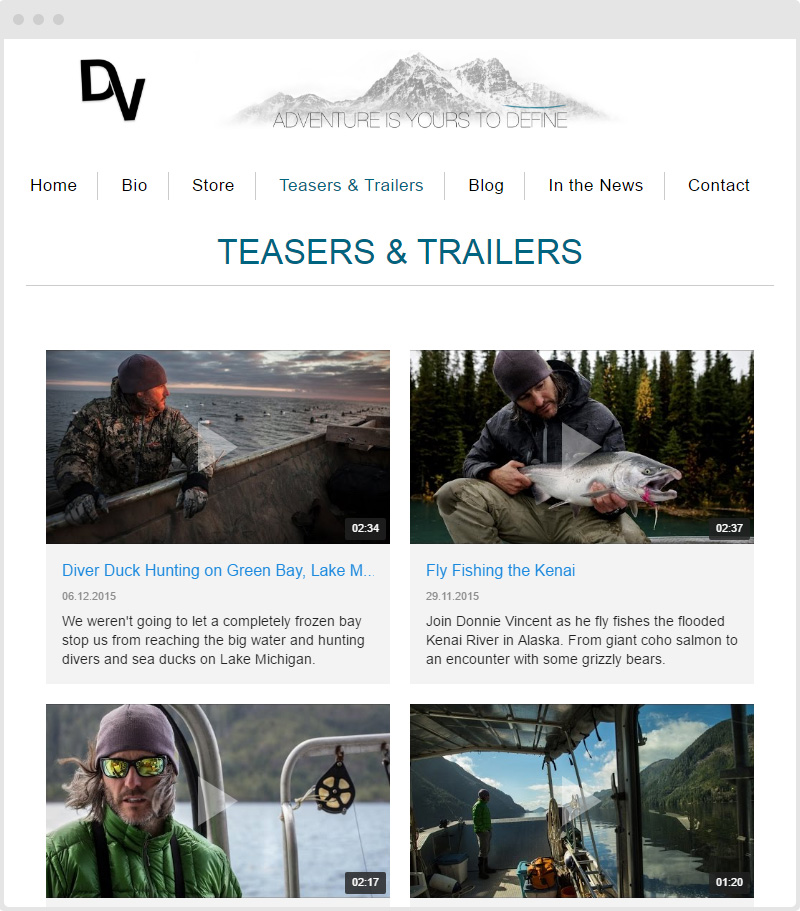 The stated store has its style. Simple and eye-catching at the same time it includes a video gallery uploaded from Donnie's official YouTube channel. Anyone can view teaser trailers right on the website and rate the quality of films.
Who wants to have his own flying drone nowadays? This website gives you an opportunity to buy drones. Carolina Dronz also uses Yottie in order to display examples, what videos can be filmed from the height of bird's flight. Thus, our application is a perfect tool to show potential customers all capabilities of products you sell without even leaving your online Shopify store.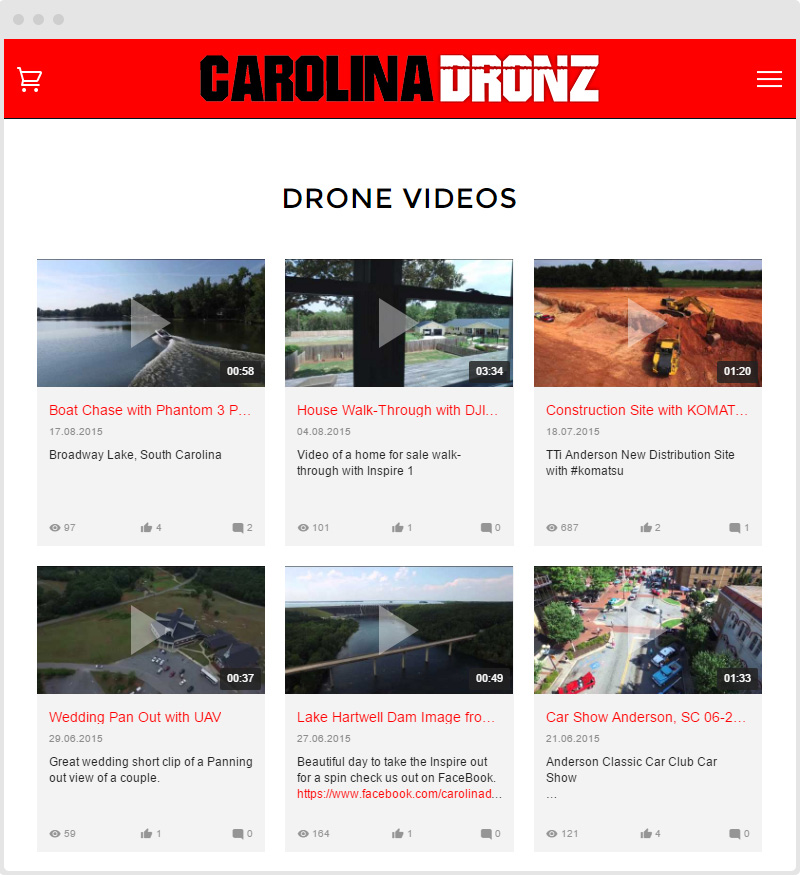 Yottie is nothing superfluous, only functionality and simplicity on this website. Anyone can
view videos in popup
and
subscribe the YouTube channel
due to the special button. The shop left only the most needed info in the playlist so that nothing could disturb attention of your audience.
This store sells very specific type of goods – various equipment for trade events, including stands and boards. You might think there is no way such shop can use our YouTube plugin. However, surprisingly Tradeshow Joe proves the contrary by using Yottie for making people take a look at the assortment of its store.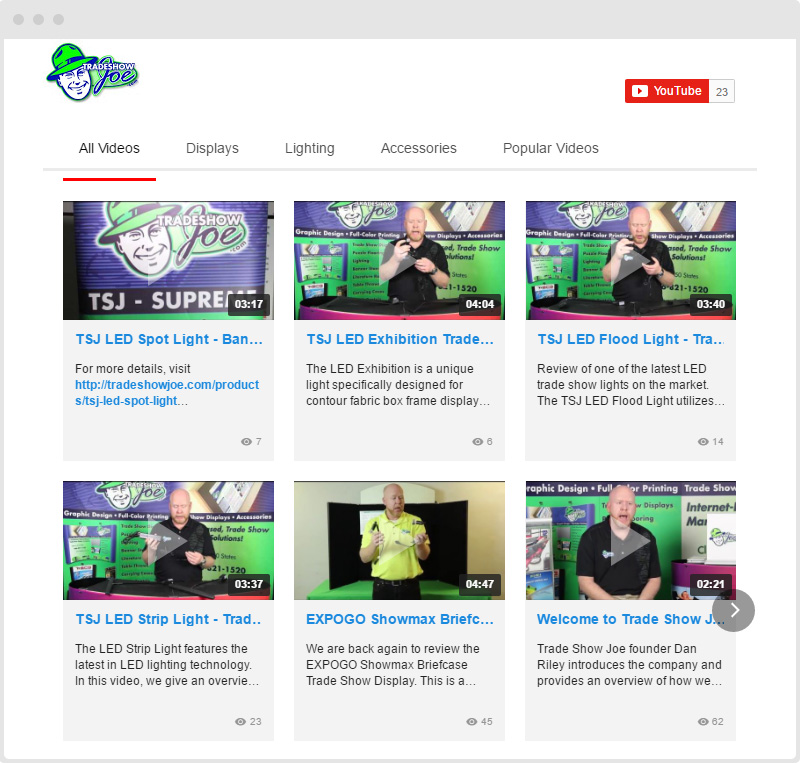 The video gallery fits perfectly the website and shows presentations of different products. There are also
several video groups
for browsing easily through the content and header of the chosen YouTube channel. By the way, all videos in this gallery can be viewed by the audience in popup without redirecting them to YouTube.
One more example of unusual shops in our list. It sells designer radiators and towel rails. Honestly, we've never thought that such store can present niche products so interestingly and elegantly. Yottie comes in handy to
strengthen impressions
from selling items.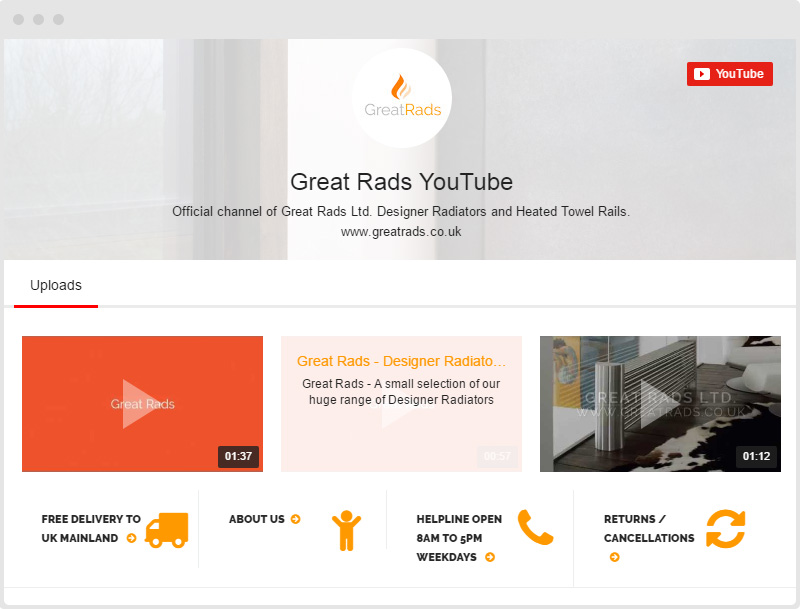 The Great Tads shop uses our
Shopify YouTube app
in order to show its official channel on the main page. The gallery contains short commercial videos, which present goods in the best way for potential customers. By using Yottie for Shopify, you can
attract clients
and
increase interest in products
.
This simple and qualitative website sells everything that can help men in their beard care. It also has a separate page named Grooming TV where our YouTube channel
entertains audience
and teaches tricks in men's question.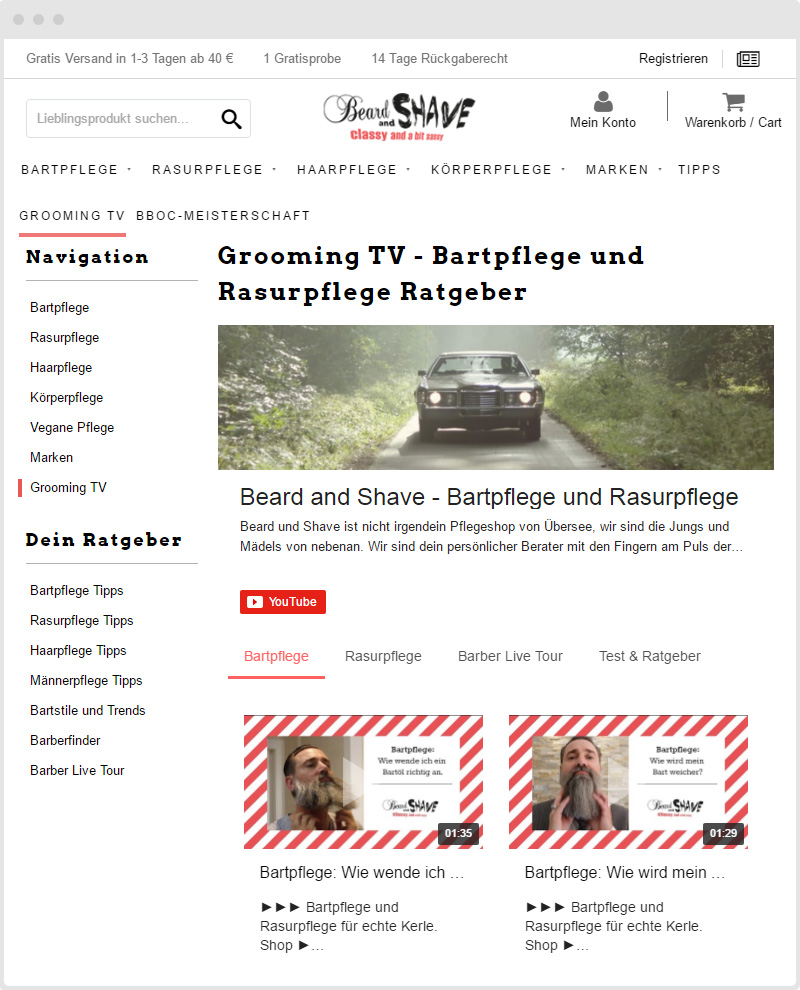 Yottie is used here as a full video gallery with nice header and channel info for showing tutorials about beard care and promoting attendant items, which anyone can buy in the following store. Web guests can find several video groups for the most convenient usage of our Shopify app and a rapid search on the uploaded content.
Consider Presented Cases for Your Shop
That's it. The special fourth volume comes to the upshot. We hope that this article will be useful and you will take into account some ideas and variants of Yottie usage for your Shopify websites.
Stay tuned as there is more to come in our next Friday Showcases!