Friday is on duty today, that's why it's time for the new showcase of Elfsight products! We keep searching for great examples, which show the versatile usage of our plugins. Sometimes we are just amazed by the beauty of websites. And today we are ready to share new cases with you.
Today's Plugin – Yottie
Videos are definitely more attractive than an ordinary text. Video content is catchy enough to draw in your audience. Therefore, it's worth to take into account Yottie plugin. With the help of our
YouTube channel
you can do a lot:
show YouTube directly on your website
display reviews and presentations of your products
display topics, which are relevant to your website
enlarge the audience of your own website and channel
Relying on above-listed points, Yottie can help you to increase the popularity of your own channel, improve metrics of your website, entertain the web audience, promote your brand. In order to be convincing here are note-worthy websites of this week, which did it well and implemented the YouTube channel plugin awesomely.
In this volume we will see a video aggregator, you will get your chance to relax with the help of stunning music and to check ideas for your own YouTube stream.
Our successors are:
Fantastic source of chill-out music
Stream design projects website
YouTube channels aggregator for your entertainment
Now let's view YouTube gallery examples in detail.
It's a very pleasant website, which puts you in a good mood. The site includes the list of relaxing music and nature sounds from LIMIT Chill & Ambient Music channel on YouTube. On its homepage you can see video gallery full of amazing videos from the mentioned channel.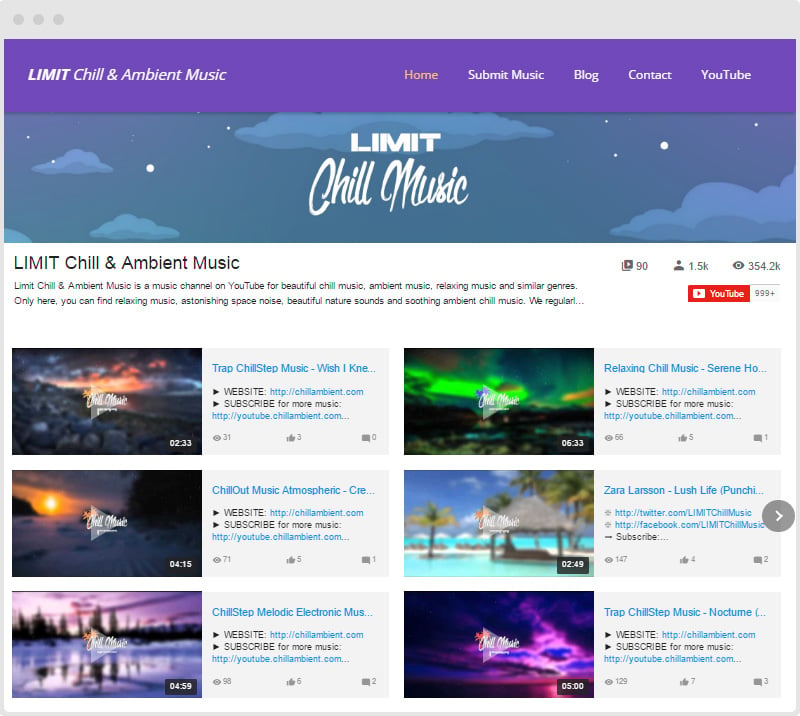 Each video is fantastically made so that you can chill out a bit and enjoy calm music. You can use videos with beautiful music when you go to sleep, during your meditation or yoga, you can also use it as a background music for learning or reducing stress and calm your mind. Not only music but the video itself brings the filling of easiness and positive mood. As you can, see Yottie fits greatly the design of the website due to the perfect choice of position and enabled header. You can watch all videos on the website by using popup mode. As a result, there is a simple and spectacular gallery, which will attract audience and let them enjoy music.
2. Stream Design Projects Website
This site sells a very specific staff, namely custom stream overlays. For such items you have to be sure that your potential customers will be able to know everything about functioning. The best way to show it is to prepare video presentations for a website. So that anyone could easily understand, how items work, there is a
YouTube gallery
with a specific playlist.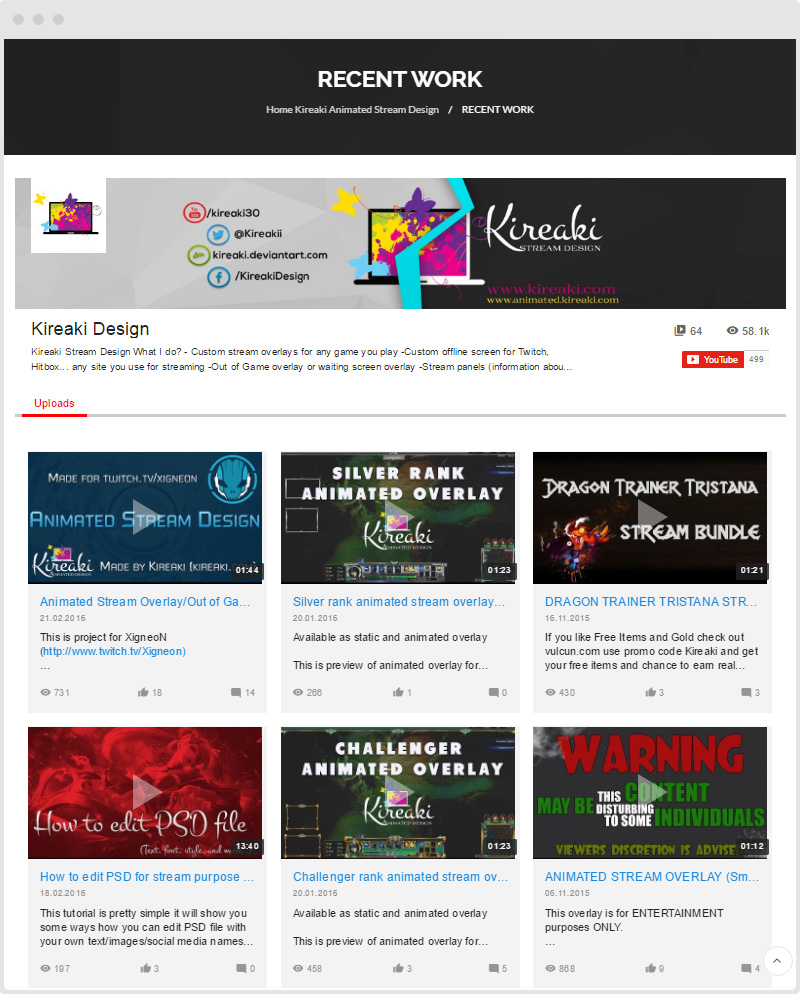 The video gallery contains short indicative videos, which demonstrate features of each overlay. Each visitor can view the interested item and then buy it using the shop on the same site. The plugin has the classic layout of header so that anyone could learn more about the channel and subscribe without leaving Yottie gallery. Each video can be opened in popup, where there is information about the selected overlay.
This website with a simple design is the best at what it does – collect cognitive videos from different channels in one place. Videos include online business education, tutorials for web designers from Yandex, reviews of gadgets and so on. Yottie came in handy so as to realize multiple channels on one page.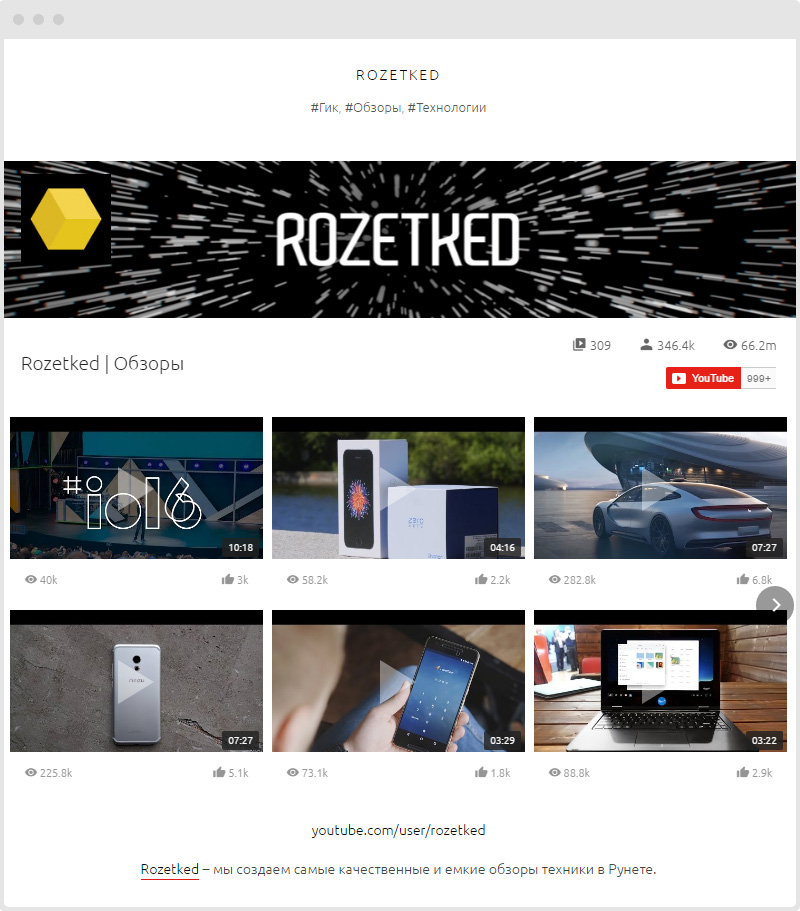 Our plugin is used several times on a web page in order to show various noteworthy YouTube channels, which might be interesting to subscribers. Each channel is displayed separately and has some general description. This example is a perfect demonstration of Yottie's multiple usages as each time you can set different settings and sources.
Consider Presented Cases for Your Website
That's it. The third volume comes to the upshot. We hope that this article will be useful and you will take into account some ideas and variants of Yottie usage for your websites.
Stay tuned as there is more to come in our next Friday Showcases.