Setting up your own Shopify website can be tricky. There are lots of technical issues to consider, and if you're new in this kind of work, it's easy to get confused. One point that we know might seem difficult, is providing other people with access to your website.
Who do You Need to Provide the Access to
Actually, this is something that you have to do often enough. As more and more people find out about the great stuff you're selling, a moment will come when you'll need to scale your shop. Getting new people to help you grow means that you'll have to add new staff accounts to your Shopify website.
Also, to keep up with your competitors, you'll probably use certain kinds of software, apps and tools that aim at helping you do your job, and sometimes a developer needs to step in and make everything right.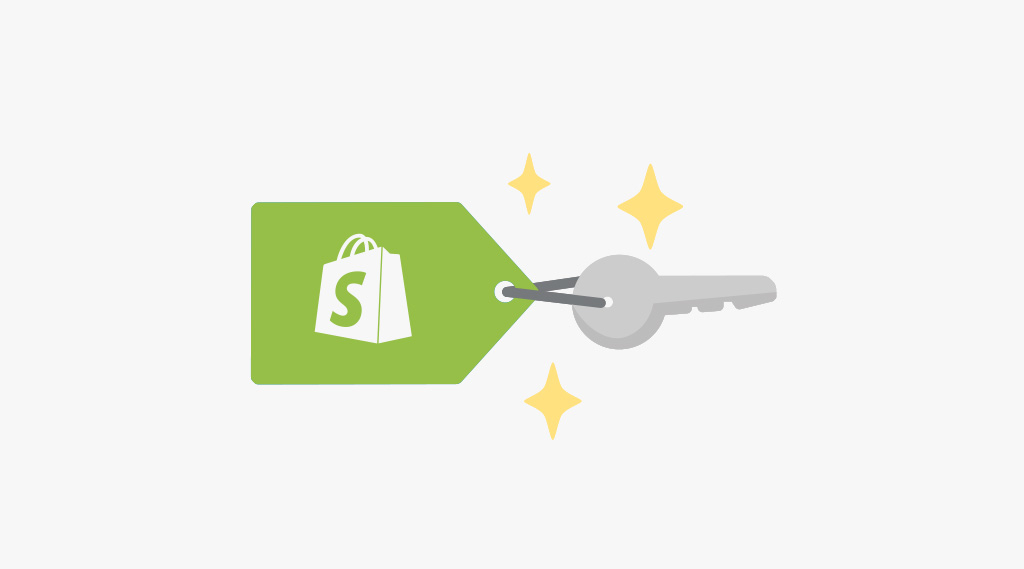 As the shop owner, you can decide on the level of access each new staff member will have. Shopify offers a flexible permissions system that allows to five just the right kind of access to every employee or partner.
Types of Access
Accountant's access. This is the kind of access that you provide to the person handling your financial information. It requires permissions for whatever sections of your site that might contain relevant data. Here's an example of an accountant access: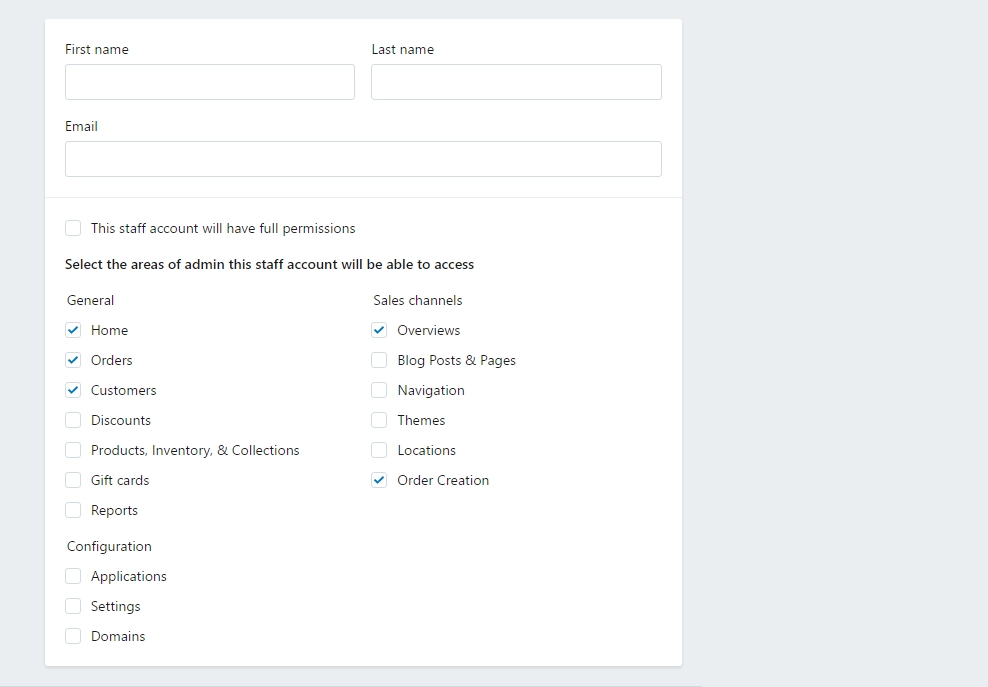 Basic staff member access. Access is provided on an individual basis, which means that you can give every stuff member their own level of permissions, depending on the job they do for you. Here's an example of a staff member access: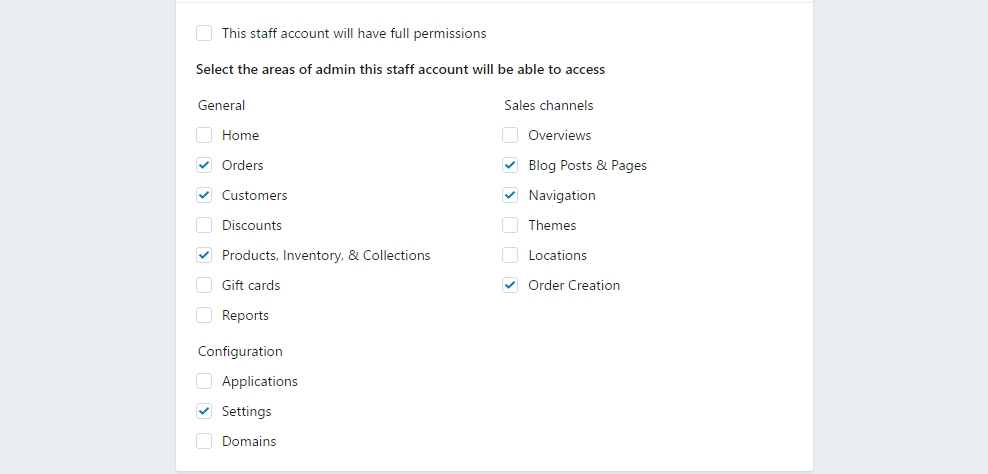 Developer's access. This kind of access is required to allow app or software developers to fix issues with their products installed on your website. As a rule, developers don't need access to the site's general settings or financial information. What is required in this case, is the access to Configuration and to certain Sales Channels: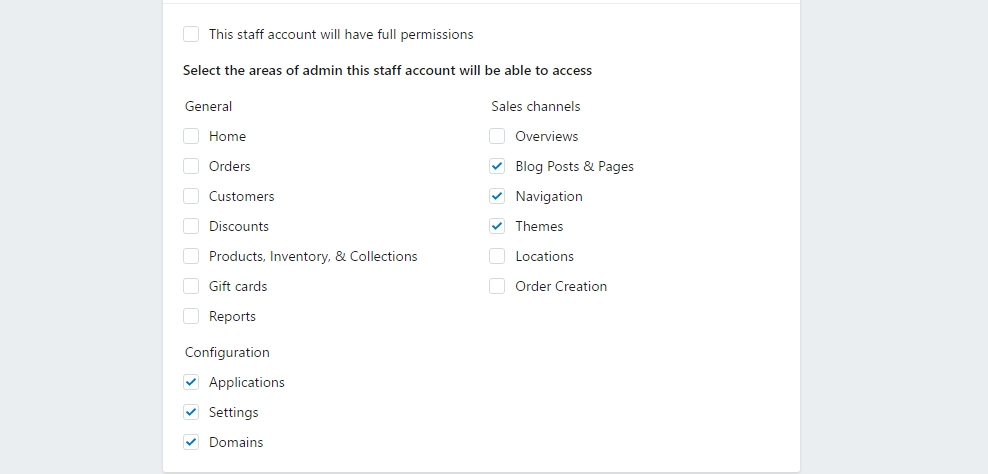 So, after we've figured out what kinds of permissions you can give out, we can tackle the most important question.
Providing access to your Shopify website
There are two ways to provide access to a Shopify website – by using the website's dashboard, and by using the Shopify partner link. Let's examine these ways in detail, and find out how to do it.
Sending out access invite via the dashboard
1. Go to your admin panel, and select Settings in the lower left corner:

2. When you're on the Settings screen, select Account. Next, go to Accounts and Permissions and press Add Staff Account: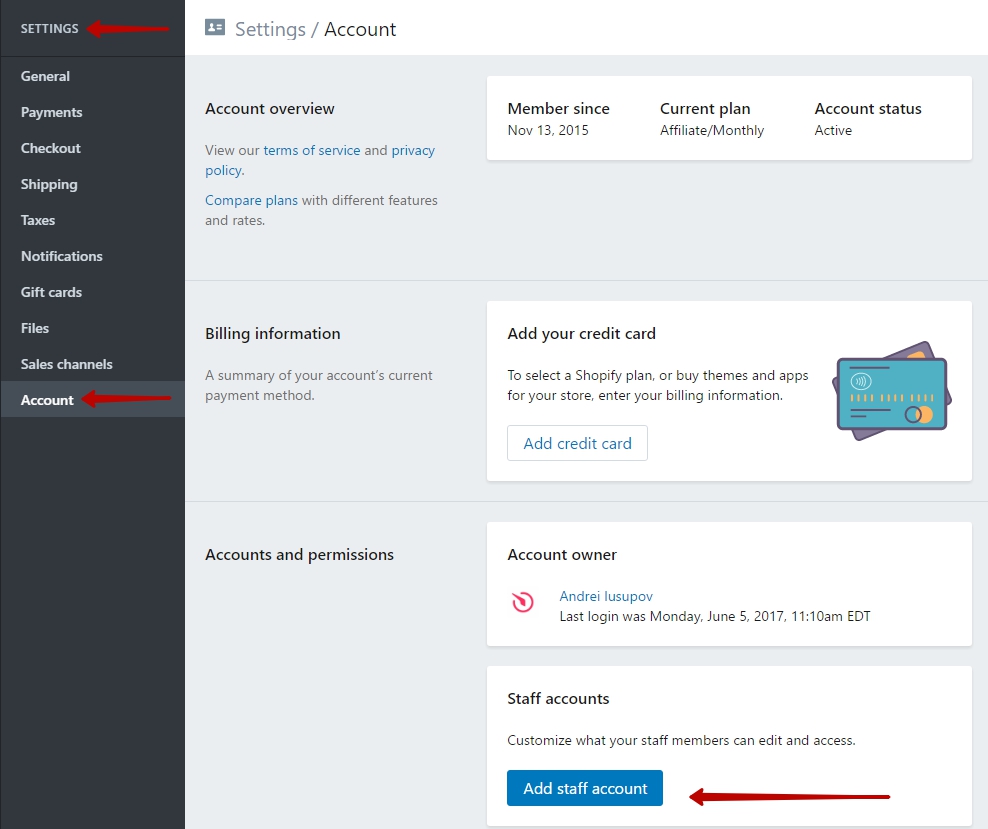 3. You will see the Add Staff Account window: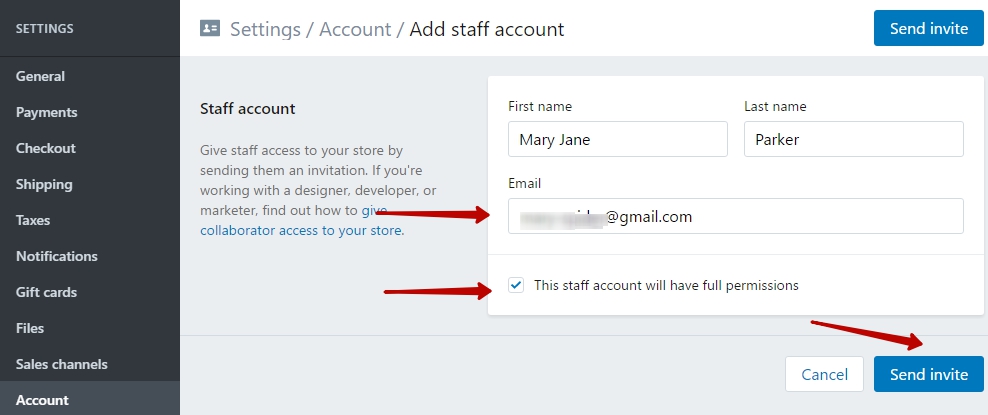 4. To set the permissions level, uncheck the Full permissions option, and you will see a list of choices. Choose the ones that you need.
Requesting access to a website from Shopify Partner's dashboard
Depending on the kind of account you have with Shopify, the number of staff accounts you can give out can be limited. If this is the case, you can use the Shopify Partner dashboard to allow someone to access the website.
Keep in mind that to be able to use this option, the person you're inviting must have an account at Shopify Partner dashboard. Also, unlike the first way when you're inviting someone to edit your store, this time a person who needs access requests it from you.
These are the steps to take:
1. To send you an access request, a user should login or register at Shopify Partner dashboard:

2. Next, the user needs to select "Managed Stores" in the left-hand menu: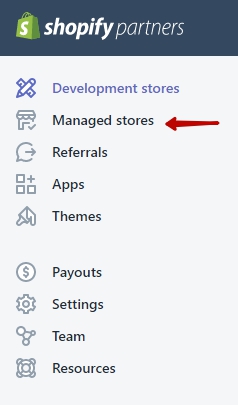 3. The user will be directed to the list of their available stores. To request access, they need to click "Add Client Store":

4. They need to enter the store's URL into the "Shopify store URL" field, select the required permissions, and press "Send request":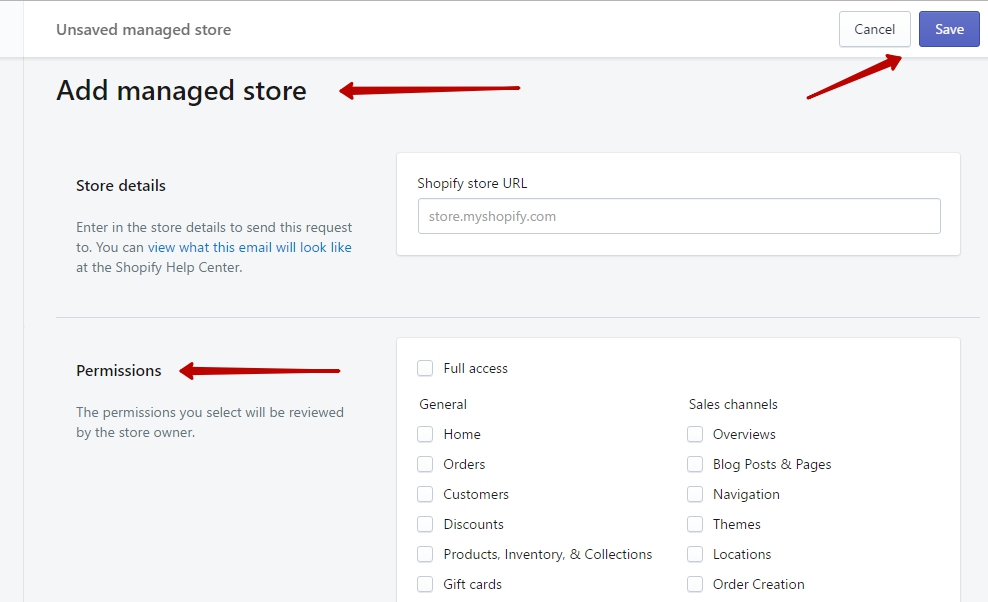 5. The user will be redirected to the list of available stores, with the one they've just requested the access to displayed in the list of stores: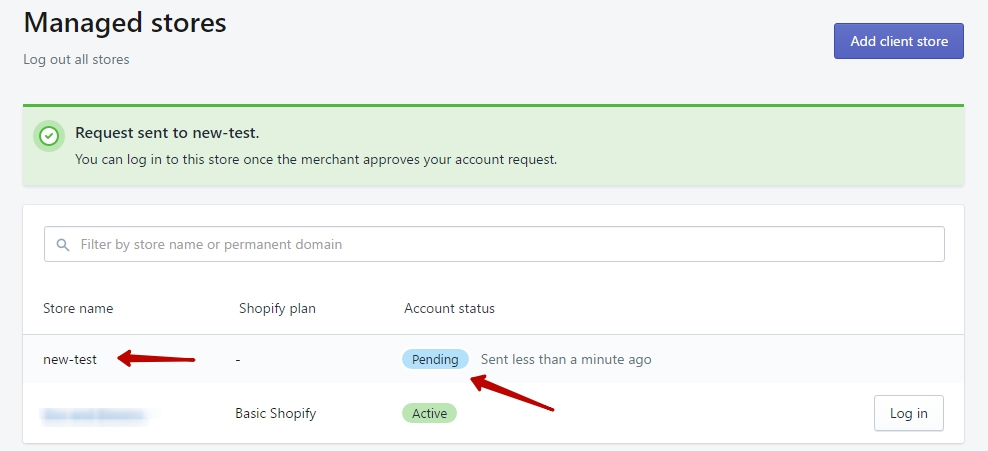 6. After a user has requested access to your webstore, you'll see this request in your shopify dashboard. Press "Review request".

7. You'll be redirected to a screen where you can approve or reject the access request: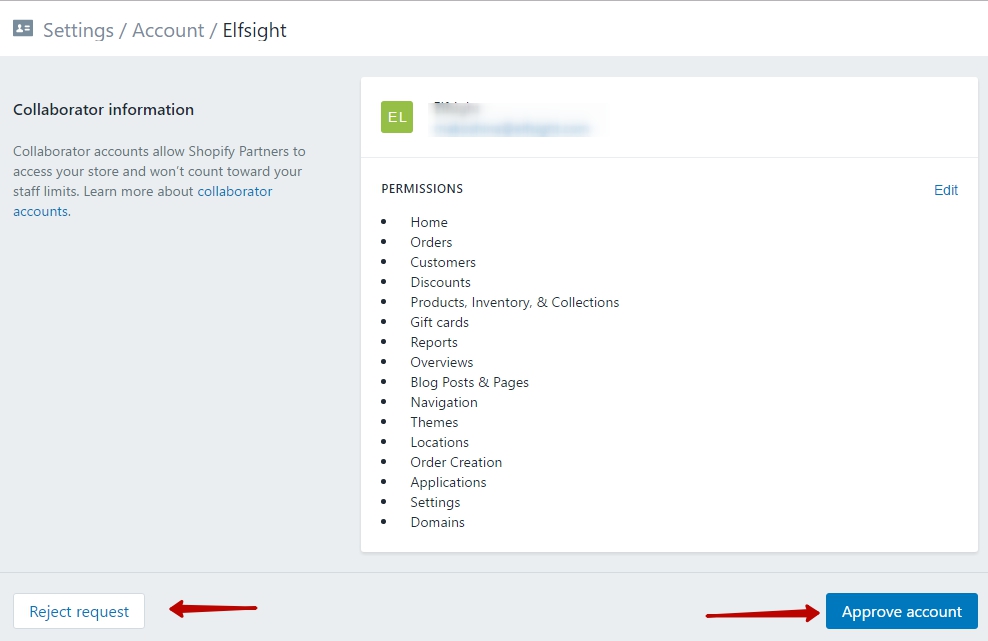 8. After you approve the request, its' status in the user's list changes to Active, and they user can now login to your store by using their Shopify Partner account.

How Safe Is It for You to Provide 3d Party Developers with the Full Admin Access?
It can be quite scary to give a 3d party employee total access to your website. We can understand this. After all, by adding our account to your Shopify website, you're giving us access to the particulars of your business transactions, and to sensitive confidential information.
It would be virtually impossible to give a universal answer to the question of how safe it is. To put it briefly, everything depends on the developer. Let me say a few words about what this looks like from our side, as we often have to request access in order to provide support for our Shopify apps Yottie and InstaShow.
Over the whole period of time that we've been providing support to our Shopify customers in this way, we haven't had a single unpleasant incident.
The dev team are painstakingly careful with our customers' websites, and the only thing they're going to change is our apps' code;
If fixing an issue requires changing anything other than that, we will only do it with your explicit permission, after we explain the details of the situation to you;
To protect your business and our reputation, we take every precaution against any possible loss of data.
After we're done installing the app for you, or fixing the issues you've reported, you can simply delete our account. Information on how to remove a Shopify stuff account will be of use not only to our customers, but to every owner of a Shopify website. So let's take a look at how you can delete someone's stuff account from a Shopify site.
Deleting stuff account
1. Go to Account section and click on the required name in Accounts and Permissions field: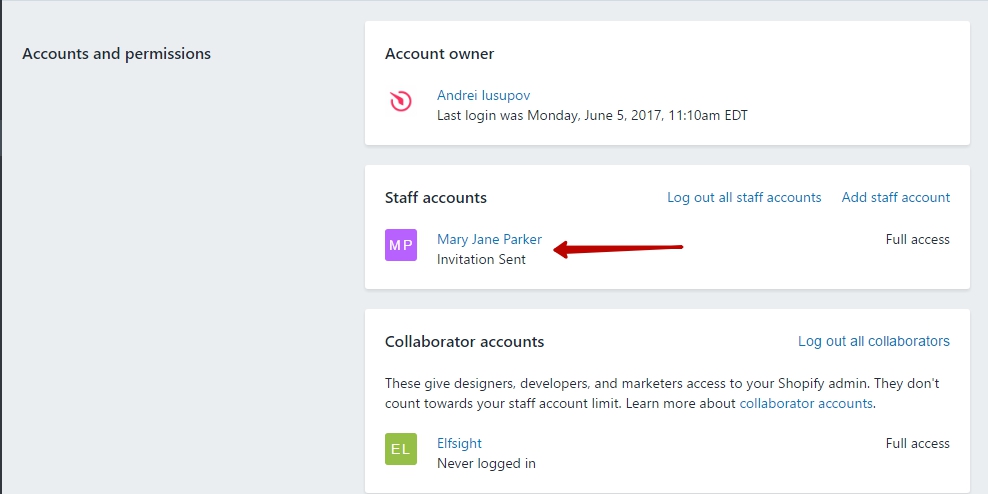 2. You will be redirected to the account's profile page. Scroll down to Remove Staff account field and press Delete Staff Account:

3. Confirm deleting the account in the dialogue window that comes up:

Rest assured that we no longer can get access to your website after you delete our account.