A detailed guide that explains how to invite a contributor and when you might need to do it.
When do you need to invite contributors to your Wix website
As you're running your own site, situations will definitely come up that will require you to add more contributors to your website. For instance, at some point there will be other members of your team to help you handle your growing business. Or, if you've set up a blog site with several authors, each author will need an active access to the site.
Also, one of the most common situations is when you install a plugin or an app and discover that it just won't work. If that were a free plugin, you could just switch to something else and forget it. In cases when you're dealing with a commercial plugin or app, though, you'll need to contact the app's developers, to have them step in and take a look at what's going on.
To let them take a look at the issue, you need to be able to invite them as contributors to your website.
Available types of contributor permissions
The Wix platform offers different types of permissions you can give to your contributors. The permissions are limited according to the types of actions a contributor can perform on your website. Here are the permission types and the degree of access provided to each of them: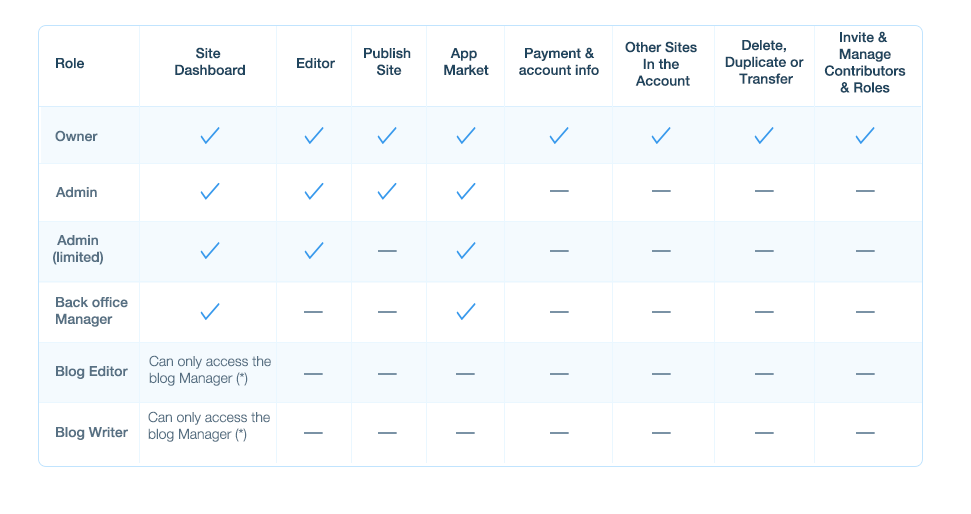 Not all of these roles may be available to you. For instance, blog roles are available only if you have a blog on your site.
Inviting a contributor to your Wix website
Below are the steps to take to invite a contributor to your website. As you will see, this is a very simple process, not likely to give you any difficulties:
1. Login to your Wix account. Select the site you need from the dropdown menu, and press Manage Site: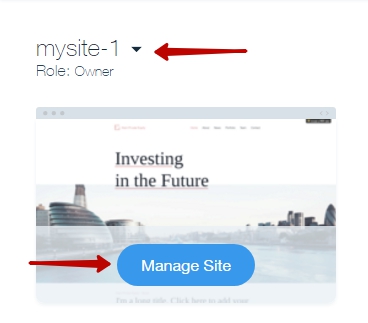 2. Go to Roles and Permissions. Press Add Contributor: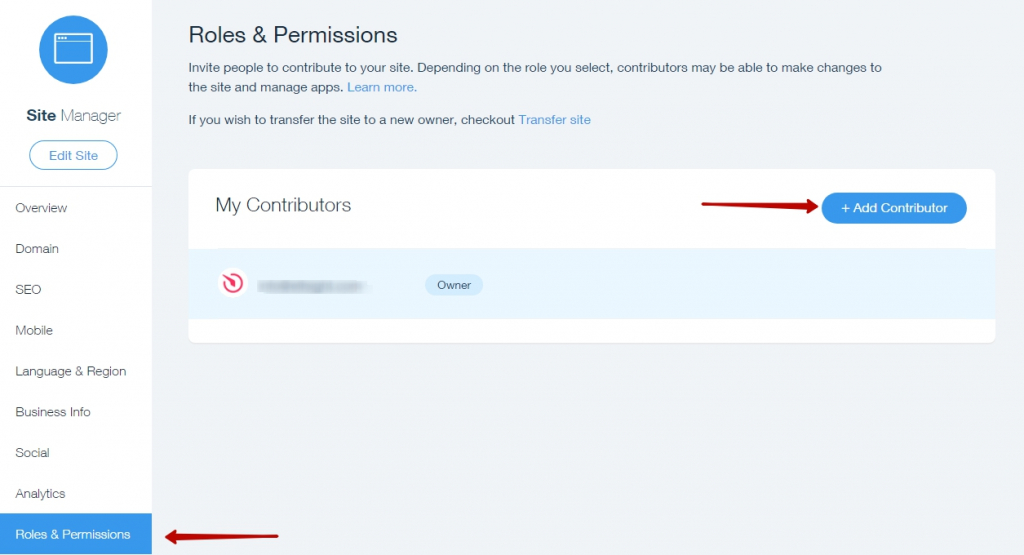 3. Enter the contributor's email to the Email field. Set a correct role from the available roles list, and press Send Invite: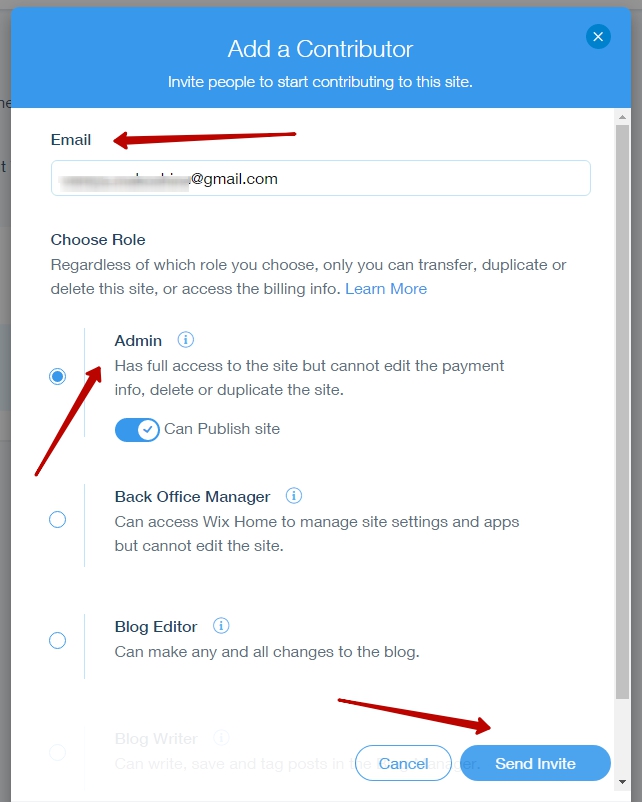 4. We will get the invite. It will allow us to edit your website.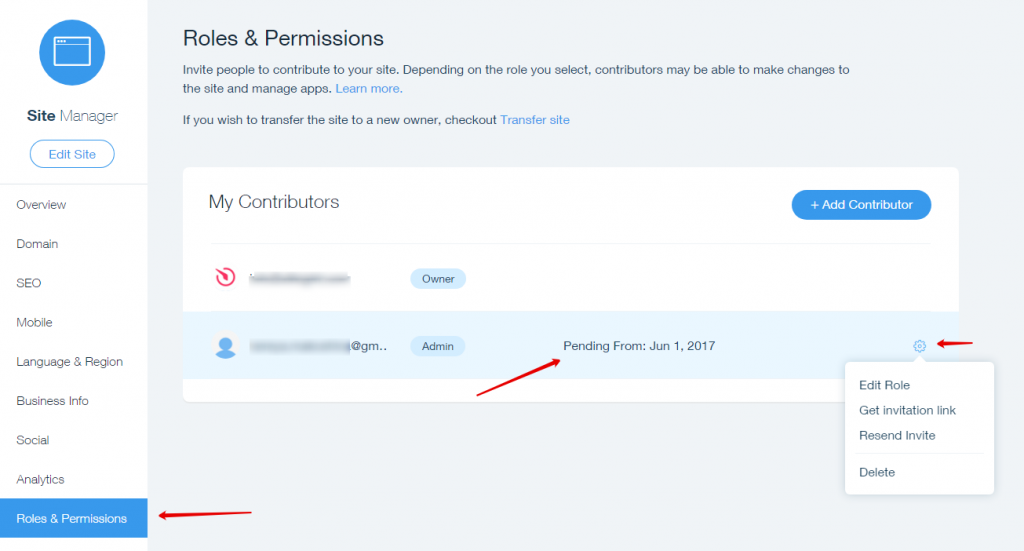 5. After you've issued the invite, the new contributor will appear in the list on Roles&Permissions screen. On that screen you can view the invite's status, edit the contributor's role, or resend or delete the invite, if necessary: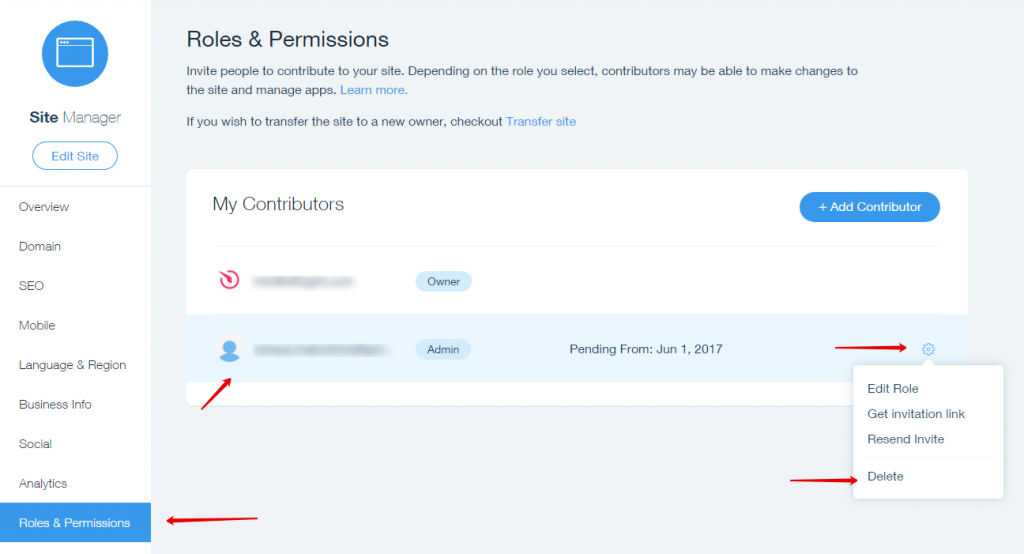 See, how easy it was? 🙂
Deleting a Wix website contributor
Giving someone a contributor's access to your website is not forever. You can remove the access when the person no longer needs it. This is how you can do it:
1. Go to Roles&Permissions screen. Click on the setting icon next to the contributor's name and press Delete: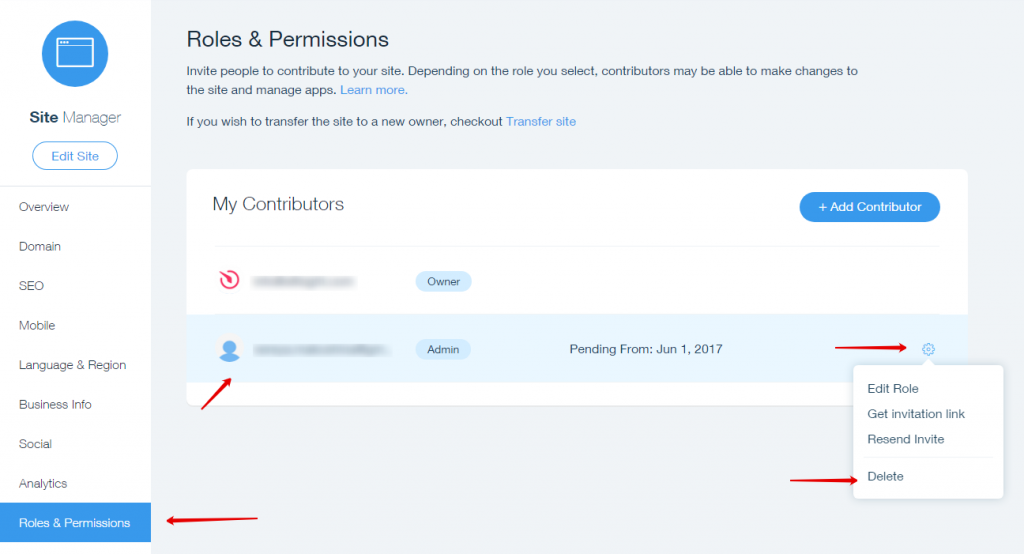 2. Confirm deleting the contributor in the dialogue window: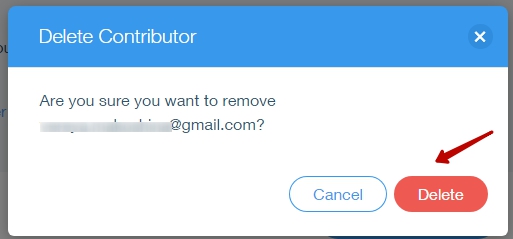 That's it! That person's access is no longer valid.
This information brings us to the next crucial question – the question of security.
How safe is it to add contributors to your Wix website
We understand how uneasy you might feel about providing access to your website, especially when you have to give it to a 3rd party app developer.
Getting access to your website means getting access to valuable and sensitive information about your customers, transactions, and your creative work. Will it remain safe after you let a developer in?
This question doesn't have a universal answer. As app developers, we can confidently say that in some cases getting the access to a website is the only way to get an issue diagnosed or fixed.
To fix an issue, we need to know what's causing it, and each site is different. Even when the factors of different hosting environments or platforms are not applicable, there are different combinations of plugins, apps and themes that can create behavior that wouldn't replicate anywhere else. So we're asking for the access to have the same kind of variables that you do in order to help you.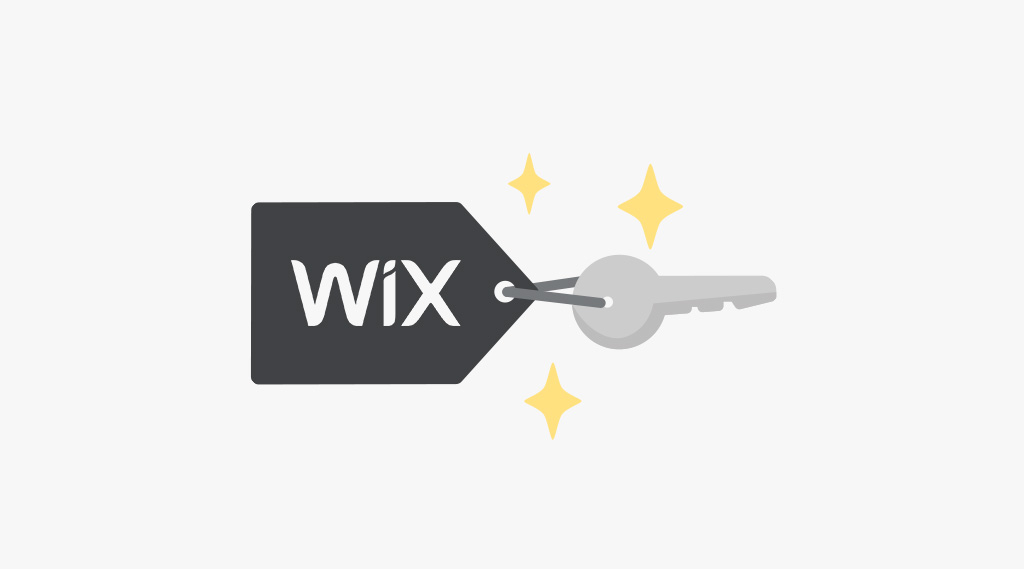 When we have to ask access to our customer's websites, we make sure we're extremely careful with it. One major concern people have in such cases, is whether there's a chance that the changes we're going to make will affect all of the website. We assure you that it's not the case, as our developers will only change our app's code. If fixing an issue requires changing something in your website's theme, or changing other plugins, we will inform you of this.