A short and simple tutorial on working with Elfsight FAQ
Setting up a question category
To manage the questions and question categories in your FAQ Accordion widget, you need to go to Content tab of the widget's settings:

For our purposes, let's remove the existing question category, and click Add to create new ones: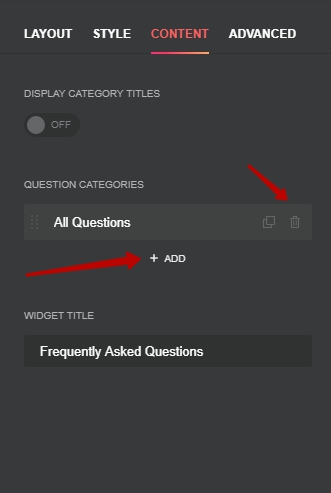 You'll be directed to the screen where you can create a new category of questions.
Here you can set the title for the question category and click on Category Icon field to select a proper icon. Also, you can start adding questions to this category right on this screen, by clicking on Questions section, or you can just go back to Content tab: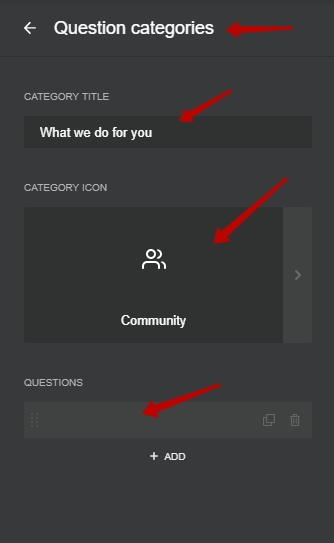 After you've created a new category, it will be displayed in the list on Content screen. Categories are listed in the order they were created in, but you can drag and drop them to the right place on the list: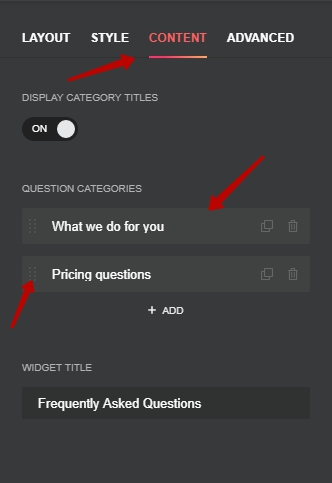 Adding questions to your FAQ widget
You can start adding questions to a category right after you've created it, on the category tab, or you can add questions to a category afterwards, from Content tab. To do it, click on the name of the category in the list, and you'll be redirected to Question Category tab. Click Add to add a new question. You'll be directed to New Question tab: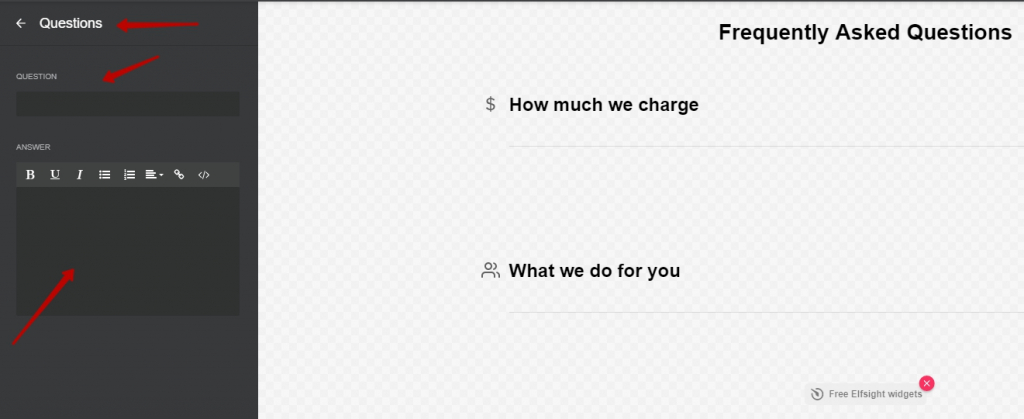 Enter the question and the answer. You can use rich text editor to format your answer. You can read more about the capabilities of the editor in this article – Editing elements of your Elfsight FAQ accordion with the rich-text editor and CSS codes.

After you've successfully added the question, it will be displayed in the widget, and in the questions list in the left-hand menu. The questions are also sorted chronologically in the order you've added them, but you can also drag and drop them to change their order on the list:

The last thing to remember after you've added all of your categories and questions, is that you can disable breaking questions into categories by just clicking on one button on Content tab:

This is about all you need to know to add your own categories and questions to the FAQ widget. It's really very simple, and I hope you'll have a great time and a fantastic user experience with our app! 🙂
If you get any questions that weren't covered here, please, check out the contacts below to message me at your convenience.
Cheers!