If you're using cloud apps by Elfsight, you already know that the control center where you manage your widgets is your Elfsight Apps account. This article is long overdue, but it's better late than never 🙂 so let's discuss what you can do from/with your Elfsight Apps account besides creating fantastic widgets and how exactly you can do it.
Creating your account
If you're reading this article, chances are that you already have an account, but in case you're new and just wanted to read up our service before joining, let me walk you through the steps of setting up an Elfsight Apps account. It's really quite easy to do.
Where to register your account
There are two places where you can set up your Elfsight Apps account. First, it's our website https://elfsight.com/. Just click Sign Up in the right upper corner:

Or, you can go directly to https://apps.elfsight.com/ and click SIGN UP FOR FREE:

Both these links will take you to the sign up window: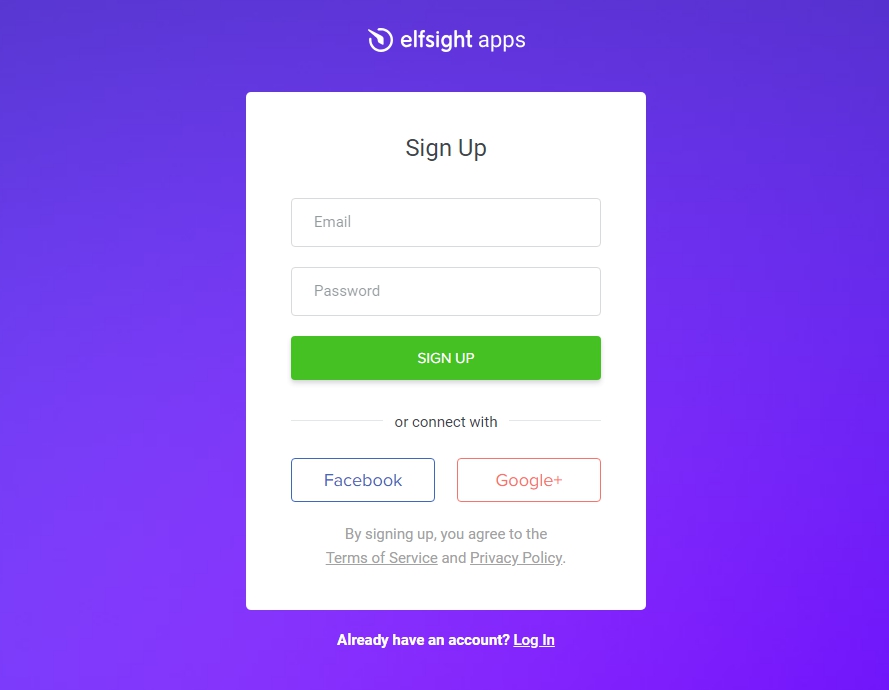 It might also happen that you have chosen the app and using out Demo applied all the setting to make a widget look the most wonderful way and suddenly you realize you don't have an Elfsight account. Did you spend that time in vain? Of course not!
You will still be able to make an account and there is only one option for doing it – Join to Install button: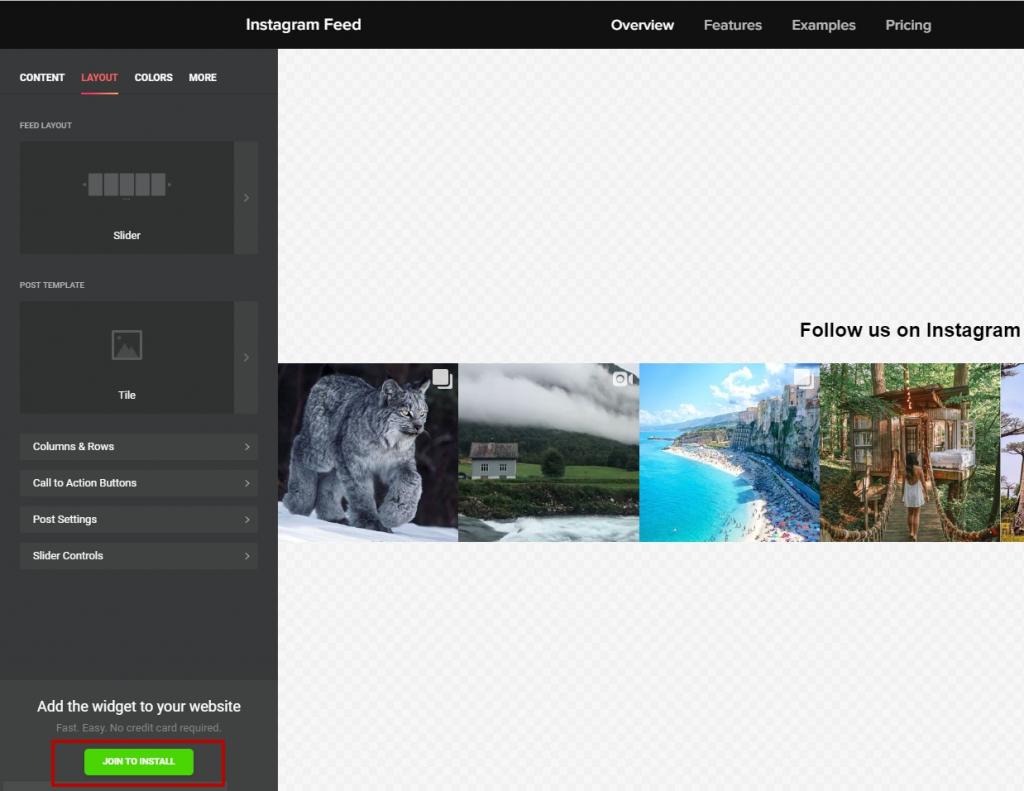 After that you will see three options to sign up – with the email and password, connect with Facebook or Google+ :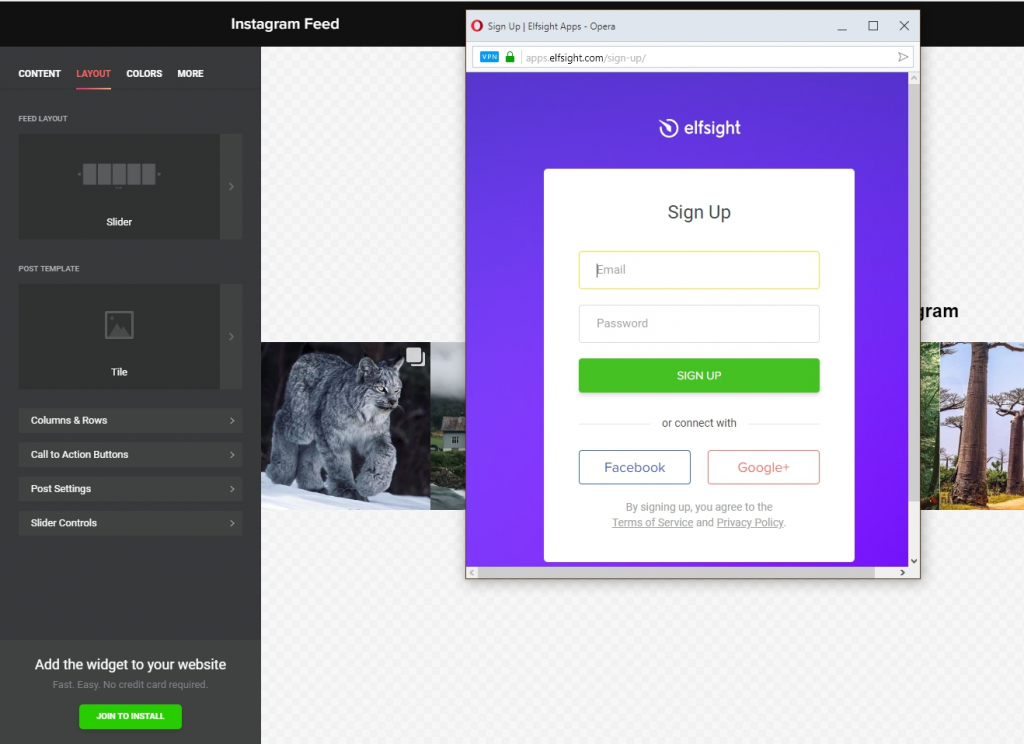 Once you sign up you'll get in your Elfsight account where you will see all the available apps. Choose the app you set in Demo and make sure that all customization is saved.
Registering your account
All you need to do to register an account is enter your valid email into Email field, come up with a password and enter it to Password field. Next, click Sign up. You'll be redirected to the main page of your Elfsight Apps account: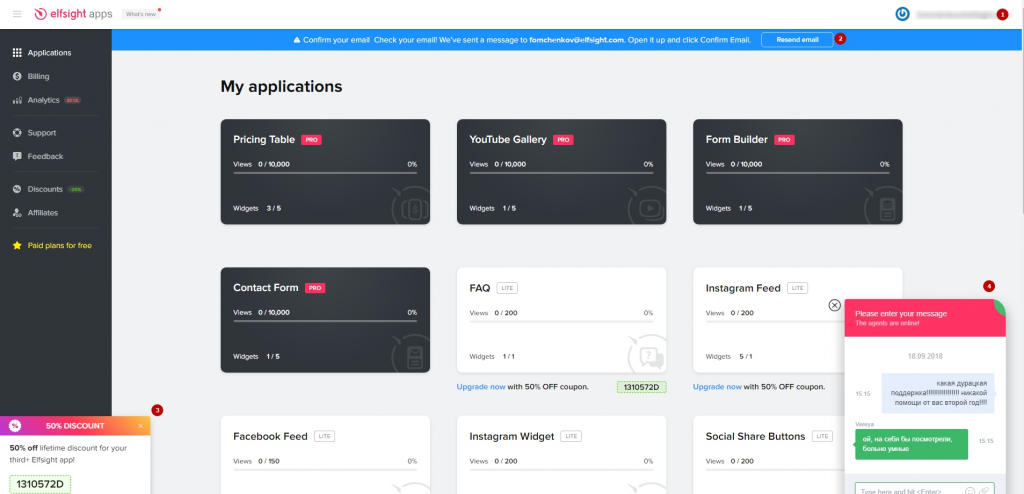 On this screen you will see the list of available apps and a menu on your left-hand that you'll use to perform most of the actions. However, there are a few elements here as well that I'd like to emphasize.
First, it's your login email. It's your main identifier in our system, and when you're logged in, you'll see it in the upper right corner of the screen. It's marked as 1 in the picture above.
After you've just set up your account, you'll need to confirm it. I'll explain in my next article how to do it, and in the meantime please pay attention to digit 2 in the picture. It marks the confirmation bar.
In the left lower corner you'll see your discount coupon – marked as 3 in the pic. It's a very important element that you just can't miss 🙂 I'll touch upon it in more detail when we'll come to the part about subscribing to a paid plan.
And the last but not the least, digit 4 marks the help window. This is the easiest way to ask for help with any questions or issues. Someone of us is always there during the work hours, so feel free to start a chat 🙂 We'll do our best to help, and if your question turns out to be super difficult, we have our fantastic development team to back us up, so you'll be in good hands! And even when we are offline, you can always send us a message via that window, we'll read it up first thing when we get back to work.
As you can see, registering an account at Elfsight Apps is super-easy, and it doesn't require filling out those boring long forms, checking the checkboxes, dropping dead with all the dropdown selections, providing all the billing details right away, or anything of the kind. And creating and installing your own widget is just as simple, even if we do say so ourselves 🙂 So feel free to sign up and redesign your website with Elfsight Apps!