This article is to explain what is Analytics tab in your Elfsight account and what information you can find there.
Browsing your widgets' analytics
The Analytics tab in your Elfsight Apps account shows the analytical data for each of your widgets. To view this information, click on Analytics in the left-hand menu: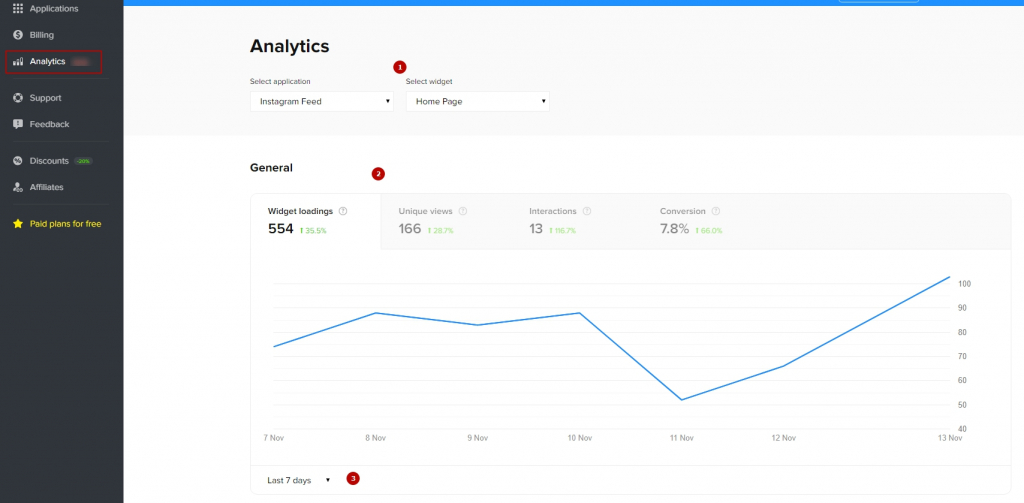 In the area marked as 1 you can select the specific app and widget. Choose the ones you need from the dropdown menu, and you'll see the analytical information for them.
Your analytics report is made up of four points – widget loadings, unique views, interactions and conversion.
Widget loadings is the number of times a widget was loaded on your website. Basically, this value corresponds to the number of views for each widget.
Unique views is the number of visitors who have viewed the widget on your website. So, for example, if your widget is installed on several pages of your site, one visitor might view it several times as they browse your widget. Comparing the number of unique views to the number of widget loadings might give you insight into the number of times each visitors views your widget.
Interactions is the number of actions that your visitors have performed with your widget, so now you can not only find out how many people were interested in the content of your widget.
Conversion shows the ratio between interactions and unique visitors.
The selector marked with 3 allows you to select the period for which you can view the report.