Getting started with Instagram Feed – Step 4 – More tab
We've finally come to the last but not the least tab of your widget's settings – More. On this tab, you can set the feed's title, choose the language and apply custom solutions with CSS codes.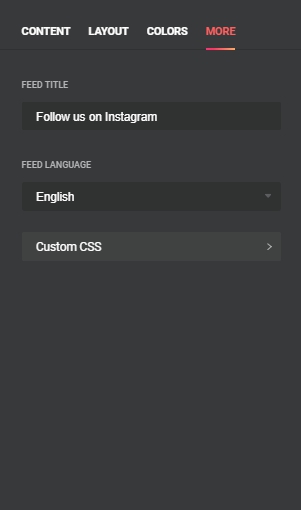 To set the feed title all you need to do is just enter it in Feed Title field.
Tip! If you add a @username to your feed's title, it will become clickable, and your website visitors will be able to go to your Instagram account simply by clicking on it:
Also, you can change the title by adding your own text or remove the title completely.
Feed Language contains 27 different languages for you to choose the needed one: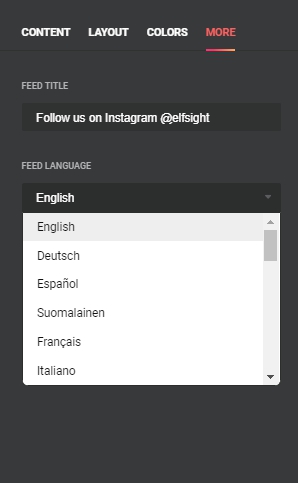 Basically, we have customized a widget and it's ready to be installed on your website already.
However, in case you need to apply some unique changes which you didn't find in the settings, chances are that you can do it with the help of Custom CSS field.
CSS code is a small piece of code for making individual changes. So all you need to do to is just apply the needed CSS code and Save the changes.
We hope this article helped you customize your widget the way you desired, however, if you have any questions, please, contact our Support Center, we will be just happy to help!
Cheers!