Setting the colors of your Elfsight Instagram Feed widget
With the way our app is designed, there are two ways of adjusting your feed's colors on Colors tab of the settings.
First, you can use one of the predefined color schemes available with the app. To do it, please, go to Colors tab and select one of the color schemed from the dropdown list in Color Scheme field:
COLOR SCHEMES FIELD
When you select a color scheme, it is automatically applied to hover overlay, some popup elements and the navigation elements in your gallery. However, you can change the colors of these elements, as well as the other ones, individually.
You'll find three groups of color settings on Colors tab – Post Colors, Slider/Grid Colors and Popup Colors.
Post Colors section is where you can change the color elements that display in the gallery itself – overlay background and overlay text.
The name of the second colors settings group varies according to the kind of layout you've selected, so it's either called Grid or Slider colors. This section is about changing the colors of the navigation elements on your gallery.
Popup colors is the settings group that allows you to set the colors for the different post elements visible in the popup.
Important tip! You can set any of the colors to be transparent on Colors tab.
When you click on color selection, you'll get a window where you can set the color, You'll see two sliders in window. The left one is used to select the color, and the right one is used to set the transparency level: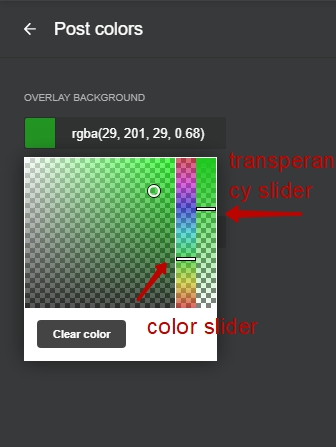 So this is about it, as you can see, setting the colors is very simple. However, if any difficulties or questions come up, please, contact our Support Center and the team will be delighted to help!
By the way, you can check the options of the last tab here!