This tutorial will lead you through the setting process and help you customize your own
Twitter widget
If you decide to create your own feed, we are sure it would be just great to have it set the way you like in no time.
We care about your time and hope this tutorial will be helpful in this interesting setting process.
Selecting a template
To show you all possible forms of the app and to release you from customizing each one, we have made templates with ready-made forms. There are 5 different variants: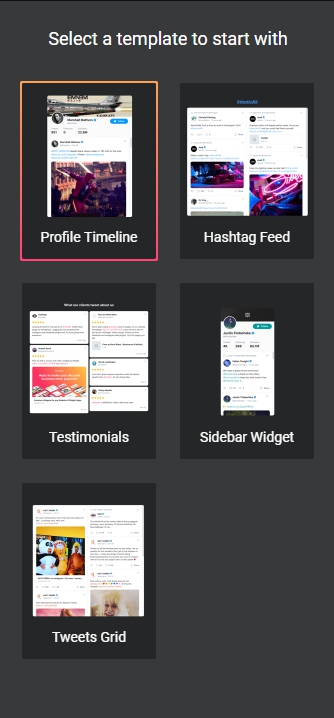 Let's take Testimonials Template as an example and try to customize it.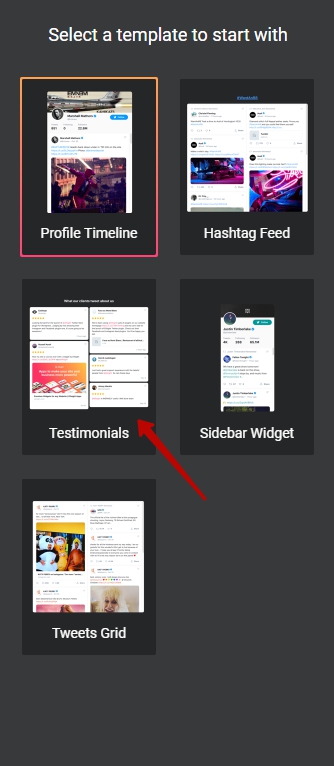 Content tab
This tab is the most important one, as you will set your own testimonials nowhere but here.
However, before that you need to link a widget to Twitter. To do it you need to be authorized in Twitter under your account.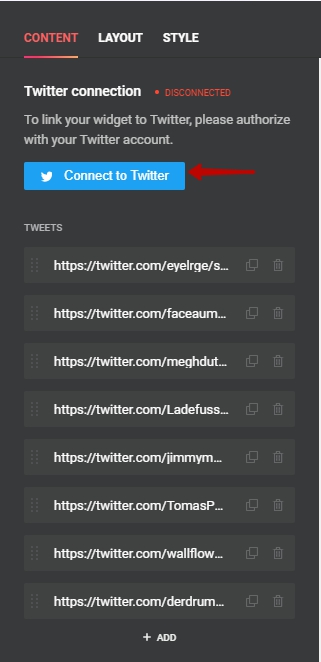 Having authorized, the first thing to do is to set the source.
There are three types of sources:
• by username to display a public account
• by hashtag to display specific information
• just to display Twitter testimonials
Important! You can display feed by one source only.
There is a specific tab for each kind of sources: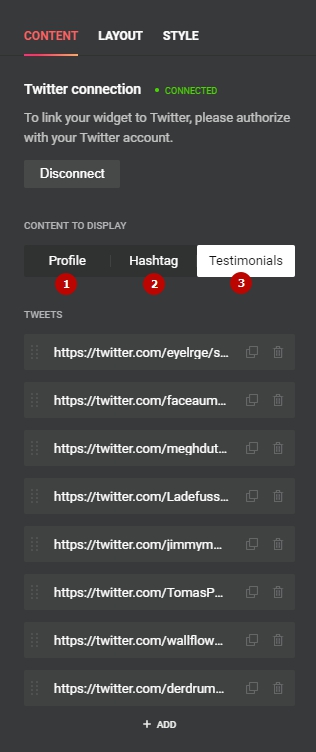 The setting process is quite identical for every kind of sources: in Profile you need to set username, in Hashtag it will be a hashtag and in Testimonials there will be links to Twitter reviews.
On this very tab you can set the language, Feed title and set the posts limit if it's needed.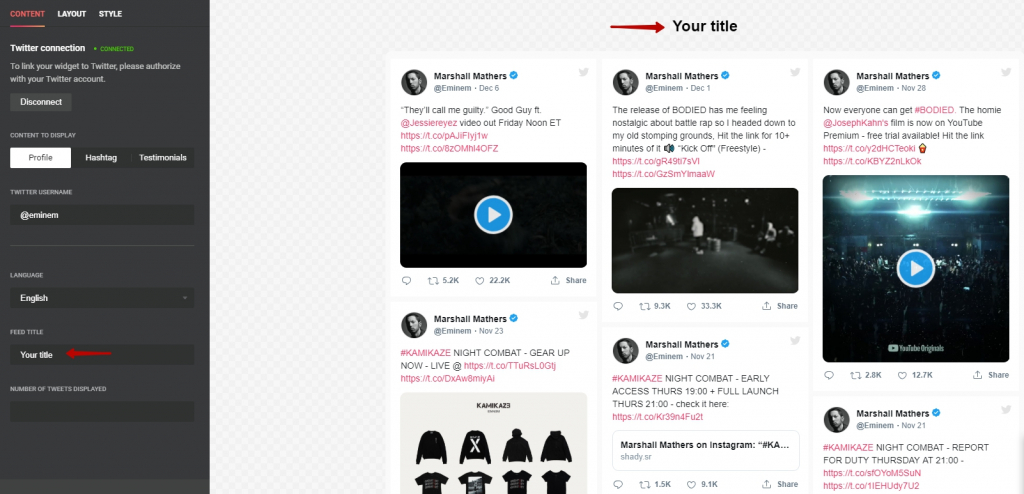 To show an account there is no need to be its owner. You can display any public account.
Now, let's turn to Testimonials customizing.
Testimonials tab seems to be the most complicated one, so let's find out the best way of setting Twitter testimonials.
To add your own testimonials you need to delete the test tweets and add yours: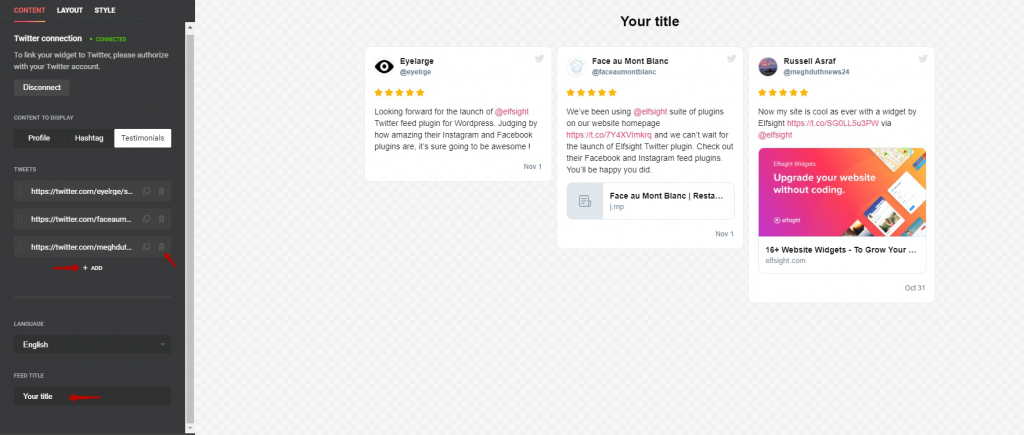 To show the testimonial you need to insert the link of this Twitter testimonial to the Tweet URL field (1). Also, you can rate it or show it without rating (2).

Coming back to Content tab you can change the language and Feed title.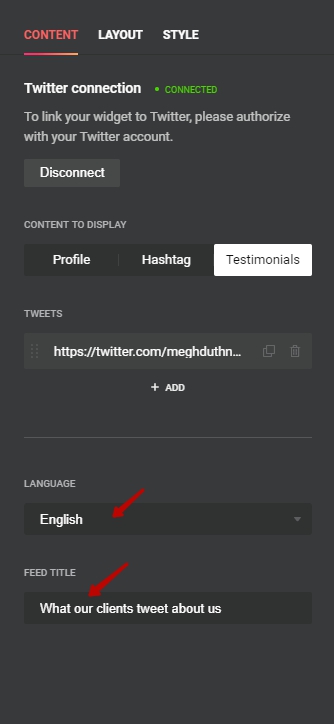 Layout tab
On Layout tab, you won't have to waste your time with plenty of settings – our developers have tried their best to make this part the most simple.
So you can find two settings here – width and height, which we have also set the most appropriate way for the best adaptability.
We highly recommend you to keep the width to auto – in this case a widget gets responsive for every device you use.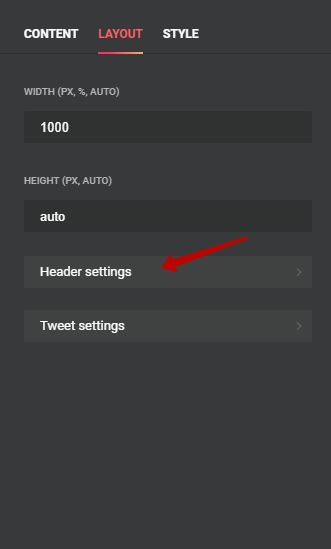 There are no more settings for testimonials on this tab, however, we would like to draw your attention to two important settings for other kinds of sources:
Header settings field is not needed as there is no header in testimonials.
However, coming back to Profile, this kind of source does have header, which can be shown or hidden with the help of Header settings on Layout tab: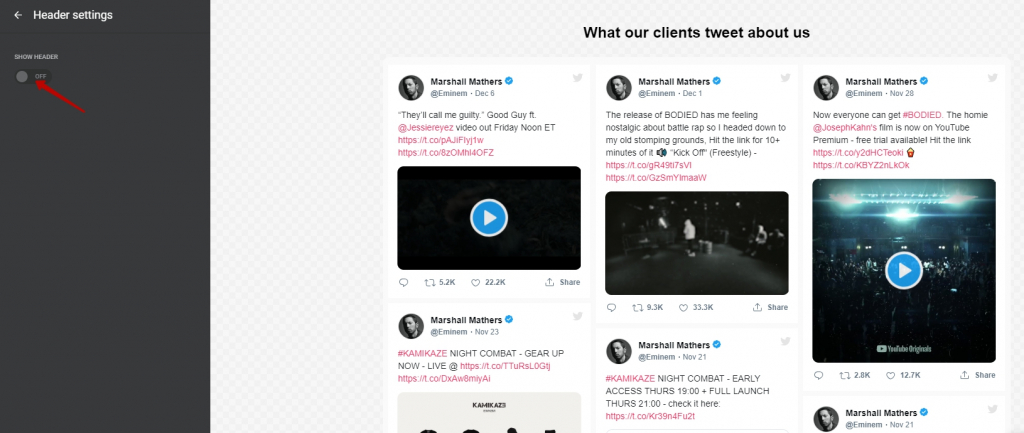 With the help of Tweet settings field, which you could notice under the Header settings you can show or hide the additional information such as date, author, Twitter icon and others:

Twitter settings are available both for Profile and Hashtag sources.
Style tab
With the help of Theme color field on Style tab you can change the links' color and this is the last setting for the whole widget to be completed!