Tutorial that explains how to share the access to your WordPress admin panel, and when you might have to do it
When do you need to share the access to your WordPress admin panel
When you're running your own WordPress website, on various occasions you might have to provide access to your website's admin panel to people other than you. The reasons for this might be very diverse – from your online business growing so rapidly that you need to delegate running your website to someone else, to asking for help with installation and troubleshooting of the plugins you use. In any way, it is best to be prepared, and to know how to give different access permissions to other people.
Also, as plugin developers, we have often faced situations when we need to access the admin panel of a WordPress website to help our user. Checking a plugin's behavior on the frontend is in most cases enough to diagnose an issue, but implementing a solution practically always requires accessing the admin panel.
When you have just started working with your own website, it might be difficult or confusing to figure out how to provide access to other people, and so we have written this short tutorial to make things easier for you.
Types of available permessions in WordPress admin dashboard
WordPress websites provide several different user roles that define what actions a user is allowed to perform. There are five basic roles:
Administrator
Editor
Author
Contributor
Subscriber
Administrator is the most powerful user role, as administrators have access to all the functions of a WordPress admin panel. Also, this is the only role that allows to work with the code of the plugins or widgets installed on your website, so if you need to give access to a developer to fix an issue with a plugin, you need to give them Administrator level permissions.
Editor role users are generally responsible for editing the site's content, as the name suggests, and they have access to and editing permissions for all posts and pages.
Authors can create, edit, delete and publish their own posts and upload media files for them. That's pretty much all they can do.
Contributor role permissions are even further restricted. Contributors can only read other people's posts or edit and delete their own ones.
Subscriber role is the least empowered one. Subscribers can only read the website's content, and manage their user profiles. This role is most often used on subscription-based websites, where you need to limit access to your content by user categories.
The advantage of this permissions system is that you can give just right permissions to right categories of users, and we're sure that you'll appreciate how simple and convenient this is.
How to provide access to your WordPress admin panel
Here are the steps you need to take to give someone access to your WordPress admin panel:
Login to your WordPress admin panel and select Users tab in the left-hand menu: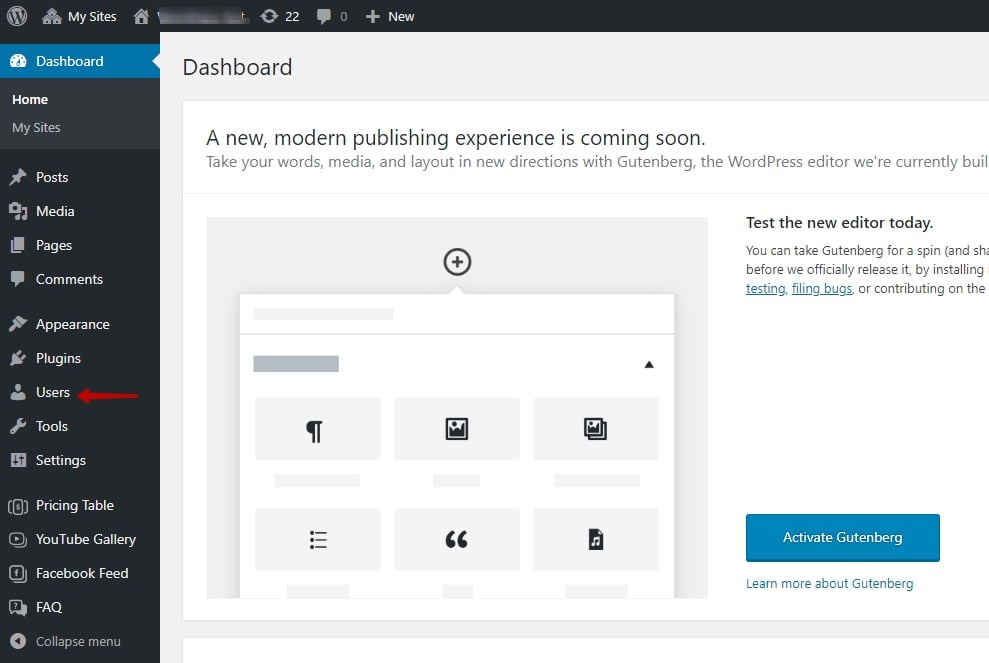 Click on Add New and you'll be redirected to a screen where you can set up a new user account: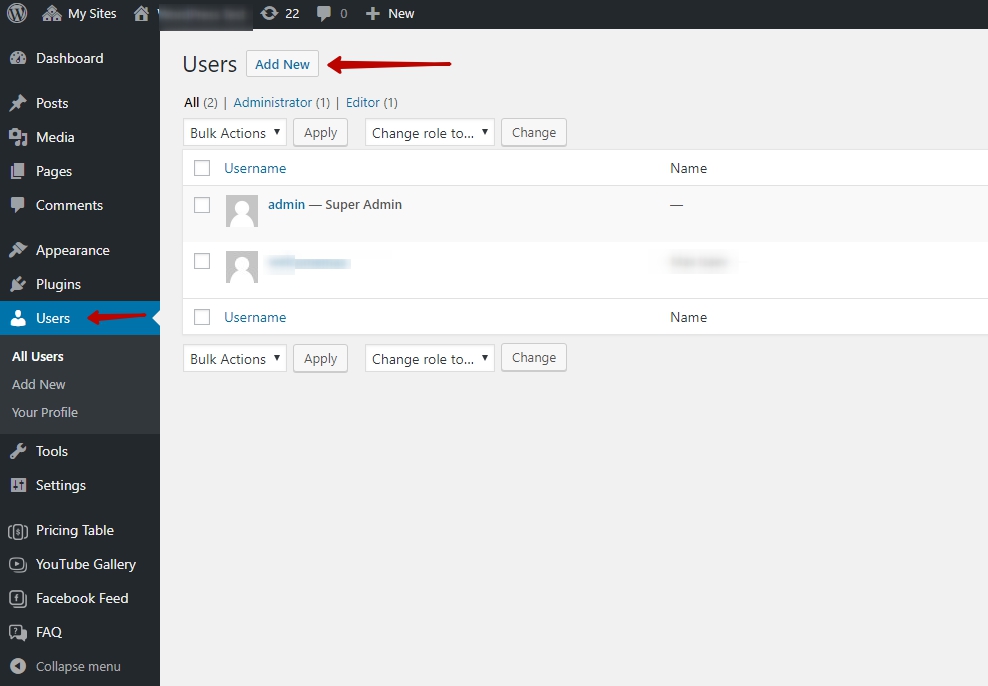 On this screen you can both change the role of an existing user (in the upper part of the screen) and add a new user in the lower part.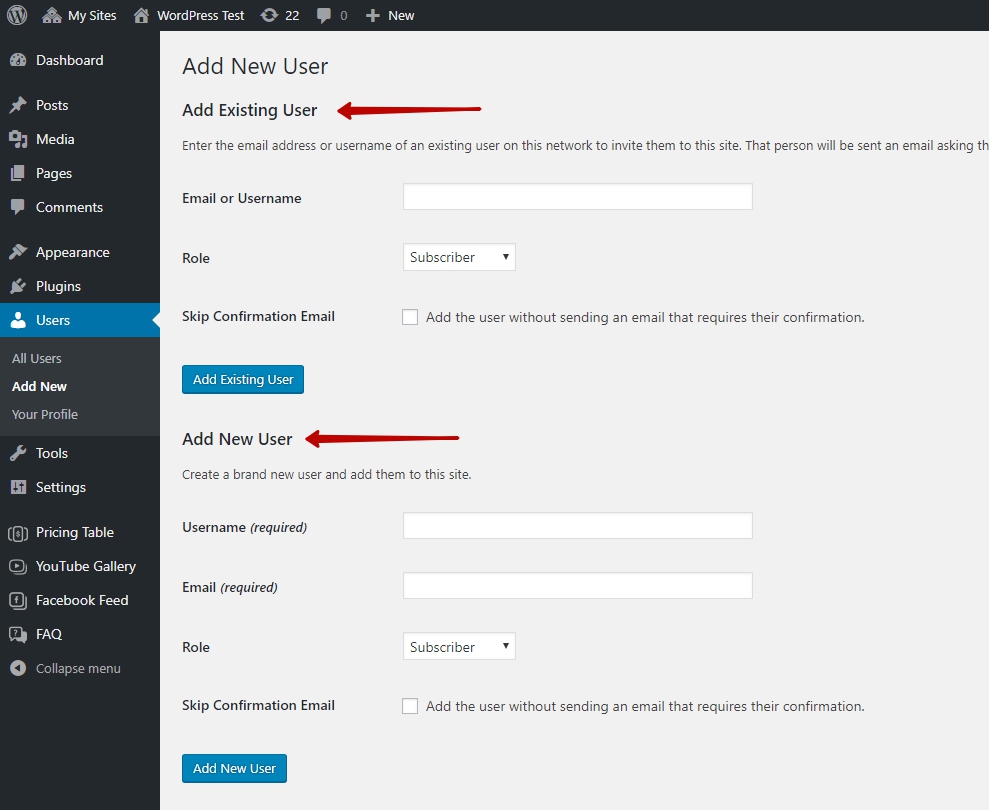 To add a new usser, you need to fill in the username and email fields, and then select the proper user role from the drop-down menu in Role field.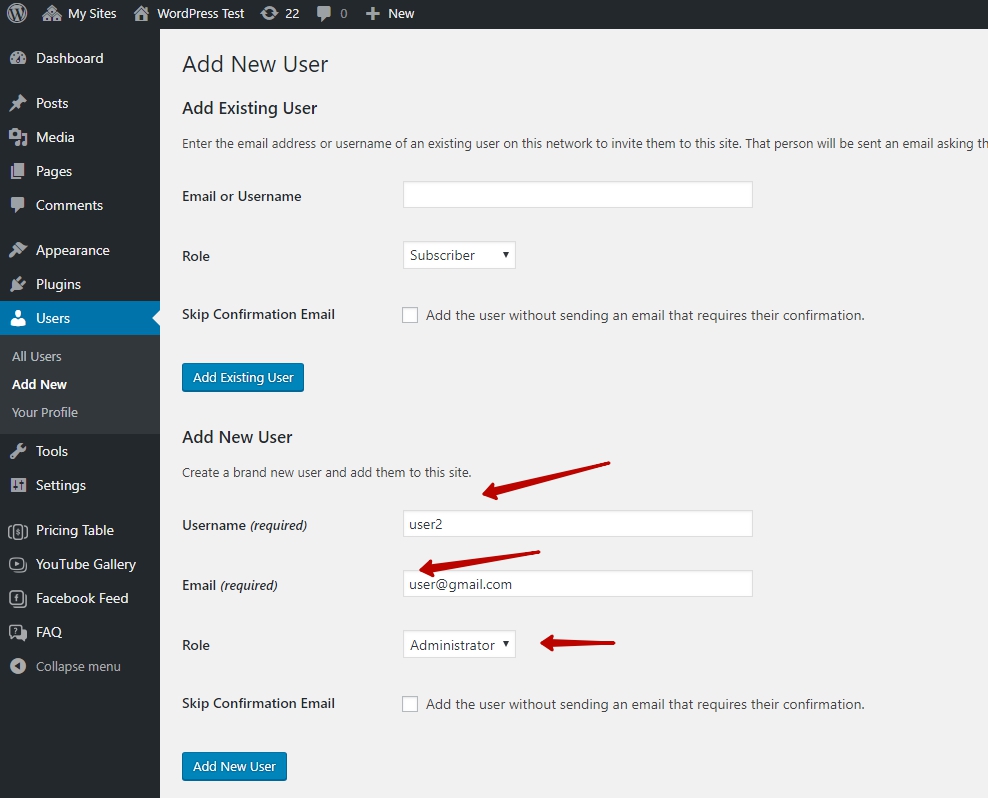 Next, click on Add New User, and you're done!
How to delete a user from your WordPress admin dashboard
You can cancel the access you've provided to a user at any time. First, you need to login to your WordPress admin panel and go to Users tab, and then you can either remove a user altogether, or edit their permissions.
To edit a user's permissions, you need to click on Edit link under the user's name, choose a new role from the Role dropdown list and press Update User.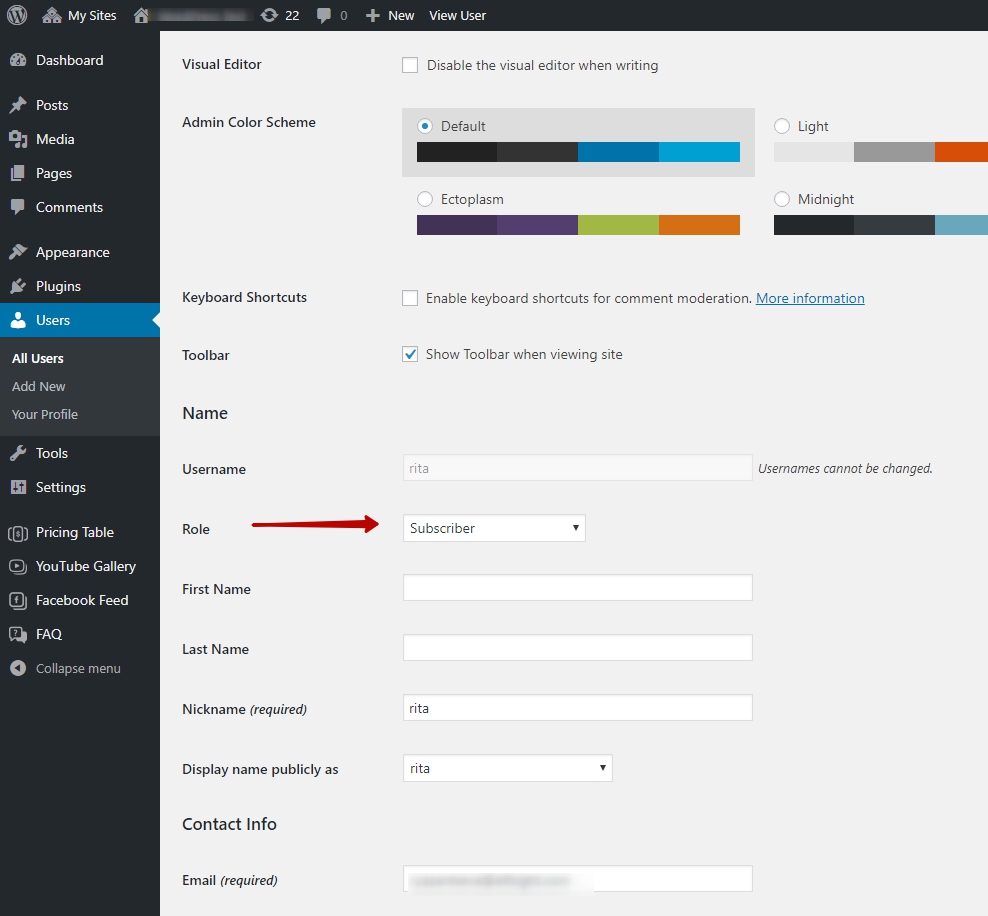 To remove a user, you need to click on Remove link under the user's name in the list of registered usersб and you'll be redirected to a screen where you need to confirm removal.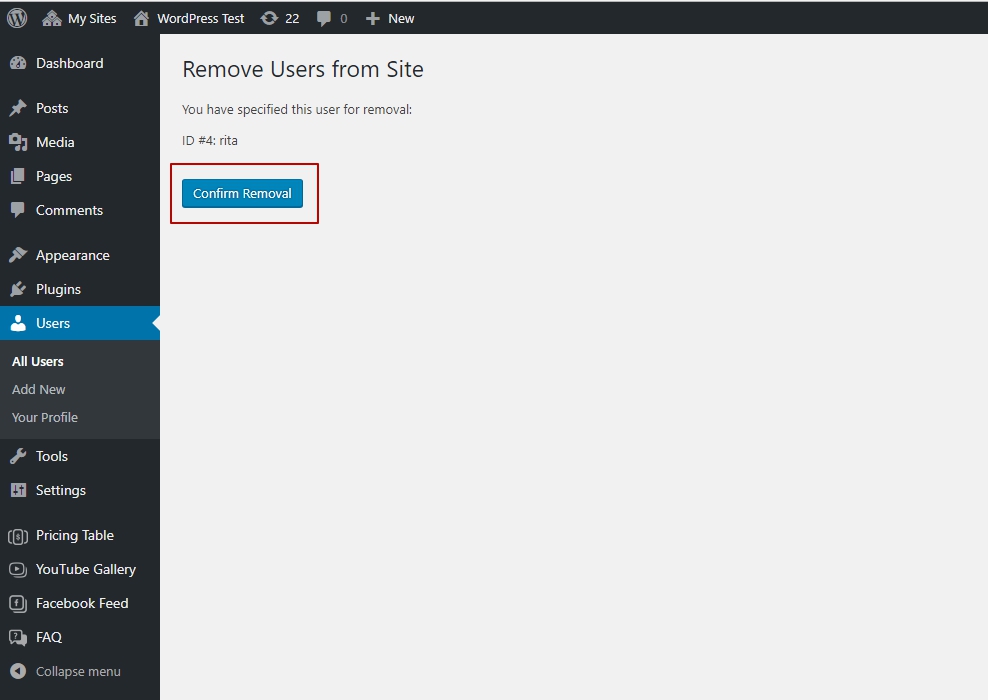 After you do it, the user will be removed from the list of your registered users, and will be no longer able to access your website.
Is it safe to give access to your website to other people?
This is a difficult question, and there is no definite yes or no answer to it.
Of course, giving someone access to your website's backend is a bit like giving someone the keys to your place. So if we go on with this analogy, sometimes you have to give trusted people the keys to your place, to water your plants and to feed your pets while you're away. In the same way, sometimes you need to give access to your website to 3rd parties, to fix issues or to troubleshoot certain elements of your website.
When our developers create new plugins, they always do their best to make a plugin as universal and reliable as possible, but there are always things we can't foresee. Conflicts with other plugins and website's themes might come up, and in cases like these we have no other option but ask for the access.
We totally understand your concerns, and we assure you that your websites' safety is crucial to us. When we have to ask access to our customer's websites, we make sure we're extremely careful with it. One major concern people have in such cases is whether there's a chance that the changes we're going to make will affect all of the website. We assure you that it's not the case, as our developers will only change our app's code. If fixing an issue requires changing something in your website's theme, or changing other plugins, we will notify you, so you or your developer can implement these changes.